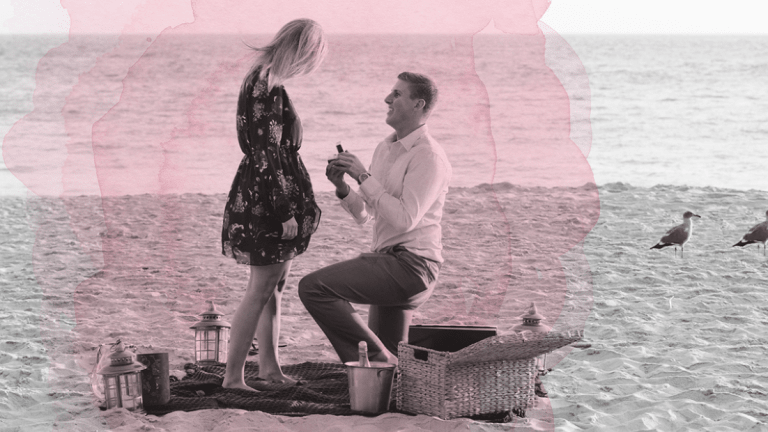 Failure to Chill: Real Women Confess Neurotic Things They Did While Anticipating a Proposal
Try not to ruin the magic by going insane.
'Tis enagement season. As every woman and her sister post shiny new sparklies on Instagram, it can be impossible to remain chill when you've been eyeing one for yourself. For us in the, erm, type-A category, we can straight-up lose it during this anticipation purgatory. The demented engagement monster takes over, and all semblance of sanity is lost. 
Fortunately for us, this makes for some hilarious stories—the kinds that forever live on in family folklore. So in the quest to find the best tales of women losing their chill as they waited for their man to pop the question, here are five stories that you can maybe relate to (or maybe you're just actually chill, in which case, you're late for yoga class.)
You're not alone, fellow future-oriented women who just want to plan already: 
01. When you evoke the wedding venue as collateral. 
Even though she and her now-husband had already been ring shopping, Jamie couldn't break free from wanting the engagement now. She anticipated it for months, but alas, no proposal came. They'd planned a trip to Santa Barbara for August, and at the beginning of June, Jamie had finally had enough. She yelled: "If you think waiting until we go to Santa Barbara is romantic, it's not! It's just stressful! Plus we only have one weekend we can get married next summer. And if we don't book the venue soon, we'll lose it!" His response? Standing there and laughing. Within two weeks time, he proposed, just as he had planned with both of their families.
The kicker? Her mother had already put a hold on the venue.
02. When you passive-aggressively send him wedding Pinterest boards.
After two and a half years together, Sara was pushing for her now-husband to propose. "I sent him Pinterest boards with engagement rings and talked about it all the time," she admits. "He kept saying he wasn't ready, and we had several lengthy conversations about his reasons. He bought me nice jewelry every few months to distract me, but by the following summer, I was practically seething that he hadn't proposed."
But in Nice, France, soon after another heartfelt talk about marriage, he got down on one knee on the beach. After the proposal, Sara didn't sleep for days. "I had so much anxiety over whether he had actually wanted to propose or not. We talked about it and he reassured me that our discussions were an epiphany for him." It still took months for Sara to be convinced that he really wanted to marry her. "If I hadn't been so pushy, I would have felt more comfortable afterward. I still feel bad about not letting him take his time."
03. When you low-key post a picture of your ideal ring on the fridge.
As a type-A personality (she color-codes her shoes), Amanda has a tough time with surprises and things outside of her control. "Since I knew we were heading toward a proposal, I made it very clear what cut and style of ring I wanted," confirms Amanda. She even tore out a picture of her dream ring (cushion-cut and classic) and taped it to the fridge to make sure he saw it.
She wanted to make sure she wasn't caught off-guard when he proposed, and explained this incessantly. "While I couldn't get him to divulge the date, he did give me a window of time within which he'd propose." explains Amanda. She got it in her head that her birthday was the day he'd propose—but luckily for him, he picked the month before, and totally caught her off-guard.
On her lack of chill, Amanda asserts: "My hubby knew what he was getting into when he fell in love with me."
04. When you shred his clothing in anguish. 
Meeting when they were just thirteen and fourteen, Liz had been dating her boyfriend for fourteen years—literally half her life. One day, Liz's younger sister called out of the blue to share the news that she'd gotten engaged. "I immediately went to his house and cut off the toes on every pair of his socks in a fit of passive-aggressive rage."
Well, maybe the socks did the trick? Liz confesses that he was angry—but he deserved it. Within a year, they were engaged, and have since been married for ten. Laundry has not since been a point of contention.
05. When you remind him that your eggs are aging every second he waits.
Once Michelle knew he was the one, she thought every dinner, movie night, and afternoon spent together could be the setting for her engagement. "I always made sure to have my nails done and often wore makeup and did my hair just in case," Michelle explains. "Every outfit I wore with him I picked out thinking, 'Do I want to get engaged in this?'"
At the time, Michelle and her now-husband were talking about marriage and their future together. Still, she felt she needed a strategy for bringing up engagement, so she systematically limited herself to bring it up three weeks—hoping she wouldn't drive him crazy. Meanwhile, "I Googled every article I could find to learn 'how to get him to propose' and 'how to show him you are the future wife.'" She followed all the tips mentioned diligently. But one day, she finally burst, saying, "My eggs aren't getting any younger."
After a wake-up call conversation, in which he told her if she didn't quit obsessing then "Maybe you're not the woman that I think you are or that I want to marry," Michelle promptly stopped interfering—and instead relied on her faith that all would end up as it should. And it did!
There's always been undue pressure on for women to marry, but these days with the advent of social media, the waiting for the perfect moment can be too much, while the guy is compelled to put in an excessive amount of effort and execute at the perfect moment (not to mention buy the perfect ring). 
The best solution for all this? Emulate your zen friends and laugh it off, and maybe have a conversation or two (if you haven't) and try to keep all this insanity at bay.