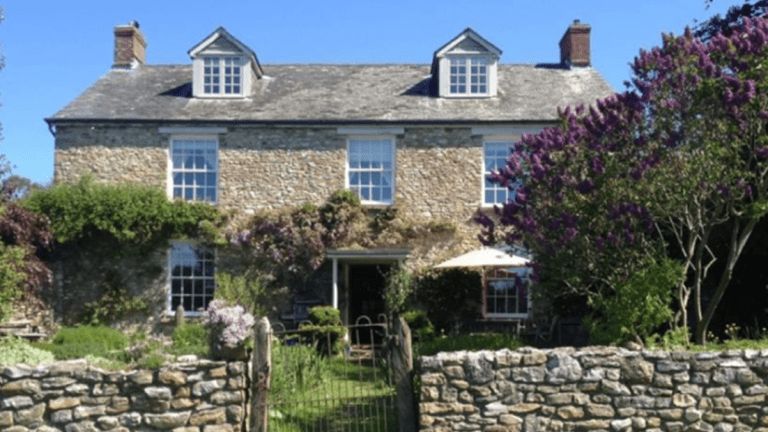 10 Cozy Airbnbs Inspired by Our Favorite Holiday Films
This winter, take a cue from the silver screen.
When the weather outside is oh-so-frightful, all we really want to do is hunker down with a piping hot cup of cocoa, nestle under a blanket near a roaring fire in a cozy home—especially if it looks like Kate Winslet's charming English countryside cottage in The Holiday.
Whether you're looking to rest up before the Christmas frenzy or sneak in some much-needed R & R in the new year, kick back and beat the chill in one of these ten stunning Airbnbs inspired by some of our beloved holiday movies.
Trade in the hustle and bustle of New York City for quiet Connecticut farm life, like the "Diary of a Housewife" columnist Elizabeth Lane in the 1945 classic A Christmas in Connecticut. Explore 16 acres of park-like land, and cap off the day enjoying a hearty meal fit for a crowd in the farmhouse's spacious dining room. $350/night for 10 guests.
Pull a quirky Cousin Eddie in National Lampoon's Christmas Vacation, and opt for a vintage Airstream trailer, decked in holiday lights even Clark Griswold would be proud of. A quick drive from downtown Austin, take in all the town has to offer before retreating to this tiny home-away-from-home in a backyard filled with furry friends. $60/night for 2 guests.
Pretend you are Cameron Diaz—suitcase in tow—in The Holiday on your way down the long private drive to this peaceful English farmhouse. Spend a few lazy days relaxing by the wood-burning fireplace and cooking up a feast in the kitchen's vintage AGA cooker. $335/night for 14 guests.
High above the city streets, Buddy becomes part of the Hobbs' family in 2004's hilarious and heartwarming Elf. This sky high apartment is within minutes of Times Square and boasts stellar views of midtown Manhattan, so you can experience the city in all its holiday glory while laughing at Buddy's naive antics (like eating old gum off the subway railing). $144/night for 6 guests.
"Say it's carol singers!" To us, this one-bedroom is the perfect vacation spot across the pond—just a stone's throw from where Mark (Andrew Lincoln) confesses his unrequited love to Juliet (Keira Knightley) with the help of a few poster boards in Love Actually. Located in London's prestigious mews, this flat is a short walk from lively Portobello Road Market, which means you don't have to travel far for fun, even on the coldest of nights. $148/night for 3 guests.
Spend the weekend in this North Carolina train car, and pretend you are aboard The Polar Express en route to the North Pole. Just 9 miles from the Great Smoky Mountain National Park, this space is a must-visit for outdoor lovers. If only they served hot chocolate. $259/night for 4 guests.
Gather the family for a weekend away in a historic colonial home—just like the one in the 2005 American comedy-drama The Family Stone—just minutes from downtown Boston. While romantics watch a chaotic marriage proposal unfold, history buffs, rejoice: This is the former home of Admiral Henry A. Wiley, a distinguished veteran of the Spanish-American War, World War I, and World War II. $350/night for 7 guests.
Walk in Ralphie's footsteps when staying at this private studio apartment. Located in Cleveland's historic Tremont neighborhood, this restored Victorian is just a short distance from the original A Christmas Story house and museum. $110/night for 3 guests.
Channel your inner Rosemary Clooney and dream of a White Christmas at this 1850s farmhouse located in Vermont, just 10 minutes away from several popular ski resorts. Downtown Jamaica boasts a general store with just about everything you need, a yoga studio, and more. $125/night for 8 guests.
This tiny treehouse above San Francisco can warm even the smallest and coldest of hearts, like the famous green one in Dr. Seuss' How the Grinch Stole Christmas. On the outskirts of the city lies this tranquil spot in a forested canyon, with breathtaking views of the Bay. If you are looking for a quiet, natural retreat to rediscover your love of the holidays, look no further. Spotting twinkling lights below from a treetop high above should do the trick just in time for Old Saint Nick. $275/night for 2 guests.