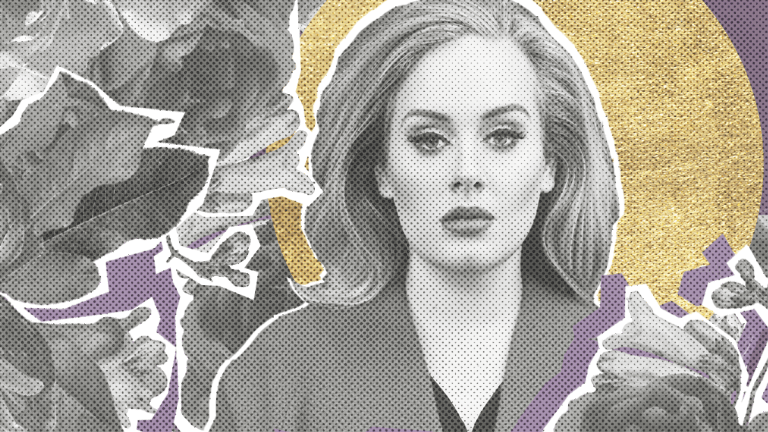 On the Anniversary of '25'—Here Are 25 Times Adele Made Us Laugh, Cry, and Sing a Little Too Loud
Oh, and also, there's some big news brewing about her.
Two years ago, our ears were blessed once more with the hauntingly beautiful sounds of Adele as she released her tertiary album, 25 (behind 21 and 19). A battle cry for womankind, a soundtrack for lovers present and past, and a compilation sure to live on for decades to come, 25 is an album that has lost not an ounce of appeal since it dropped in November 2015, amiright?
When her eighteen-month behemoth of a world tour came to end just this past June, the British singer delivered a crushing blow by saying she may never tour again. "Touring is a peculiar thing; it doesn't suit me particularly well," she told fans in a handwritten note. But all hope is not lost. Rumor has it (see what I did there) that Adele is soon to be offered a $26 million deal (that's a record-breaking $500K per show) to do a twelve-month residency at the Wynn in Las Vegas.
No one is perfect. Adele has proven to be only human on many occasions (owning up to her history with alcohol abuse, among other things). But as we sip our English breakfast tea in eager anticipation of her next big thing, let's reminisce on twenty-five times we have seriously loved Adele.
01. When she shamelessly went makeup free multiple times
Adele's Instagram was a genuine diary of her life on tour, including countless moments where the star made no qualms about being natural on camera.
02. When she put a public face on the very real struggle of anxiety
Adele's tour was basically a PSA for mental health. On many occasions, she openly told fans about her struggles, including when she said that she might not tour anymore because of it.
03. When she fangirled over Beyoncé, proving she's one of us
She's been outspoken about her Bey love, even as she beat out Mrs. Carter for Album of the Year at the 2017 Grammys.
04. When she asked for a do-over on live TV
When performing a George Michael tribute at the 2017 Grammys, Adele had to start over after fumbling in a moment of nerves and emotion—and we loved her for it.
05. When she stood up for Kesha's sexual assault story
As Kesha dealt with the backlash of her accusations against Dr. Luke for sexual assault, Adele used the stage at the 2016 Brit Awards to offer her support.
06. When she was impressed by James Corden's singing
Adele's episode of Carpool Karaoke is amazing (Spice Girls, anyone?). But the moment in which Adele seems genuinely shocked that James Corden can sing is pure gold. Props to Corden for even daring.
07. When she auditioned to be herself
For a BBC special back in 2015, Adele had us in stitches as she disguised herself and went by the name "Jenny" amongst a group of her impersonators. It wasn't until she started singing that everyone realized they were being pranked.
08. When she single-handedly made voicemail relevant again
"Hello, it's me." With three little words in a hypothetical phone call/voicemail to an old lover, Adele's breakout single from 25 was a phenomenon for the text message–only generation (cheers to that flip phone cameo in the video, too).
09. When she got very real about motherhood
In an interview with Vanity Fair, the singer revealed that she struggled immensely with postpartum depression. "I didn't talk to anyone about it. I was very reluctant . . ." she lamented.
10. When she posted a sickly video because she was so sad for her fans
During the 25 world tour, Adele was forced to cancel a show because she was sick. She proceeded to post an emotional video to Instagram clearly showing how devastated she was to let down her fans.
11. When she thanked fans for embracing her album
Upon releasing 25, Adele wrote to fans on social media, saying, "I am so overwhelmed and grateful to be able to even put another record out and put it out how I want." Her humility never gets old.
12. When she talks (like, just whenever she talks)
. . . because British accents.
13. When she sang with Jimmy Fallon
Never has a makeshift orchestra sounded so good.
14. When she defended concert-goers' right to have fun
At a concert in Australia, Adele told security to stop requesting that people sit down. She was not a fan of anyone "moaning about people dancing."
15. When she wore the same simple, classy gowns every night of her tour
Thanks, Burberry, for keeping our favorite star the epitome of sophistication.
16. When she encourages everyone else to sing
On several occasions, Adele invited fans on stage to sing with her during tour. Paying it forward at its finest!
17. When she addressed her weight
When Adele burst onto the scene, a major topic of conversation was the fact that she didn't fit the typical mold of a pop star. Did it phase her? Nope. She told 60 Minutes, "Even if I did have, you know, a Sports Illustrated body, I'd still wear elegant clothes."
18. When she sings the simplest of phrases that cut to the core of every human experience
In every Adele song ever, there's a universal truth that just can't go unfelt.
19. When she was named everyone's wannabe travel buddy
A survey concluded that Adele was the celebrity people most wished to be seated by on a plane.
20. When she sang an unforgettable performance at Royal Albert Hall (barefoot, no less)
In 2011 Adele recorded a live concert DVD at the famed music hall, and there wasn't a dry eye in the house.
21. When she made us want to wear cat-eye makeup every day until we die
Not since Amy Winehouse has a flick of eyeliner been so trademarked.
22. When she helped a couple get engaged at her show
On the Irish leg of her tour, Adele lent a hand to a leap year proposal on stage. Leap year proposals mean women can propose to men, so it was the would-be bride who did the asking.
23. When she does anything (at all) with her adorable dog
What's better than pups and pop stars? Answer: nothing.
24. When she laughs at herself
Whether on stage or on late-night TV, Adele is constantly cracking up over her own hilarious stories. Who doesn't need a reminder to laugh at themselves once in a while?
25. When she reminds us that breakups are hard—but that we'll be OK
"The song is about hurting someone's feelings, but it's also about trying to stay in touch with myself, which sometimes can be a little bit hard to do," she told i-D magazine about "Hello."