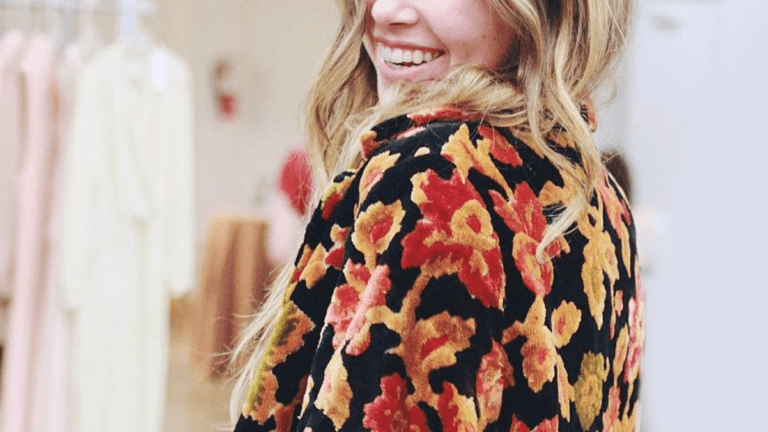 How to Wear Vintage Without Looking Like a Character from 'Pleasantville'
Old-school clothing for the modern woman
There are many reasons to love vintage clothing. From the quality of the garment's construction to the originality of its design, there is a historical significance that simply makes vintage items special. Incorporating these one-of-a-kind gems into your everyday wardrobe, however, can be tricky. How can we make old-school threads look, well, normal?
For the modern woman who is inspired by women of the past, there is a way to wear vintage clothing without looking like Reese Witherspoon from Pleasantville. Here's how.
Always Contrast with Denim //
Vintage items from the fifties, sixties, and eighties are especially bold and a little over the top. The first step for making cutesy patterns and details like polka dots or puffy sleeves look normal is to not entirely commit to the look. Meaning, don't do a head-to-toe vintage-inspired look.
The No. 1 way to tone down any bold item is to add denim. The denim immediately updates any vintage piece as well as adds a casual element, so you don't feel like you're wearing a costume.
Natural Hair and Makeup //
Another way to make your vintage ensemble more modern is to avoid intense hair and makeup. Many vintage wearers intentionally replicate the hair and makeup of the 1940s and 1950s, but if you want to look more current, wear minimal makeup and rock a low-effort hairstyle.
The goal is to casually incorporate vintage items into your everyday wardrobe rather than committing to an overall dated style. Not to mention, a more natural hair and makeup look can help balance out the boldness of your vintage items.
Mix Casual with Formal //
A trick of many street-style stars is to mix casual and formal items. This modern approach to styling will immediately make your ensembles look fresh because the outfits of the forties, fifties, sixties, seventies, and eighties were all very cohesive. Why? Women's fashion was very occasion-driven, meaning they always dressed head to toe in event-appropriate clothes. There was no mixing of casual with formal items; they either wore a formal look or a casual look.
To avoid replicating the exact outfits of the past, get creative mixing the occasions of your pieces. A laid-back T-shirt looks fantastic with a formal skirt!
Forget Perfection //
There was a level of intentionality in the way the women of the forties, fifties, and sixties dressed. Their clothing was perfectly ironed, every item matched, and nothing was ill-fitted. While we certainly aspire to this level of care, it's not exactly reality—and that's OK!
Keep your outfit modern and effortless by embracing a slightly haphazard look. Pop your collar, cuff your jeans, belt your blazer, and layer your necklaces. Pull an Audrey Hepburn in Roman Holiday by unbuttoning your blouse sleeves and rolling them up—who cares if it's not perfect? True style is in the little ways you personalize your look.
Blend Decades //
Perhaps the most obvious of all the tips—the real key for making your vintage look current—is to wear items from different decades. Rather than sticking to a full-on 1950s look, throw in a 1970s T-shirt or balance your 1940s dress with a 1990s leather jacket.
An outfit composed of items from different decades is a great way to find harmony between seemingly contrasting eras, ultimately creating a fashion-forward look.