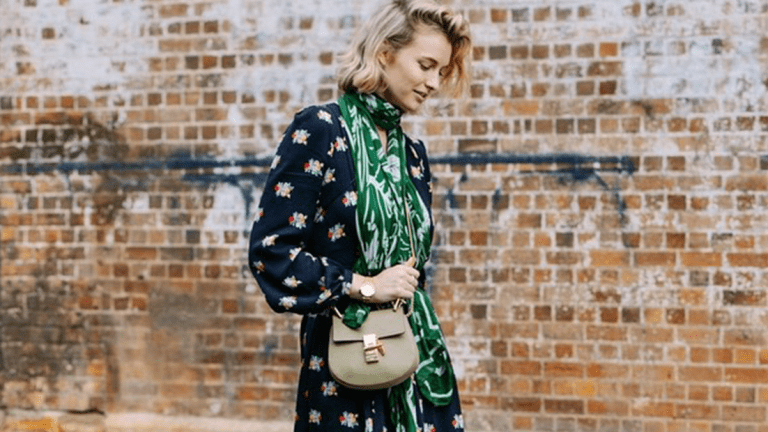 It's Totally Possible to Wear Your Summer Dresses and Skirts in Fall—Here's How
Don't pack them up yet!
As much as I relish breaking out the oversize sweaters, I also hate the idea of packing away my favorite summer dresses and skirts. Billowing skirts, floral prints, and breezy fabrics—who'd want to leave those behind? But what if there were a way to wear lightweight skirts and dresses just a couple months longer?
With a few styling tweaks, there's actually no need to stow away those maxi skirts and A-line dresses. Intrigued? Try these beautiful outfit combinations below.
Belted Sweater + Skirt
This look is adorably creative and totally easy to accomplish with what's in your wardrobe right now. Just belt the sweater at your waist and over your skirt to create a sweet peplum silhouette.
Maxi Skirt + Tall Boots
One of the biggest styling trends this fall is to wear tall boots with long A-line dresses and skirts. Previously thought to be a fashion no-no, the long skirt and tall boot combo has a 1970s vibe that is ideal for cool weather.
Peasant Dress + Socks + Heels
Socks and heels might sound insane, but just look how cute the combo can be! The 1950s throwback look is having a major moment in 2017, and it can extend the lifespan of your summer wardrobe. Get really intentional about this look by matching your socks and heels.
Blazer + Sundress + Tights
The classic boy-meets-girl ensemble never gets old. Balancing masculine items with feminine ones creates an effortlessly cool look that is both versatile and comfortable. A Parisienne fave, the structured fit of the blazer perfectly contrasts against the softness of the feminine dress. Complete the look with a pair of cozy tights.
Leather Jacket + Midi
In the summer, you may have stuck to blouses, T-shirts, and light sweaters for your midi skirt pairings. This fall, however, add some rugged texture by wearing a leather jacket. Most leather jacket lengths hit right around the waist, perfectly complementing the A-line silhouette of the midi.
Oversize Scarf + Maxi Dress
You know that super-summery boho maxi chilling in your closet? It still has a few more runs in it this fall. Emphasize the hippie vibes by pairing it with an equally boho maxi scarf and double loop it around your neck. Make the whole look intentional by adding a belt, and tuck in the scarf at your waist.
Turtleneck + Lightweight Skirt
The turtleneck has made an impressively chic comeback, just in time for the chill. The figure-flattering fit of the turtleneck looks even more elegant when worn with a skirt. To make this look even more cold-weather proof, wear tights.
T-Shirt + Slip Dress + Overcoat
If there were ever a time to start mastering the art of layering, it's in the fall. A great way to stay casual yet warm is to wear a cute T-shirt underneath a slip dress. It'll keep you warm while also keeping you covered. Top it off with an overcoat, and you have a street-style-ready look.