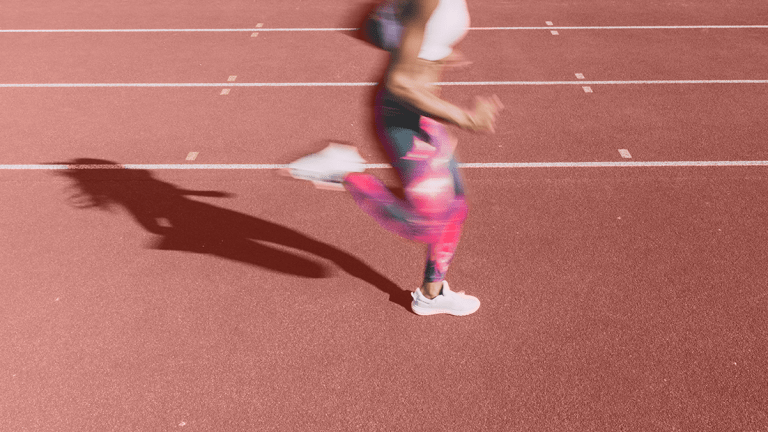 4 Tips That Will Make Running So Much Easier Than You Think
When in doubt, get out there and put one foot in front of the other.
It's easy to think of a thousand reasons why running is just not for you, but now we have one really good reason to "just do it." In the latest study on running and life expectancy, researchers found that "runners tended to live about three additional years" compared to non-runners and that no other form of exercise was comparable to the kinds of effects running has on our life spans. To boot, it found that even just five minutes of running at a slow speed had lasting benefits and "significant mortality benefits."
While it's incentive enough for us to lace up our running shoes, a "just do it" attitude is much easier said than done. Even after having run years of cross country, I don't consider myself a natural runner. Most days, I'm more convinced that I have to "suffer" through it before I can accept myself as someone who runs.
But you don't have to be gung ho to run a 5k. Learning how to run well transcends experience, age, body type, and fitness ability. The key is to set realistic and manageable goals that get you closer to tacking healthy years onto your life.
01. Find a friend to run with you at a place you both enjoy being.
Olympic medalist and American long-distance runner Deena Kastor says running in familiar spaces with someone familiar is hugely beneficial to running well. "Run in places you love with people you like," Kastor advises. "Enjoying your surroundings and training partners will strengthen your commitment to running and bring out the best in you." One of the most motivating ways to start and stay running is to have an accountability partner. But if you do have to run solo, befriend a trail, neighborhood, or park you feel comfortable running alongside.
02. Talk it out.
Did you know that keeping it conversational helps sustain your run and avoid burnout? Employing the "talk test" allows you to regulate the right level of intensity:
"In general, if you're doing a moderate-intensity activity you can talk, but not sing, during the activity. If you're doing vigorous-intensity activity, you will not be able to say more than a few words without pausing for a breath."
The test was validated by researchers at the University of Wisconsin-La Crosse who found that subjects who recited the Pledge of Allegiance while running had heart and breathing rates that were within their target aerobic zones. Since then, the "talk test" has become a free and healthy means to train for running.
Greg McMillian, M.S. explains in his article for Competitor, "The Talk Test removes the pressure to hit a pace and keeps your training dialed in so you get in your best workout no matter the conditions." Next time you go for a run, try carrying a conversation with your running buddy—who knew you could catch up with a friend while working out?
03. Literally: Grin and bear it.
For one 5k, I told myself I would smile throughout the whole race. While stress is a necessary part of running, it shouldn't consume your every step. Grinning and bearing it can actually reap physiological and psychological benefits—"smiling participants, regardless of whether they were aware of smiling, had lower heart rates during stress recovery than the neutral group did," notes the Journal of Psychological Science.
04. Sign up for a fun run.
Another way to make your workout as fun as possible is to train for races you can't pass up like Color Run, where you run through colored foam, water mist, or powder, made of food-grade corn starch from start to finish. At the Bubble Run, run through "5 kilometers of frothy goodness." We've done Thanksgiving 'turkey trots', Run Disney races complete with characters en route, the Hot Chocolate 15k/5k, the Marathon du Médoc in France which (of course) includes wine tastings along the way, the Zombie Evacuation in the UK, the NYRR Jingle Bell Jog before Christmas and the NYRR Midnight Run on New Year's Eve. Check out races near you because there is a fun run for everyone.
Next time you tell someone you're not a runner or that you simply don't enjoy running, remind yourself of these four tips and think again. By allowing yourself to relax and appreciate the amazing distances your body is capable of taking you, you win all over—in body, mind, and spirit!