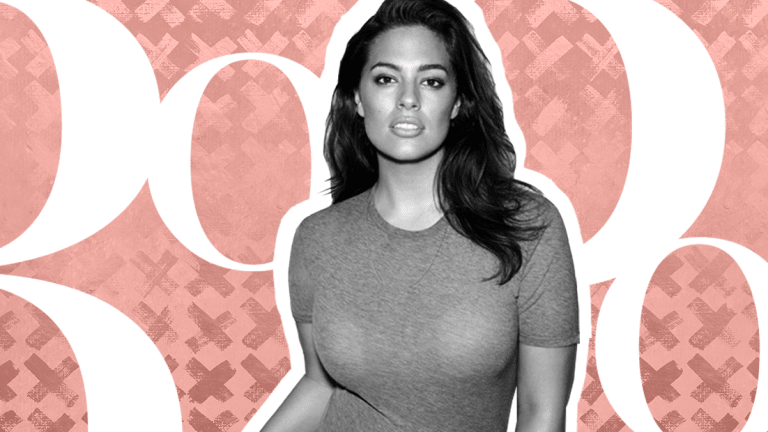 This New Film Finally Said What We're All Thinking: Body Positivity Still Has a Long Way to Go
'Straight/Curve' gets right to the point.
In Jenny McQuaile's new documentary, Straight/Curve, body diversity is explored in a way that feels expected but turns out not to be—through high fashion.
The disparity between "straight" (the classic size 2 runway model) and "plus" (the more typical-sized woman who has often been rebuffed by fashion) primarily plays out on camera via a first-of-its-kind photo shoot. Twelve models of varying ages, sizes, nationalities, races, and backgrounds come together to pose for a shoot that is meant to directly mimic the typical glossy magazine editorial spread without the homogeneity.
McQuaile told Verily in an email that her motivation for making the film was that she feels passionate about changing the imagery we're surrounded by. "You may have no interest in fashion or may think focusing on beauty is not right," she said. "But the fact of the matter is that young girls and boys are still growing up thinking if they don't look a certain way and live up to society's standards, they won't succeed or be happy. I want to be a part of changing this. The time of accountability is now."
Thin Does Not Equal Healthy
As several models revealed during one-on-one interviews, society indisputably considers thinness to be a primary indication of good health. We all know this is not true, yet we assume happiness is only afforded to those who achieve a small size. Many of the "straight" models in the film talk about how they used to be rail thin but realized that it wasn't worth it. "In the top of my career, I got to the bottom of my self-esteem," one woman lamented. In addition to poor self-esteem, the models described skin problems, mood disequilibrium, and even near-death moments that resulted from their thinness—all of which resulted from their devotion to unrealistic metrics such as BMI, or body mass index.
A major issue in the complex narrative of weight versus health is the standard by which many of us have been judged: BMI. Dr. Bryn Austin, a social science professor at Harvard University, says in the film, "If there's anything that I could take back that my field of public health has done, it is the use of BMI so ubiquitously throughout society as a bludgeon." Many of the models echoed that regret, saying that the beginning of their unhealthy ideals began when they were elementary-age and told their BMI was a bit off. As the experts in the film point out, BMI is not at all an indicator of individual, internal health; it's a cultural metric that has been contorted beyond the scope of actual wellness. While health care providers, physical education curriculums, and more could be painted as the enemy in the weight debate, as Dr. Austin says in the film, "We need to stop blaming people and start changing the environment."
It Starts (or Rather Doesn't Start) with Education
If any of you finds yourself wondering why the body positivity movement seems to be slow moving, Straight/Curve cuts right to the heart of one big reason for this: education. While a select few brands have championed size inclusion in their products and even on the runway, the majority do not—partially because designers are never taught how. Emme Aronson, one of the first well-known "curvy" models in the world, partnered with Syracuse University to start prioritizing inclusion at the academic level. As Aronson says in the film, the overwhelming majority of design students are never taught how to design for a range of body types. "We need to educate from the very get-go," she says.
To illustrate the disconnect happening, Straight/Curve smartly calls viewers' attention to Parsons, a preeminent New York City design school that boasts alumni such as Marc Jacobs, Derek Lam, Anna Sui, Prabal Gurung, and more. If you're looking for classes teaching size diversity in design, you won't find a single one at this esteemed institution. No wonder progress at a consumer level feels so slow. Tim Gunn, of Project Runway fame, supports the case for starting in the classroom. He says in the film that there's really no excuse. "It doesn't present any more difficulties," he says. "It's a matter of what people are used to."
Women, Alone, Will Get Nowhere
Straight/Curve is a film that feels familiar yet eye-opening. As the documentarians spoke with young people in a New York City primary school, it was alarmingly clear the extent to which media imagery impacted their self-worth. You hear these young teenagers say things like: "Gaining weight is social suicide"; "I look in the mirror, and all I see are the things that are wrong with me"; and "Girls are watched really closely."
Seth Matlins, a brand expert in the media world—and on a more human level, just a man—offers a chilling account when he says in the film that his perspective totally changed when he had a daughter. "I began to see how difficult we've made it to grow up as a happy girl and become a happy woman," he says. Of the media industry's role in it all, he admitted, "We didn't look at the cumulative effect of the images and the imagery that we were putting out." Hearing from fathers like Matlins, we are reminded of what another man, a Lane Bryant executive, says in the film: "This isn't just a women's issue."
As we all know, the body positivity movement is just but certainly not without flaws. Messages, tactics, role models—it's hard to know what exactly is required or best when it comes to changing an entire culture's misguided idealism. For example, as I watched the documentary produce a refreshingly diverse magazine spread, I couldn't help but notice that the filmmakers definitely kept to one script typical of media: Show some skin! At times I wondered: Does an authentic appreciation for size diversity necessitate less clothing? But as this film shows, it's definitely not as easy as we've perhaps thought or hoped it would be. There may be damaging scripts that we've become very used to in the media, but when it comes to changing the landscape, there's no guidebook. McQuaile told Verily, "Change is slowly happening, and people of power are stepping up. We just need more support and accountability across the board."
Those in New York can register to see a free screening of Straight/Curve at Fordham University at 7 p.m. on November 6.