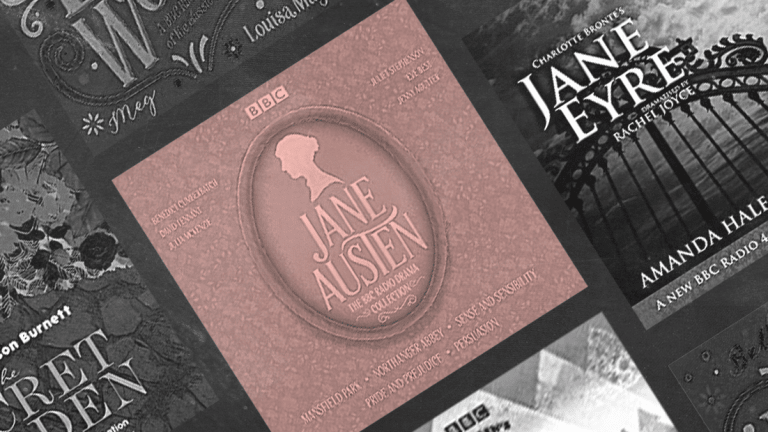 Revisit Your Fave Jane Austen–Era Classics with These 5 Full-Cast Audiobooks
You've read them five times through; now let Benedict Cumberbatch (and others) read them to you.
Literary classics have a way of winding their way into the reader's soul, creating a mark that lasts a lifetime. My dog-eared copy of Jane Eyre bears watermarks, dirt spots, and coffee stains from its constant handling over the years. But now there's a fresh way to get reacquainted with timeless stories: Have Benedict Cumberbatch read it to you.
That's right, BBC Radio has produced full-cast narrations (with soundtracks!) of well-loved classics, starring Cumberbatch and other favorites. Listening to these novels reimagined allows you to relive them in a whole new way.
Check out these five classics with all the excitement of a full cast reading aloud to you.
01. Jane Eyre by Charlotte Brontë
Relive the story of orphan Jane as she comes of age and becomes acquainted with Mr. Rochester. With Amanda Hale as Jane and Tom Burke as Mr. Rochester, backed by sound effects and an impressive musical soundtrack that adds depth and mood beyond what reading the text can convey, it's impossible to stop listening.
02. The Jane Austen Collection
Love Pride and Prejudice and Sense and Sensibility, but never tackled Mansfield Park or Persuasion? This is an easy way to dig in. This collection includes six of Austen's works, the four mentioned as well as Northanger Abbey and Emma. Narrated by skilled actors such as Benedict Cumberbatch and David Tennant, it's the perfect avenue for getting swept away by the words of Jane Austen.
03. Little Women by Louisa May Alcott
Jump into the world of Meg, Jo, Beth, and Amy like you never have before. The actresses who lend their voices to the sisters are distinct and well suited to their characters. It makes it easy to feel like a fifth March sister, immersed in their joys and sorrows. The background music and sounds—dinner parties, babies crying, knitting—pull you into the story, making it effortless to picture yourself in their lives, weary of war and eager for small moments of joy.
04. Heidi by Johanna Spyri
The clanging bells and bleating goats will drop you immediately into the world of Heidi as she moves into her new home in the Alps. Warm voices, short of breath from moving up and down the slopes paired with the infectious voice of Ciara Jansen as Heidi, make the tale of this joyful little girl, both in the mountains and in the city, come alive again.
05. The Secret Garden by Frances Hodgson Burnett
There's nothing quite like hearing the voice of stubborn and newly orphaned Mary Lennox as she defiantly begins her new life in the Yorkshire Moors. Rediscover the magic and wonder with Mary and Colin as you step into the mysterious, locked-up secret garden and wander the halls of Misselthwaite.