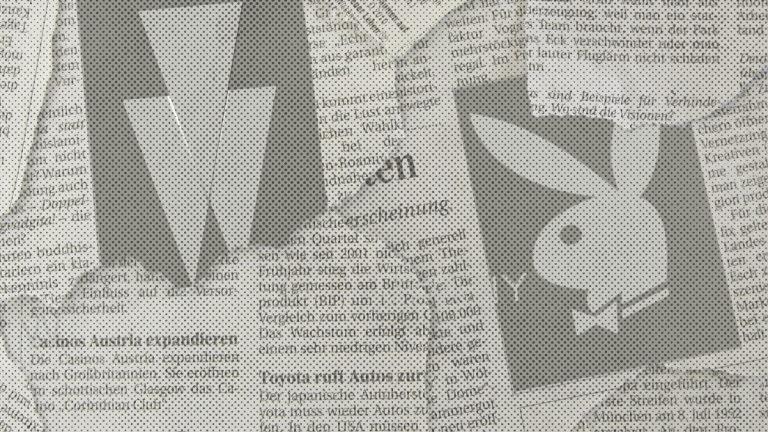 A Side-by-Side Look At Hugh Hefner's Death and Harvey Weinstein's Downfall Reveals a Troubled Trend
Our reticence to let predatory men be described as just so is part of our collective confusion
In just the past few weeks, our nation has been inundated with the biographies of two men, Hugh Hefner and Harvey Weinstein, who have played leading roles in the endless saga of sexual assault that now dominates our cultural dialogue. The script in their histories of sexual assault and coercion sounds familiar to all too many women. "I can help you," or sometimes it's, "I can ruin you." "I just want to talk," or at other times, "I know what you want."
Hefner and Weinstein were known to use their power to manipulate their victims, but the manipulation lives on as we eulogize these men. We need look no further than the editorials produced around both Hefner's death and the revelations of Weinstein's assaults to see how their influence holds sway over our judgement of them, too. Obituaries unsure whether to memorialize or condemn the creator of Playboy abounded in late September. Now, exposés of Harvey Weinstein similarly vacillate between the bullet points of his lengthy resume and the fact that all the while he has been serially harassing women in Hollywood. 
Collectively, we waffle as we struggle to categorize these men, unwilling to let their shared trademark—perversion—define them. A look at the words news outlets have used to describe these men in recent days is telling. Phrases such as "larger than life" appear just words away from "decades of sexual harassment." The foremost narratives have called out the men's sexual deviance while continuing to also afford them laudatory badges of honor such as "visionary" and "powerhouse." Their stories are reported to offer the good with the bad. The rise with the fall. 
By allowing these men's careers to cushion their crimes, we make it hard to call a spade a spade. It's no wonder, then, that it's so hard for us to wrap our heads around exactly how we got here, audience to a never-ending reel of men getting away with abusing women. 
Here's a look at what major outlets have written in the early days of Hefner's death and Weinstein's unraveling. Are these excerpts taken out of context? Yes. But that's part of the point. You'll notice how a reader could walk away from these articles conflicted: simultaneously meant to be impressed and disgusted. It only takes these small glimpses to see just how confusing our culture's dialogue about sexual assault is right now. A couple days after Hefner's death, Ross Douthat wrote for the New York Times what was deemed "an honest obituary for a wicked American." In doing so, he left no room for confusion: Hefner was "...a father of smut addictions and eating disorders, abortions and divorce and syphilis." Unfortunately, the same clarity cannot be gleamed from the majority of what we've read, such as what's below. 
L.A. Times
On Hugh: "Hugh Hefner, the incurable playboy who built a publishing and entertainment empire on the idea that Americans should shed their puritanical hang-ups and enjoy sex, has died. He was 91."
On Harvey: "There are so many things about the Harvey Weinstein sexual harassment revelations that are distressing and familiar that I hardly know where to start.
But let me try.
Weinstein is a 65-year-old married movie mogul who has been accused of sexually harassing women who work for him or have wanted to work for him over a period of nearly three decades. He is a man who can make and break careers, whose power has sometimes seemed infinite, whose temper is volcanic, and whose deft touch with stories and marketing has resulted in numerous Oscars."
Washington Post
On Hugh: "Away from his magazine and his every-day-is-a-party approach to life, Mr. Hefner was a generous if unheralded philanthropist. In the 1970s, he led a fundraising effort to restore the renowned Hollywood sign on a Los Angeles hillside. In 2010, he contributed $1 million to prevent real estate development near the sign. He also donated millions to efforts to preserve classic films and endowed a chair for the study of cinema at the University of Southern California.
Well into his 80s, Mr. Hefner continued to edit his magazine and did his best to maintain his swagger as the unflappable, unstoppable and unrepentant king of the Playboy way of life."
On Harvey: "The professional trajectory of Harvey Weinstein, the famed and feared Hollywood mogul, has been as volatile as his personality.
One of Hollywood's most powerful producers, Weinstein co-founded Miramax Films, turning the studio into a behemoth that changed the way independent films were viewed. His name has been attached to some of the most famous movies from the past few decades, and he has remained a force in a film industry that has changed substantially since he began his career in the 1970s.
Along the way, he helped propel the careers of people such as Quentin Tarantino and Steven Soderbergh and won the admiration of countless critics and others.
But his reputation for abrasiveness and his legendary temper have earned him more than a few enemies along the way, making Weinstein the frequent target of award-ceremony jokes and pointed anecdotes."
Chicago Tribune
On Hugh: "Influential and controversial, admired and vilified, and seemingly forever young, the Chicago-born publisher of Playboy magazine and the Bunny-emblazoned empire that it spawned, Hugh Marston Hefner died peacefully at home Wednesday from natural causes. He was 91."
On Harvey: "Harvery Weinstein, the larger-than-life Hollywood executive and Oscar-winner, is taking a leave of absence from his own company after an explosive expose revealing decades of sexual harassment against women, from employees to actress Ashley Judd, was published in The New York Times Thursday."
PEOPLE
On Hugh: "The magazine became known for its articles as well as the beautiful women that graced its pages, with Hefner asking some of the world's greatest and most progress literary figures to write for him including, Hunter S. Thompson, John Updike, Ian Fleming, Joseph Heller, Gabriel Garcia Marquez, Margaret Atwood, Jack Kerouac and Kurt Vonnegut."
On Harvey: "Powerhouse film executive Harvey Weinstein has been accused of multiple cases of sexual harassment — including by actress Ashley Judd — spanning three decades."
The Guardian 
On Hugh: "If the US was to fulfil [sic] its manifest destiny and its citizens were to genuinely enjoy life, it needed to be liberated sexually. This, he said, was what Playboy Enterprises, of which he was the CEO and visionary founder, was patriotically supplying."
On Harvey: "Rumors of abrasive behavior have followed the 65-year-old throughout his career. But the New York Times article, which rested on testimonies from female assistants, ex-colleagues and high-profile actors who portrayed Weinstein as having used his power to coerce women into satisfying his sexual urges. It hinted at an even darker side to the man who many see as one of the modern fathers of the independent movie scene."