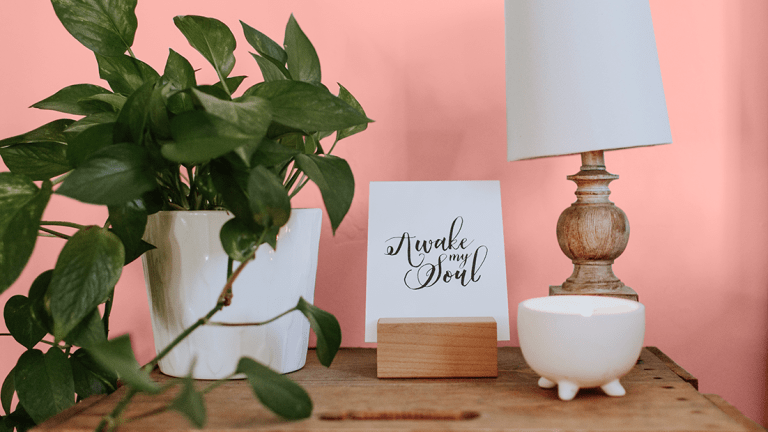 Research Shows 'Nesting' Is Actually Necessary for Your Well-Being
The best thing for your future is making yourself feel at home now.
The phrase "home is where the heart is" looks great cross-stitched on a pillow, but research suggests there's more to it than that. Studies at nursing homes, hospitals, and schools show that people are less flexible, express more social isolation and aggression, feel like a victim, and lack support from their local community when they don't feel at home.
The reality is that in early stages of adulthood, the places we call "home" are often temporary—dorm rooms, rented apartments, or shared residences we only plan to occupy for a few months in order to navigate a new career opportunity. With a tight budget, investing in making a short-term space feel comfortable and homey can seem like a waste. I know it once felt that way to me.
In the first four years of our marriage, during which my husband and I lived in three different apartments in New York, he never wanted to paint the walls because we'd have to paint them back when our lease expired. I was always somewhat aware of the space not really being ours. Once we settled in the suburbs, the first thing we did—even before moving in!—was to paint the walls in colors that helped us relax, recharge, and draw near to each other. Considering the research, I wonder now if we may have missed a valuable opportunity by waiting until we were "settled" enough to commit to a paint chip.
Today, more and more young adults are resisting the traditional modes of "settling down." The average age for marriage is 27 for women and 29 for men (in 1950, the ages were 20 and 22, respectively). Millennials are also waiting longer to buy homes, often until they reach their thirties, rather than in their early twenties as previous generations did. While renting and single life certainly don't preclude settling down, if this means that our generation is living in situations that make us feel unsettled, we may be putting ourselves at a disadvantage.
Research shows that domesticity, or a sense of home or family life, "is an important asset to resist present hardships, cultivate memory, and lay out projects for the future." Perseverance, identity, and ambition are top priorities for our generation, so perhaps making our rental feel like home is more valuable than we thought.
If "nesting" is a term you associate with pregnancy, think again. Nesting can be any means of turning a living space into a place of comfort, belonging, and physical and emotional stability. Wall hangings and throw pillows can satisfy material and aesthetic needs for some. Women who have experienced intimate partner violence (IPV) report safety and a sense of community as integral to creating a "home" environment. "Home" looks different for everyone, but the value is universal.
Whether you share a room with a girl who has totally different taste than you, live alone, or are in your forever home, here are some tips to make your house into a home:
It may be that doing small things to your living space—hanging curtains, painting the walls you'll have to paint back anyway, hunting thrift stores for the perfect reading chair—are well worth a line on your budget. Consider it an investment in your short-term happiness and your long-term health.