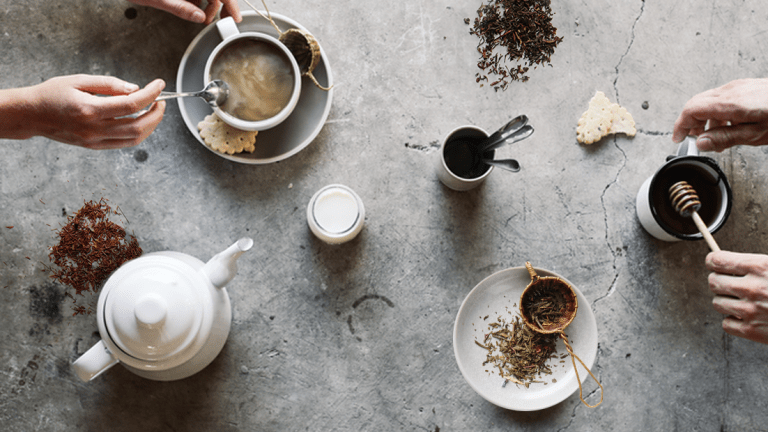 This Old-School British Tradition Is Making a Comeback with Millennials and Here's Why
Jane Austen. The Suffragettes. Health Gurus. They all have this one fashionable thing in common, and, apparently, Millennials are loving it.
Sure, your favorite British book characters love it. And so does Kate Middleton. But tea drinking is becoming more and more popular among American Millennials today. And it's not just because it boosts immunity, eases PMS symptoms, promotes healthy, glowing skin, and has many other research-backed health benefits. Here are four more reasons why you should get in on the trend (or expand your tea knowledge if you already have some). We almost don't even need to mention that you can also use tea to make a killer winter cocktail this year.
01. More New and Unique Tea Varieties Than Ever
Tea is currently a $21 billion industry in the U.S. You may have noticed that the range of options in the tea aisle at grocery stores and health shops is bigger than it was when you were a tween. Tearooms and special-tea companies—such as Teavana and DAVIDsTEA—have slowly been brewing up in cities across the country. Why?
Part of the reason is because premium teas from around the world are increasingly more available to us than they were for our parents and grandparents. Because it's easier to trade tea globally, it has also become more affordable. More new and unique varieties of tea—at least to us Lipton drinkers—have become available in the U.S. over the past decade alone, including popular tea-based products such as boba, kombucha, and matcha.
02. Several Steeps Ahead of the Curve
Drinking tea isn't just an ancient Asian or old British tradition—North Americans are just late to warm up to tea culture. It may be trending now, but tea is a 5,000-year-old beverage, like matcha from Japan. Researchers approximate that people began drinking tea for medicinal purposes in China during the Shang Dynasty (1600 B.C.). The large immigration flux of Asians and Syrians in the 1900s eventually brought their influence of tea culture and traditions. Today, half of Americans now choose to drink tea over coffee. In fact, a recent poll found that for under-thirties, coffee and tea are equally popular beverages (42 percent prefer tea and 42 percent prefer coffee, while the rest prefer neither).
03. We've Added Our Own Twist
Millennials are much more adventurous about exploring the expansive world of tea. Jane Austen, a known tea-lover, might be scandalized to find that we drink pre-packaged, ready-to-drink tea. But because Millennials are taking tea differently, we've made this old tradition evolve and stay relevant on the market. For instance, 85 percent of Millennials prefer to drink iced tea, which has resulted in a variety of cold tea products being sold on store shelves—Coca-Cola realized this growing years ago and invested in brands such as Nestea and Honest Tea. Our sweet tooth has also driven the creation of dessert tea flavors such as DAVIDsTEA's Coffee Cake blend or Teavana's Tiramisu Black Tea (which has a touch of real whiskey!). Vanessa Facenda, editor of the Tea & Coffee Trade Journal, says that more unsweetened, organic options are coming on the market for those concerned about sugar intake or being eco-friendly.
04. Pinkies Up
Millennial tea-lovers are looking for specialty shops and high-end tea brands similar to the way we experience hipster coffee. Taylor Cowan, co-founder of Spirit Tea, tells The Ticker Tape, "If you think [about] the way wine was thirty or forty years ago here, great wine . . . was French and you had it on nice occasions. What changed is the perceived value of wine." Tea in America may not reach the level of sophistication it carries in the U.K. or China, but if you want to elevate your tea experience, there's no need to wait for your fellow coffee-lovers to catch up. Since 1998, high-end restaurants such as the W Hotel in New York City began to train and hire tea sommeliers. Today, other establishments have followed suit by rolling out special tea pairings with their menu (yes, much like wine pairings) and offering afternoon tea services our great-grandmothers would approve.
Next time you're food shopping, stop by the tea aisle for a tin of loose-leaf tea or one that comes in pyramid-shaped sachets (not flat teabags)—you'll get a better steep and a more delicious experience. It's time to turn over a new leaf, and it may just become your favorite cup of tranquili-tea yet.