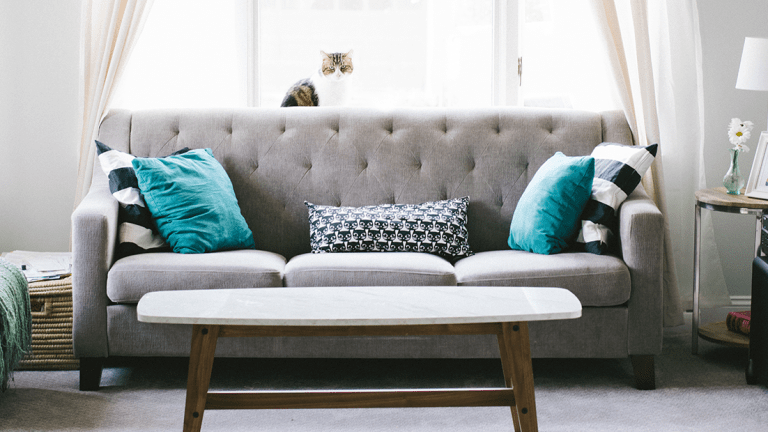 Home Decor Steals Every Interior Designer Searches for on Craigslist
Proof that one woman's trash can be another woman's treasure
It's true, decorating and designing your dream interior can get pricey. But you can save money when you spend creatively on secondhand items. Craigslist, and e-marketplaces like it, make it easy to find the perfect piece for a lot less than what you'd buy new (even from assemble-it-yourself furniture stores).
But the endless listings can also turn into a black hole of browsing. To guide your hunt, eight interior designers share their best Craigslist tips and tricks below. As interior designer Tess Leeds shares, "Why pay full price when you don't have to?"
Craigslist Is Best for Vintage Furniture and Unique Treasures
All these designers agree: Craigslist is ideal for vintage and one-of-a-kind finds. Broaden your search if you prefer another style, but these items are easy to refinish and prime for statement pieces to finish off a room.
L.A.-based Homepolish designer Shana Wardle tells us, "Since Craigslist items are typically secondhand, I use the site like an online flea market with antique finds. That being said, I let the vintage pieces be the conversation starters in each room.
Interior designer Kerry Vasquez also uses the items for completing a room's look: "I like to fill [the room] in using unique or statement pieces from Craigslist to give a curated and eclectic look to the overall design." Sarah Karakaian of Nestrs, a husband-wife construction and design team, collects standout Craigslist items—even if she doesn't have an immediate need. She explains, "I ended up having a small section of a room for awesome Craigslist finds that I didn't know what to do with but couldn't dare pass up." She is sure to find a use for them later in her work.
Pick Pieces with Solid Foundations
When analyzing an item, focus on the quality of its materials. Karakaian scours Craigslist for what she calls "good bones." She expands, "Most things can be scrubbed, primed, and painted, which is a great way to customize items that will coordinate with your design perfectly." Confirm its authenticity, too. Ask the seller for photos of maker marks or serial numbers. Wardle advises, "If a piece of furniture is made well, it will last through a few more lifetimes, so snag it while you can."
Look for the Potential & Prepare to Put In Some Elbow Grease
Craigslist steals don't often come showroom-ready, but don't write something off that isn't pretty at first sight. Sue Fishkin of Rooms About You Design Studio will "reimagine different pieces that I find employing reupholstering, paint, or whatever I need to do to refresh and offer new life to the piece." Aside from new upholstery and paint, Illinois-based Homepolish designer Charlotte Williams has polished off a look with "just a good cleaning and it's ready to use!"
Mark Cutler, who has designed for the likes of Steve Carrell and Jennifer Lopez, advises being flexible with the color and finish—they're easy to fix. He says, "So constantly be thinking about ways you can change what you find so that it becomes what you had in your mind."
Don't Hesitate to Negotiate
You don't need to settle for the listed price. In many cases, the seller just wants to get rid of whatever you're eyeing and will accept a lower offer. Karakaian advises bringing cash in the exact amount you want to pay, "I learn that if you show them what you want to pay for it with the actual amount in your hand and ready to go, it helps close the deal faster." When checking out a set of decorative wheels priced at $15, she countered by handing a $10 bill to the seller who immediately accepted it.
Do a little research to make sure it's worth the work you might have to put in. Fishkin recommends thinking through the cost of materials needed to refinish an item, the time it will take, and the pick-up or delivery process. Then you can get a better sense for the total cost for more negotiating power. She says take a firm position, "I'm never afraid to offer less and always willing to walk away whatever the reason."
Refine Your Search with Specific Keywords & Images
Use specific keywords to narrow the results and turn on the thumbnail images for visual scrolling. Wardle says, "Craigslist is all about the keywords. I go in with a clear vision of the piece that I want, and ensure that I'm typing in the most important descriptive elements of the piece." If you don't have a precise style in mind, Homepolish designer Jill Shadek recommends searching for brand names with the item category (e.g., Room & Board sofa, Crate and Barrel coffee table, or West Elm desk). For timeless and classic styles, this tip will help you find quality items from brands you can trust.
Persistence will pay off with Craigslist, both in cutting costs and in creating a truly unique look in your home. These interior designers are proof. Leeds encourages us saying, "Keep on the good hunt. You know what you want and it's out there. Just be patient. The money you'll save will be well worth it!"