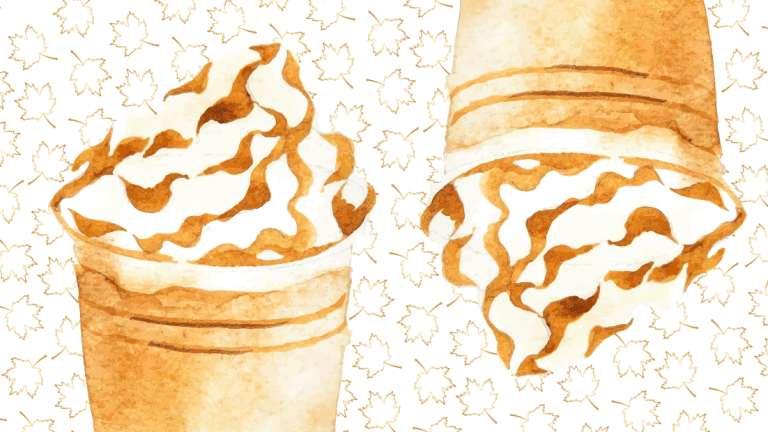 4 Smart Swaps That Will Make Your Pumpkin Spice Latte Habit Way Healthier
Pumpkin and spice and everything nice, that's what fall is made of—so enjoy it in moderation.
Outsiders may view the American love of all things pumpkin as an unhealthy obsession, but it has been 14 years since Starbucks released its first ever Pumpkin Spice Latte and the love is as strong as ever. Case in point: Disneyland just released two versions of PSL, Trader Joe's is selling a new Pumpkin Spice Almond Drink, and Pumpkin Spice Vodka is now a thing.
For all their fall spicy goodness, anyone with tastebuds also knows that the PSL is a sugar bomb. While it's fine to indulge in moderation, if you're looking to take the sugar down a notch, ordering a healthier version (that still tastes delicious) is easier than you think. Here are some simple swaps to sip smarter.
What's in it?
The original: a 16oz Starbucks Pumpkin Spice Latte
2% Milk
Pumpkin Spice Sauce [Sugar, Condensed Skim Milk, Pumpkin Puree, Contains 2% Or Less Of Fruit And Vegetable Juice For Color, Natural Flavors, Annatto, Salt, Potassium Sorbate]
Brewed Espresso
Whipped Cream [Cream (Cream, Milk, Mono And Diglycerides, Carrageenan), Vanilla Syrup (Sugar, Water, Natural Flavors, Potassium Sorbate, Citric Acid)]
Pumpkin Spice Topping [Cinnamon, Ginger, Nutmeg, Clove, Sulfiting Agents].
A Better Way to Order Your Starbucks PSL
01. Milk it for what it's worth.
Instead of 2% milk, opt for skim, soy or almond milk, which will cut the cholesterol in half. Choosing a healthier milk can also slash about 25mg of sodium (which contributes to hypertension and increased risk of heart disease).
02. Dump a few pumps.
The average Grande comes with 4 pumps of Pumpkin Spice Sauce. It's what gives you that quintessential pumpkin flavor—and a whopping 50 grams of sugar. Natalie Weiss, RD, LDN, notes, "That's about the same amount in a [regular] Coca-Cola can, and almost twice the daily recommendation of 25 grams [of sugar]." Asking your barista for 1 or 2 pumps of PSL will cut down on the sugar content while still allowing you the taste of fall.
03. Make a Tall order.
Ordering a Tall versus a Grande cuts out about 50mg of sodium, 10mg of cholesterol, and 12 grams of sugar. "You'll still get your fix, without the extra calories and sugar," explains Natalie Robertello, MS, RD, CDN, of Catholic Medical Partners in Buffalo, New York. 
04. Skip the whip.
Whipped cream is luscious and everything, but it's also full of sugar and preservatives. But the real incentive to consume it in moderation it is that it contains mono and diglycerides, which contain unhealthy trans fats that can increase your risk of heart disease. 
05. Treat it as dessert.
Weiss has a great rule of thumb: "If you're wondering how these drinks should fit into your diet, put them in the dessert category." This is a good reminder that it's OK to enjoy your PSL (whipped cream and all) and still treat your body well. 
Depending on whom you ask, PSL season is either beloved, basic, or bad. Some even predict that maple will be the next holiday flavor trend (we may soon be calling it MPL season). Whatever barrage of seasonal beverages hits us next, making smart health choices means you can have your sweets and drink them too.