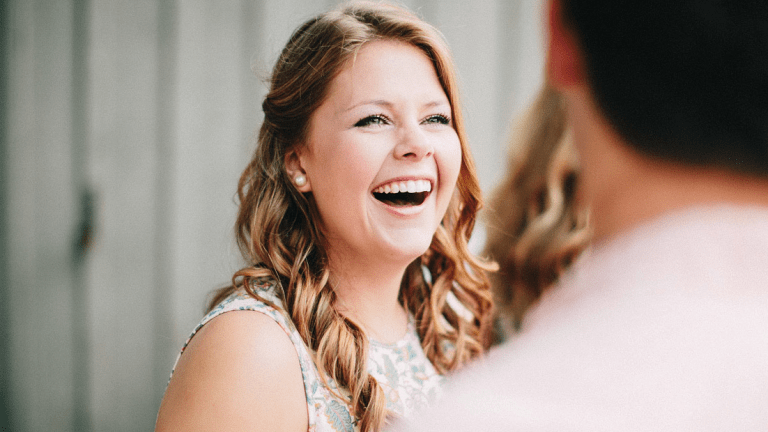 This Woman Quit Dating Apps and Decided to Meet Men IRL, and It Changed Everything
It killed me at first, but dating has never been better.
This past June, I deleted my dating apps.
Exhausted by nearly a decade of online dating, I decided it was time. Compulsively scrolling through profiles became my way of reassuring myself that I was putting myself out there, without ever having to leave my apartment. But I knew it wasn't doing me any favors. Right after I deleted the apps, I would find myself reaching for my phone, only to realize the apps were gone—and I felt the void. Nature abhors a vacuum, and to fill the space that Tinder, Bumble, and Hinge had left behind I knew I was going to have to talk to men. In real life. Gulp.
I was terrified, but don't worry—I had a plan.
To gain confidence, I started really small.
I would first begin by talking to strangers. Given my introverted nature, this was daunting, but I took one step at a time. I began by making eye contact with people on the street or in the grocery line and chatted with anyone who was paid to be nice to me: baristas, servers, Uber drivers. This gave me momentum as I moved on to other captive audiences—fellow passengers on planes or the girl behind me at the water fountain at the gym. The more I smiled, asked questions, and listened to the answers, the more I learned.
I learned that my barista was a former college professor who had given up teaching to sell lattes. He'd never been happier. A fellow Lyft rider had a degree in actuarial science but worked as an options trader for a large produce company. He found his job fascinating and so did I. The man pouring cream in his coffee next to me at my favorite coffee shop was an assistant superintendent of Chicago's Department of Streets and Sanitation. I learned he was heading out to face the aftermath of a gruesome overnight crash, but not before he gave me his card and offered his assistance "Should I ever need anything." I couldn't imagine what future sanitation emergency he could mitigate for me, but that short conversation had me smiling all morning.
My dating life transformed.
The more comfortable I became talking to everyone, the more confidence I gained talking to men. I began living openly, boldly, and unapologetically. When a handsome doctor asked me to leave a bar to get food with him, I replied, "No thanks, but you can buy me dinner next week." The following Tuesday found us seated at a trendy Italian restaurant sipping wine and talking about our lives. 
In the past four months, I've received more business cards than in the previous entirety of my adult life. That said, while my number of IRL ask-outs has greatly increased, on a whole I've been on fewer dates. But this isn't a bad thing. When relying on apps, I'd go out with just about anyone who asked. Not having met him in person, I had little way of knowing if we'd mesh. Consequently, I often found myself in coffee shops with men who, at best, I didn't click with, and at worst, I actually disliked. Now, when I meet a man in real life, I know whether I want to spend time with him. So, my dating life has lower volume, but far higher quality.
Better yet, I have improved.
But it's not just about dating. Talking to strangers, in general, is exhilarating. When people smile back, tell a story, talk about their day, the energy is infectious, and while it may take intentional effort, the payback is huge. Most people desire human connection, and I've encountered very few who are unreceptive to my friendly advances. Sure, maybe a few bus passengers look annoyed that I've made eye contact (gasp!), but the worst they do is ignore my smile and look intently at their smartphones.
I've also fundamentally shifted the way I think about meeting men. I used to be very result-oriented and perceived men in real life the way I viewed them on apps. Was he tall, attractive, charismatic? I'd talk to him, but with a specific outcome in mind: Get a date. Now, I talk to everyone. I never know who might have a single friend I'm perfect for, whose son is dipping his toe back into dating, or which casual friendship might grow into something more.
Quitting dating apps allowed me to see clearly the seductive, reductive, dating paradigm that held me captive. Like an addict, I'd been tantalized by the heady promise of "just one more swipe," and removing that temptation revealed that there was much more to dating, and to life. For me, at least, the apps were not limitless but limiting. Hiding behind my screen allowed me to hide in real life, and the endless swiping had eroded my social skills, my sense of self, and my awareness of those around me. In glossy dating apps, men metamorphosed into a blur of staged photos and carefully worded bios, easily disposed of with a flick of my thumb. 
I'm loving real life even more.
Committing to meeting men in real life has given me the freedom to open up, reach out, and let go of the checklist I clung to for so long. I've discovered more than just a formula for my dating life, but a formula for my best life—romantic and otherwise. Now, I rarely suffer from FOMO. If I want to spend the evening in my rattiest sweats watching Will and Grace on Hulu, I do. If it's wine and cheese night with my girlfriends, even better. I don't feel the need to squeeze myself into crowded bars every Friday or Saturday. After all, my next date could be beside me on the train, in front of me ordering his latte, or holding the door for me at the gym.
There is an incredible freedom in living a life committed to true, organic, human connection. Like working out or eating healthy, it also just feels good. But, like developing a workout routine or meal-prepping, it's also a habit that must be practiced to be sustained. But I have no plans to stop as long as it continues to be joyful and affirming. 
Are you considering ditching your apps, too? Maybe you've already taken the plunge? I'd love to hear how it's going or answer your questions!