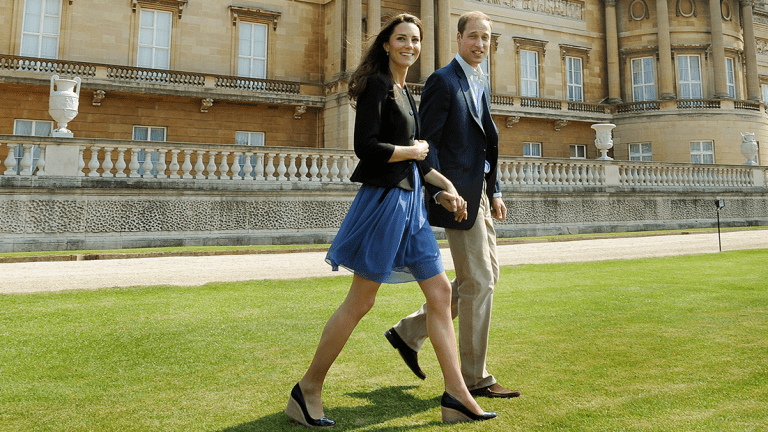 6 Hacks Kate Middleton Uses to Look Expensive (for Cheap) That You Can Steal, Too
Proof that a royal look doesn't require a hefty price tag
As the reigning monarch of classic style, the Duchess of Cambridge's (aka our beloved Kate Middleton) sartorial interpretation of the modern feminine woman is #stylegoals. Singlehandedly bringing back three-quarter-length sleeves and knee-length dresses, we can always count on Kate to reinvent our favorite silhouettes in a way we can afford to try too. 
Kate has made headlines in the past for wearing inexpensive brands like Zara, Topshop, Oasis, Asos, and even GAP. She, of course, makes them look just as expensive as the designer labels, begging us to ask, "How does she do it?" The answer is in her expert styling. Ready to steal her tricks? We've broken down our favorite Kate Middleton-worthy street style looks, worn by everyday women. Follow these techniques and you'll be looking like royalty, too!
Add a "Pop" to Your Classic Ensemble //
Affordable classic items are easy to come by since they're so timeless. Chances are, you already own a button down and pencil skirt. But if your staple items are feeling a little too bland, take a cue from Kate! She often adds extravagant details like gold buttons, a feathered fascinator, bright colors, or patterns sto make her ensemble more regal. A basic button down and pencil skirt combo might be boring on it's own, but if you add colorful heels or a statement necklace, the whole look stands out. 
Never Forget Your Figure //
The Duchess of Cambridge never forgets to flatter her shape! Always wearing a-line dresses and coats that cinch at the waist, and pencil dresses or skirts that emphasize her form, Kate's go-to silhouettes are all about her figure. We can take notes from her outfit choices by wearing items that flatter our shapes as well. When your body is being complemented by what you wear, you instantly look like a million bucks.
Wear Unique Prints in Traditional Silhouettes //
One of the best things about Kate Middleton is that she's not afraid to dress outside of the box even though she's a royal. Her key to experimenting with fashion is to try bold prints in traditional silhouettes. So even though she's wearing a classic a-line skirt, she'll try it in an edgier abstract print. Interesting, non-typical prints often create a more expensive look because of how rare the prints look. So don't be afraid to wear unique prints, they'll completely upgrade your outfit!
Dress Up Your Casual Basics //
The blazer and jeans combination is a favorite of Kate's. It's the perfect mixture of casual and professional and can be worn to numerous occasions. Whether she's wearing a navy or tweed blazer, the versatile jacket allows her to get away with wearing a pair of comfortable everyday jeans. Pro tip: Scour secondhand stores for blazers in every fabric and print at super low prices!
Match Your Accessories //
Kate's outfits are always very cohesive and thought out. She will often wear brightly colored monochrome ensembles, especially in the color red. Red is a color that conveys strength and when worn in a very intentional way like matching separates or accessories, it makes for an even more powerful look.
Incorporate Texture //
Texture immediately adds a luxurious tone to your entire outfit. Leather, suede, velvet, wool, silk, etc., are fancier fabrics that transform the quality of your whole look. Venture to your local thrift and vintage stores for some classy leather and suede pencil skirts, fur lined coats, silk blouses, and velvet dresses. You'd be surprised at what gems you're able to find at such a low price!