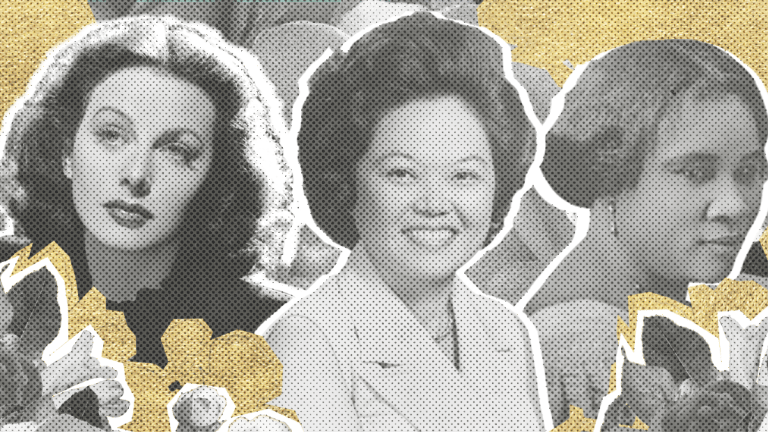 11 Incredible Historical Women You Ought to Know—and How They Still Impact Us Today
For those of us who don't look up to reality TV stars
You've heard it before: If you want to be successful, you need to find a strong female role model—someone you admire, with grit and determination. Luckily, there are so many to choose from. Actress Keri Russell said it best: "There's no shortage of female role models. They're everywhere—in history, in literature, in the news. Just look around."
Just step outside. Women who have risen to the top in their careers such as Brené Brown, Oprah, Reese Witherspoon, and Sheryl Sanford (to name a few) grace magazine covers and bookstore shelves and appear on morning talk shows daily. But before these modern-day women made names for themselves, there were many generations of pioneering women who paved the way.
You may recognize a few of these women. Others you might not. But they all share one thing in common: their determination to succeed—and their stories can inspire us all to crush our goals.
Great Ideas Should Be Shared
Mary Kies (1752–1837): At a time when women had little political and social power in the U.S., Kies rose high above it all. On May 5, 1809, she became the first women to apply for and receive a U.S. patent for her method of weaving straw with silk. Her patent enabled her to design (and sell!) fashionable bonnets for women.
Margaret E. Knight (1838–1914): It's fair to say that Knight certainly followed Kies' lead when it came to applying for a patent. Knight received over twenty-seven patents for her unique inventions. Some of her most notable designs: a machine that produced flat-bottomed paper bags and a window frame with a sash.
Madam C. J. Walker (1867–1919): In the late nineteenth century, Walker, born Sarah Breedlove, founded a hair and beauty products company for black women inspired by her own struggles with hair loss. Her company was a huge success, and she's considered the first black woman to become a self-made millionaire.
Don't Be Afraid to Have a Voice
Belinda Sutton (dates unknown): In 1773, Sutton, the former slave of a wealthy Massachusetts family, successfully petitioned the court for her years of unpaid labor—and won.
Mary Ann Shadd Cary (1823–1893): Nearly seventy-five years later, in 1853, Shadd founded Canada's first anti-slavery newspaper, the Provincial Freeman, and became the first black female newspaper publisher in North America.
Victoria Woodhull (1838–1927): In 1870, Woodhull, an advocate for women's rights and a leader of the suffragette movement, wrote of her desire to run for president in a letter to the New York Herald. Two years later, she followed through and became the first female presidential candidate in the U.S.—even though she could not vote for herself, a right that wouldn't come for over forty-five years.
Patsy Takemoto Mink (1927–2002): Less than a hundred years later, in 1964, Mink, a politician from Hawaii, broke barriers in becoming the first woman of color elected to Congress. An advocate for women's issues, Mink co-authored the Title IX Amendment of the Higher Education Act, which prohibits discrimination based on gender in any federally funded education program or activity.
Women Can Succeed in Any Field
Maria Sibylla Merian (1647–1717): A seventeenth-century naturalist, Merian's illustrations of the metamorphosis of the butterfly furthered the study of entomology in the late sixteenth century, at a time when there were very few female scientists. For women interested in STEM, her work should serve as inspiration.
Ada Lovelace (1815–1852): The same goes for Ada Lovelace. Although she died at the young age of 36, she made a huge contribution to science as the world's first computer programmer. Lovelace was the daughter of Lord Byron and his wife, Lady Byron. When the couple separated, Lady Byron took Ada to London, where she encouraged her to study math and music—and not become a poet like her father. She took to math and went on to write very detailed notes on the uses of the Analytical Engine, her friend Charles Babbage's device.
Passion Projects Pay Off
Annette Kellermann (1887–1975): Kellermann was a successful silent film star and vaudeville performer, as well as a competitive swimmer and a champion of women's fitness. In 1905, she developed the women's one-piece bathing suit, a far cry from the long dresses, corsets, and stockings that women were used to swimming in. Thanks to Kellermann, women can all swim a little freer and lighter today.
Hedy Lamarr (1914–2000): During the 1930s to 1950s, Lamarr was one of Hollywood's most popular film actresses. But that wasn't her only job. Lamarr was also a brilliant inventor and regarded by some as the "Mother of Wi-Fi." Her idea of frequency hopping revolutionized weapons during World War II and helped create the smartphones we know and love today.