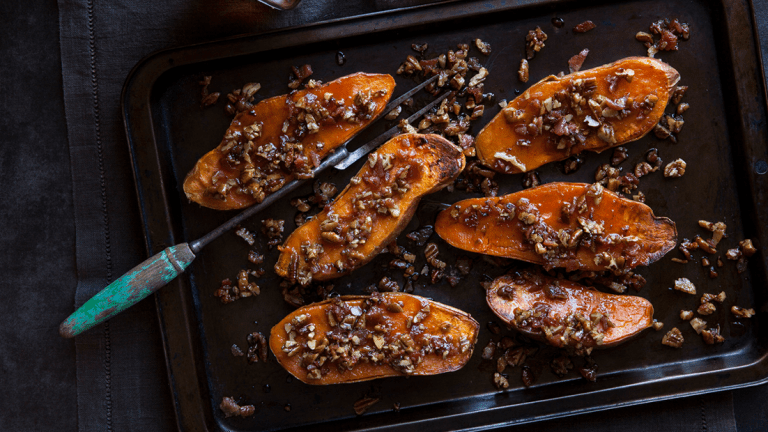 4 Fall Superfoods to Add to Your Pantry (That Aren't Pumpkin)
Because pumpkins are great, but you can't eat them all the time
Whether we like it or not, pumpkin is everywhere these days—in lattes, cereals, hummus, and even on pizza! From a nutritional standpoint, pumpkin's ubiquity can be justified. In its purest form, it's a great source of fiber, low cal, and because it's 90 percent water, helps keep you hydrated. With vitamins A and C and a couple of winning antioxidants, it's no wonder that pumpkin has taken culinary center stage.
But there is far more to fall than pumpkin, of course. Autumn = bright harvests and a host of warm, inviting flavors to keep you cozy as temperatures cool and the holiday season approaches. Not only do the autumnal superfoods below taste good, but they're also good for you. Fall in line, pumpkins. You've got some worthy competition. 
01. Sweet potatoes
If the orange hue doesn't evoke pumpkin panic, sweet potatoes are another excellent choice from the farm. Like pumpkins, they're rich in fiber and vitamin A. They're also relatively low in sodium, and while they have more sugar than white potatoes, they are lower in calories.
Pro tips: Try pricking one with a fork and baking at 400° for about forty minutes, or until tender. Slice in half and top with a small dab of butter and a dash of cinnamon for a simple side. For a French fry alternative, cut a sweet potato into matchsticks, coat in olive oil, garlic powder, and paprika and roast at 350° for about thirty minutes.
02. Cranberries
If the only way you know cranberries is that canned gelatinous stuff at Thanksgiving, prepare to be amazed. Fresh cranberries can last up to two months in the refrigerator. With only 45 calories per cup, they are also a great source of fiber and vitamin C, not to mention disease-fighting antioxidant powerhouses. And who doesn't want to strengthen her immunity as the sniffles start to spread?
Pro tips: Dried cranberries are yummy on cereal or in oatmeal, but mind the added sugar, or you'll take in more calories than you intended. Use fresh cranberries in your favorite muffin or bread recipe, or make a sauce to top a simple chicken or pork dish. The gorgeous color and tangy flavor will convert you from canned crans in an instant.
03. Pomegranates
Don't be intimidated by the thought of breaking into a pomegranate. Proper technique just entails a sharp knife and a bowl of water. The arils, or edible seeds of a pomegranate, are packed with fiber, vitamins C and K, potassium, and even protein. Pomegranates are also lauded for their antioxidant and anti-inflammatory properties.
Pro tips: With a sharp knife slice the top and bottom off the pomegranate. Lightly score six slices around the skin (as if you were slicing through an orange). Gently pull each section apart with your hands. Dunk one section at a time into a bowl of water and gently pry the seeds off the white membrane (the arils will fall to the bottom and the membranes will float to the top for you to discard later). Once you've deseeded your fruit (or opened the package of prepared arils from the produce section), snack on the seeds alone, or toss them into yogurt or onto a salad. Crush the seeds in a blender and push the pulp through a sieve until it's drinkable. Sip it alone or use it to flavor a juicy fall cocktail. Two poms will yield about a cup of juice.
04. Cinnamon
For many of us, the spicy sweet aroma is inexplicably comforting. But the spice's value runs deeper than nostalgia. For centuries, cinnamon has been extolled for its anti-flammatory, antibacterial, antiviral, and antifungal properties. Current research suggests it may also benefit women suffering from polycystic ovary syndrome (PCOS), by helping to manage insulin resistance and heavy menstrual bleeding.
Pro tips: Look for "Cinnamomum verum," also known as "Ceylon cinnamon," the next time you're in the spice aisle. The more common variety, termed "Cinnamomum cassia," "Chinese cinnamon," or "Cassia cinnamon," that you probably have in your pantry already, does not have the same nutritional profile and won't offer as many benefits. Don't overdo it either; large doses (more than 6 grams or 1 1/2 teaspoons per day) of cinnamon can be toxic. Rather, sprinkle some in your coffee or tea, and incorporate the spice into sweet and savory dishes where you can.
Get creative with these perfect-for-fall-foods that have proven health benefits. They're the best excuse to enjoy cinnamon rolls, cranberry cocktails, and sweet potato fries with a lot less guilt.