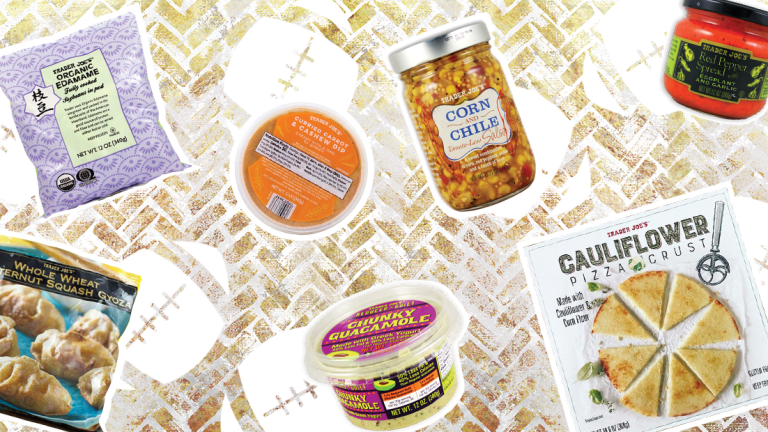 15 Easy (and Cheap!) Game Day Comfort Foods Made Healthy from Trader Joe's
So deceptively delicious they will never know what hit 'em
Tailgating outdoors or enjoying your favorite teams from home usually comes with salt, fat, and a side of guacamole. But a quick stop at Trader Joe's can make traditional game day fare healthy and just as snackable (the guac can stay, though).
Registered Dietitian Suzanne Hollander advises remembering this formula when putting together your party menu:
half should be fruits and vegetables (such as crudités, dips, and salsa)
a quarter can be starches (such as whole grain crackers or tortilla chips)
a quarter can be healthy fats and proteins (such as cheese and meat-based apps)
This way, you'll enjoy a buffet that will keep you full and energized enough to cheer for your team rather than being the last Manning standing.
A light drizzle of olive oil and a sprinkle of natural sea salt make this air-popped organic popcorn an irresistible addition to your starting lineup. No one will miss the corn chips.
Defrost in the fridge overnight, and then toss in soy sauce and lemon for a kickoff snack that will fill you up.
Sweet and savory potstickers made with butternut squash, edamame, carrots, sweet potatoes, and kabocha squash—so tasty no one will even notice they're vegan.
Goes great on a cheese plate with crackers or baguette slices!
A smooth, creamy dip without the cream that makes an excellent team with veggie crudités or cauliflower "breadsticks" (more on that below).
Bake until crispy, and cut into gluten-free "breadsticks" for snacking or dipping.
Like Doritos Cool Ranch Tortilla Chips—but better!
So good our guys eat it out of the container with a spoon.
A party isn't a party unless there's spinach dip, #amiright?
Fresh pita bread baked into chips good enough to eat on their own or with the Mediterranean Hummus or Reduced-Guilt Spinach & Kale Greek Yogurt Dip—whew, that's a mouthful (of goodness)!
Sweet corn, manchego cheese, zucchini, tomatillo, red bell pepper, and roasted green chile enveloped in moist corn masa like abuela makes it.
Meat lovers will gobble gobble up these flame-broiled turkey meatballs because they totally pass for beef.
Sweet corn tomato-less salsa with a little kick for scooping or spooning.
Made with rich, thick low-fat Greek yogurt.
Pile on your favorite toppings to make nacho average nutritious nachos.