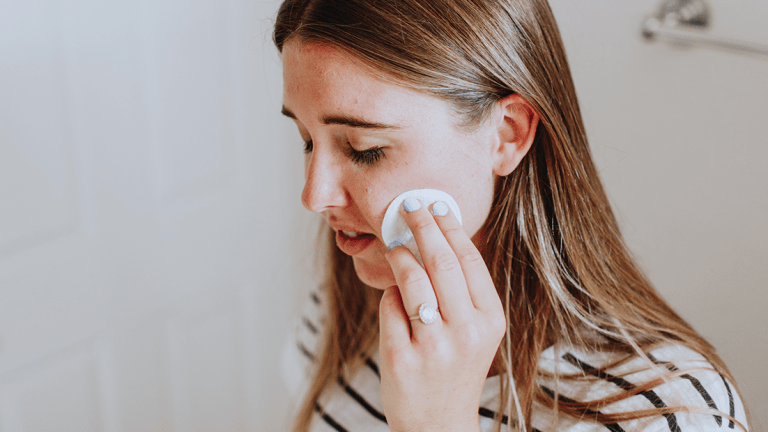 Can't See a Doctor About Your Skin Concerns? Here's the Scoop on Online Dermatology
The future of prescription skin care is accessible and affordable.
Anyone who has experienced recurring skin concerns is familiar with the urgent desire to get professional help, but it's not as easy as booking an appointment and seeing your derm the next day. In some cities, it can take up to three to six months to get an appointment, and many insurance plans don't even cover the visit or the prescription.
For many of us, cystic acne, blackheads, whiteheads, and pigmentation simply don't respond to drugstore products, resulting in low self-esteem and in serious cases, isolation from others. Thankfully, modern technology has allowed for advancements in dermatology, and getting the help you need is easier than ever before. You may have already heard the buzz surrounding online dermatology practices such as Yoderm, First Derm, and SkyMD, but one company in particular has been getting a lot of attention for its affordable, customized skin care treatments that arrive on your doorstep. Appropriately named Curology, this up-and-coming online practice is on a mission to make dermatology-grade skin care more accessible.
Eager to learn more about the ins and outs of teledermatology, I chatted with the founder of Curology, Dr. David Lortscher, who believes great skin shouldn't be a luxury but a fact of life.
Lilly Bozzone: Why did you start an online dermatology practice?
Dr. David Lortscher: Before Curology, I was practicing as a dermatologist in the middle of rural New Mexico. A lot of my patients were driving over two hours to see me, only to find that their prescriptions cost upward of $200. This is when I realized there has to be a better way.
LB: How does Curology work?
Dr. Lortscher: Our unique platform gets you one-on-one with a dermatologist in minutes—all it takes is a few selfies and a skin quiz to get a prescription formula customized to your individual skin care needs for $19.95/month. I wanted to bring stress-free acne care to people through the ease of an online platform that sends their custom prescription-strength formulas straight to their front door.
LB: What types of skin concerns does Curology address?
Dr. Lortscher: While we focus on acne-fighting, each formula can be adapted to address anti-aging, dark spots, blackheads, hyperpigmentation, and more. We recognize that everyone's skin is different and that the combination of expert dermatological care and tailored prescription formulas can be a more potent and effective solution.
LB: What makes your prescriptions effective?
Dr. Lortscher: Our custom formulas are tailor-made for your skin and packed with prescription ingredients that are not available over the counter at the drugstores. Each formula is mixed with three ingredients of varying percentages based on your medical history, skin concerns, and goals. Ingredients include: azelaic acid, clindamycin, niacinamide, tretinoin, vitamin C, and zinc pyrithione.
Most over-the-counter acne products contain either benzoyl peroxide or salicylic acid, but they may only eliminate 33 percent of acne (plus, they can be irritating to sensitive skin, ultimately making acne worse); however, prescription medication can get rid of up to 75 percent of acne, according to randomized clinical trials.
LB: Why is teledermatology the future of skin care?
Dr. Lortscher: You can get a skin care prescription to treat your acne without ever leaving your couch. Gone are the days you need to get a referral from your primary care physician, wait weeks for an appointment, and pay a huge copay to be seen by a dermatologist. Your dermatology provider who designs your acne and prescribes your treatment is just a message away for all your burning skin care questions. What's more, your provider will tweak your formula for you over time as your skin changes, ensuring you will always have the best formula for you.
With plenty of impressive before and after photos, YouTube bloggers' skin journeys, and glowing editorial reviews, Curology offers a revolutionary approach for affordably treating acne. At the end of the day, having a dermatologist who understands the pain and frustration of combatting problematic skin makes a huge difference. "When it comes to fighting acne, you're not alone," Dr. Lortscher says. "I had acne growing up, and I experienced just how hard it can be to suffer from 'bad skin' and not find a solution. You never have to feel alone in your fight against acne."
Note: Curology treats cosmetic skin care issues, so if you have skin concerns regarding moles, rashes, patches, hives, eczema, psoriasis, warts, etc., be sure to see a dermatologist in person.