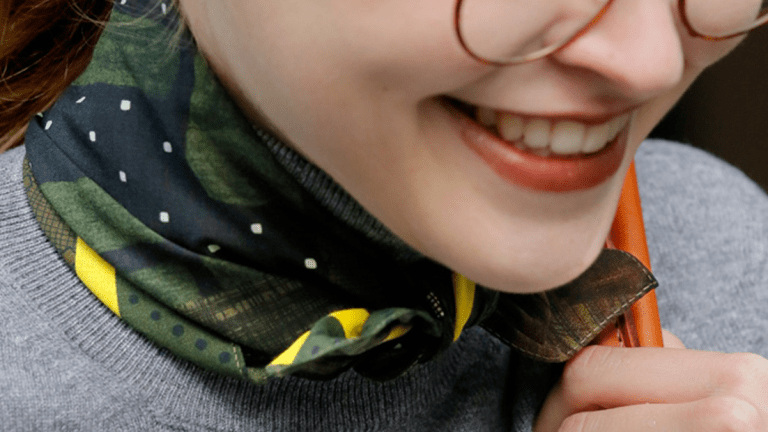 The Coziest Items for Fall, According to Pinterest
Sweater weather is in session.
Pinterest is always the go-to spot for those of us in need of a little, well, (p)inspiration, but autumn is just extra (p)inspiring. A quick scroll through your feed will cover you for festive DIY leaf garland for the mantle (even if you don't have one) and cinnamon candles for stacking in the fireplace (same). But have you ever turned to Pinterest for cozy fall wardrobe ideas? Look no further, fashion fans—we've rounded up some of the most popular pins predicting this fall's coziest items. 
Oversize Blazers
The classic blazers of your grandparents' days are back. Our Pinterest feed is full of street stylers rockin' old school blazers in a modern way. The retro houndstooth prints and tweed fabrics gives your outfit a vintage cool look that is ideal for fall's academic vibe. The best part about this autumn ready look? There are literally hundreds of vintage blazers at the thrift store!
Silk Scarves 
The silk handkerchief scarf trend isn't going anywhere soon, and we couldn't be happier. Perfect for mild, fall weather, the silk scarf can keep you warm without making you sweat like a blanket scarf. Just double wrap it around your neck and pair it with a cute crew neck sweater for an adorably accessorized fall outfit.
Camo Jackets
The camouflage jacket trend will be in full force this fall. The surprisingly versatile piece adds an extra edge to any outfit while seamlessly pairing with your little black dress or jeans. If you want to experiment with your style this fall, try wearing camo with stripes for a more contrasting look.
Wide-Brim Hats
We didn't expect to see so many wide-brim hats on our Pinterest feed, but they are everywhere. The perfect addition to any cozy fall outfit, the wide-brim hat offers a bohemian look for an instantly cool vibe. 
Turtleneck Sweaters
How could we forget the chunky turtleneck sweater? Probably the coziest item of fall, we can't wait to dig our chunky knits out from storage and snuggle up with a good book. Wear it at home or out with friends, the turtleneck sweater will have your back all season long!