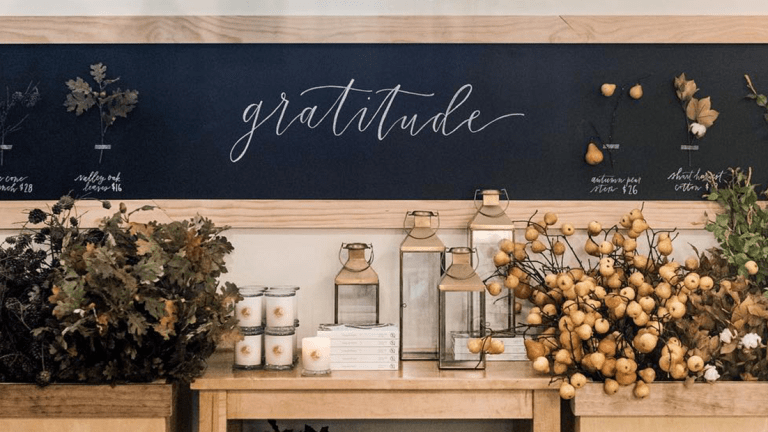 Magnolia Market's Instagram Shots Will Make You Fall Head Over Heels
The end of the 'Fixer Upper' era has us in tears, but at least we can still 'silobrate' with the Gaines family this season.
If you haven't already heard the news, Chip and Joanna Gaines recently announced that this season of Fixer Upper will be their last, and we are totally bummed. What will autumn be like without Joanna's artful touches and festive flourishes? Fortunately for us, we haven't been cut off just yet. We can still soak up the warm autumn glow via Magnolia Market's gorgeous Instagram feed.
Here are our fall favorites.
01. Here's to many years of Silobrating with the Gaineses to come!
In 2014, Chip and Joanna Gaines took on their biggest fixer-upper yet, transforming an abandoned cotton oil mill in downtown Waco, Texas, into the retail shop, garden, food truck park, and event space of Joanna's dreams. This year marks Magnolia Market's third annual Silobration. From Oct. 12–14, the weekend festival will host a vendor fair of more than eighty artisans and food trucks from around the country. After hours, the Los Angeles–based folk duo Johnnyswim and Jon Foreman (of Switchfoot) will provide an evening of live music on the silos' stage. You just might find yourself buying a last-minute ticket to Waco—don't say we didn't warn you.
02. Lots to Love About Autumn
The Magnolia Journal fall 2017 issue focuses on gratitude and has tips for back-to-school season, decorating a mantel, and autumn soup and apple recipes. Plus, learn more about gratitude, growing greens, and fun date night ideas from Chip and Jo.
03. The Apple Picking Game Plan
Among the bizarre psychological reasons why we love apple picking, our favorite is reaping a modest harvest and turning it into a beautiful apple butter that goes perfectly with bagels, banana bread, buns . . . you get the picture. Find Jo's recipe in this quarter's Magnolia Journal.
04. Autumn Artists
Annie Bunker Mertlich of Wildfield Paper Co. is one of the many talented vendors who will be selling her wares at Silobration. We can't stop admiring her hand-painted prints and wish we could see them in person!
05. A New Home Away from Home
The Gaineses opened up a second vacation rental, the stately Hillcrest Estate, that has begun welcoming guests this fall. If you think it looks gorgeous outside, wait until you get a tour of the inside. Anyone want to go in on a weeklong rental with us for next year?
06. Green Is Good
Harvest time means Thanksgiving, and thanksgiving means gratitude, and gratitude is good. After a long summer of waiting, Duke Gaines finally gets to taste the fruit of his patience.
07. All Stocked Up for Fall
Autumn pears, maple leaves, cotton stems, and pine cone branches—that's what Magnolia Market's fall florals are made of.
08. Silobrate from a Distance
If you're celebrating from afar, you can order your Silobration gear online. We'll be filling our limited edition mugs with some very Irish coffee.
09. A Soup(erb) Recipe
A cozy fall afternoon all boils down to a soothing bowl of delicious, homemade soup. Make like Strega Nona and knock the woolen socks off everyone's tastebuds.
10. Pumpkin Spice and Everything Nice
Trade in your PSL for one of the Silos Baking Co.'s pumpkin chocolate chip loaves. Or go dessert rogue with one of their fall cupcakes in Pumpkin Spice (old-fashioned pumpkin cake, vanilla bean cream cheese icing), Campfire (s'mores-inspired), or Cup o' Jo (chocolate cake, espresso buttercream).
11. There's an App for That
Magnolia's new shopping app is like taking the Market and putting it in your pocket. If only the bakery had one, we'd order a baker's dozen of fall cupcakes, stat!
We hope this inspires you to put your apron on and whip up a batch of pumpkin spice cupcakes to enjoy with a mug of hot cocoa beneath a mantel decked out in autumn leaves. Please excuse us while we do just that.