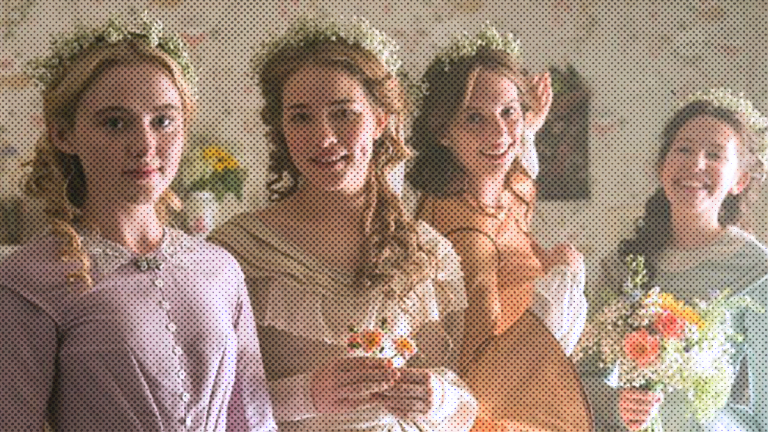 6 Reasons Why BBC's New 'Little Women' Adaptation Is the Best News Ever
Dust off your old hardback now, ladies!
As a fourth grader I remember reading Louisa May Alcott's classic Little Women for the first time and dying to talk to any listening ear about the events of the story I had read that day. Since that first encounter with the March ladies, I have been totally transfixed with the beloved novel.
With the BBC adaptation hitting screens soon (likely around Christmas), I have taken the time to revisit some of the best characters in literary history. I am realizing now as a twenty-something, many of the solid values from the novel have transferred over into my real life and have taught me a thing or two about being a strong woman. Like many bookworms, I identify with different traits from all four of the March sisters. From the spunk and grit of Jo, to the simplicity of Meg, to the delicate wisdom of Beth, to the innocent curiosity of Amy, Alcott's timeless tale absorbs me just as furiously as it did my first time reading it. 
If you haven't read the classic, beware of spoilers below!
01. Domestic Skills Are a Strength, Not a Weakness
One of the strongest characters in the entire novel is the March family matriarch, Marmee. Raising four children while her husband is off to war makes Marmee no stranger to domestic life. Like any stay-at-home mom, Marmee's daily life is full of caring for her sick daughter, drying tears, breaking up sibling fights, and cooking for the neighbors. When the youngest March daughter is humiliated while her hands are whipped in front of the class, Marmee doesn't back down and writes a strongly-worded letter to Amy's teacher explaining why children, especially girls, should not be abused. She faces many of the daily struggles that many women face today and her role can be looked to for inspiration. Raising her daughters has helped shape Marmee into a strong woman, and that personal strength has enabled her to raise strong confident daughters. 
02. Introspection Is A Good Thing
One of the biggest disappointments of the entire book (and of my life, to be only a tad overdramatic) is when Jo and Laurie don't end up together. Even as a 10-year-old I was left wishing that these two characters who were often just so close would finally end up together in a sequel I knew would never come. But there's still a lot we can learn from Jo and Laurie's relationship. By all accounts, Jo was in love with her best friend, Laurie. When he proclaimed his love for Jo, she tells him, "You and I are not suited to each other, because our quick tempers and strong wills would probably make us very miserable…." Jo knew herself well enough to be able to see who would make her happy in the long run, even when she cared for Laurie so dearly. In the end, this quality is a far better lesson to learn than having the happy ending I was expecting.
03. The Skill of Saying No
Speaking of Jo turning Laurie down, it is also essential to keep the word 'no' in your vocabulary. I struggled with saying no for many years. In fact, I still struggle with saying no sometimes. Looking back, though, I have come a long way, and I have literary role models like Jo March to thank for that. Jo knows that saying no may not be easy, but after taking the time for introspection, no just may be the best answer. Saying no to Laurie was not something that Jo wanted to do, but she knew that for the good of both her and him, she had to let him down.
04. Pursue Your Passions and Develop Your Talents 
Jo, who enjoys writing plays and performing them with her sisters, leaves the comforts of home and pursues her dreams of writing in New York City. Jo had a job at home, something already rather unusual for a mid-nineteenth century woman, taking care of her aging aunt. However, she knew that she was a good writer. Even though she left a good job not knowing if she would ever actually get published (as it was much more difficult for women at the time), she set out to refine her gift of writing and do something that made her feel alive. Even after facing rejection, she tries again. When I changed my major halfway through college from education to English, those who cared for me expressed concern. Though I appreciated their intentions, just like Jo, I trusted that refining my gifts and honing in on my passion for reading and writing would turn into something that I could pursue for the rest of my life.
05. Little Acts of Generosity Can Make the Biggest Difference. 
Beth, the third oldest March sister, is notably quieter than her other sisters. She is shy and sweet with aspirations to live at home and take care of her parents. Beth's strength is seen mostly in her generous disposition. She is quick to make sure that everyone else is taken care of before herself. She takes care of the neighbor family when the children are sick and dying. Even as she was dying, Beth was constantly encouraging her sisters and taking care of the children that pass beneath her window. When the family was struggling most, it was Beth's positivity and sense of peace that kept the family strong. Beth never did anything big, but it was the little things she did with great love that demonstrated her strength.
06. Have Confidence In Who You Are
The March family lives a very simple, country life. When Meg, the oldest March daughter, attends an elegant ball, she gets swept up in all of the lavish guest lifestyles and fancy dresses. She tries to act and dress like she is richer than her humble background suggests, but in the end she comes to realize that they are no better than she is just because they have more money. Meg learns that if those guests judge her for who she is or where she comes from, it is those people that should be ashamed, not herself. I only wish I had picked up on this lesson in high school, but it's better learned late than never.
Be sure to let us know in the comments who your favorite character is and why!