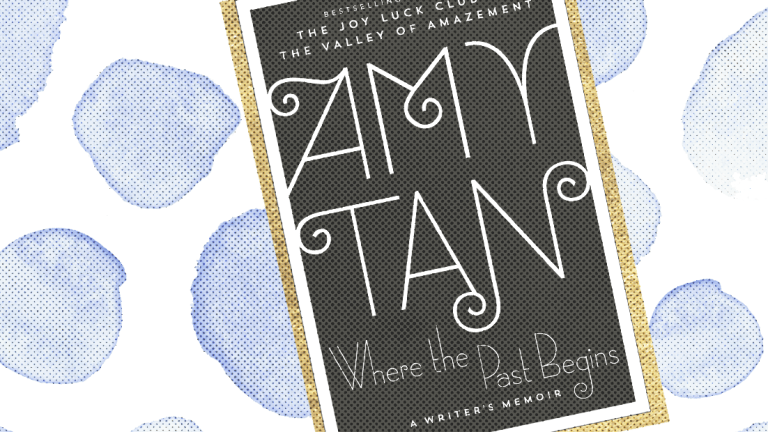 If You've Ever Felt Silly for Crying Over a TV Commercial, This Is for You
Amy Tan's new book is a lesson on fostering emotional awareness.
Each time we have the privilege to grow a year older, it is natural to look back at lessons learned and recognize crucial moments of personal growth. For novelist Amy Tan, most recognizable for her work as the author of The Joy Luck Club and co-producer and co-screenwriter of the novel's film adaptation, this moment of reflection arrived at age 65.
Her highly anticipated new book, Where the Past Begins: A Writer's Memoir, takes a deep dive into the experiences that shaped her path to becoming an accomplished writer and creative. Whether it's listening to classical music to spark imagination; sharing candid email conversations about self-doubt and resilience with her editor, Dan Halpern; or diving deep into personal tales from her childhood, Tan's mixture of ultra-relatable moments and gripping surprises demonstrate how she views her emotions and experiences as a creative strength.
Emotional awareness, Tan writes, cuts through "old layers of thought" and can help her arrive at a bigger, more creative, idea. We aren't all writers, of course. But each of has a goal: to be a good mom, to earn a promotion at work, to commit more time to our health. As Tan's book reminds us, will power alone doesn't deliver the full bounty; we have to listen to our emotions and instincts every step of the way.
We've highlighted a few key themes from her novel, slated for an October 17 release, below:
01. Emotionality Isn't a Liability
Tan embraces her emotion and finds strength in it. When describing how her feelings translate into reactions, she provides the relatable example of crying during a commercial (haven't we all?). For Tan, this reaction means she can "feel the pang of poignancy" that connects her to the memories fueling her writing and creativity. But the same can be true for finding emotional strength in any personal endeavor.
02. Reflection Is Key
She shares her experience embracing emotion: "I always felt the visceral reaction—the tickle spasm—before I was mentally aware of the emotion," Tan writes. "I became teary-eyed listening to the national anthem of any country whose flag was raised during televised Olympics award ceremonies." Haven't we all had moments of awareness that we need to reflect on later? Tan's words show just how important it is to acknowledge your reactions and think about what they mean for you.
03. Creativity Thrives When We Allow Feeling
Tan reflects on her prolific career—which includes seven novels, children's' books and many notable essays—to dive deep into the relationship between her ability to be creative as a result of emotional courage. She said abandoning self-consciousnesses and tapping into emotional memory allows her to unlock and spur imagination. While it may sound easier said than done, this is the mental state Tan achieves.
04. Sometimes Blind Faith Is What We Need
She tells the story of working on her third novel late one evening. Tan begins her writing session at 6 p.m. and realizes, once finished, the sun is coming up and 12 hours have passed. The result of this "fugue state" was 50 continuous pages and a finished manuscript. "My mind was clear," she wrote. "There was no hesitation, no puzzling over plot points. I wrote in a state of elation, not knowing how much time was passing." If you've listened to Tan's TEDtalk, "Where Does the Creativity Hide?", her personal experience with adopting a creative mindset will come as no surprise. She explains how recognizing and embracing that gut feeling, or as she puts it, a "spontaneous epiphany," provides her with creative bursts of energy required to channel her natural abilities. Trusting yourself becomes a powerful tool.