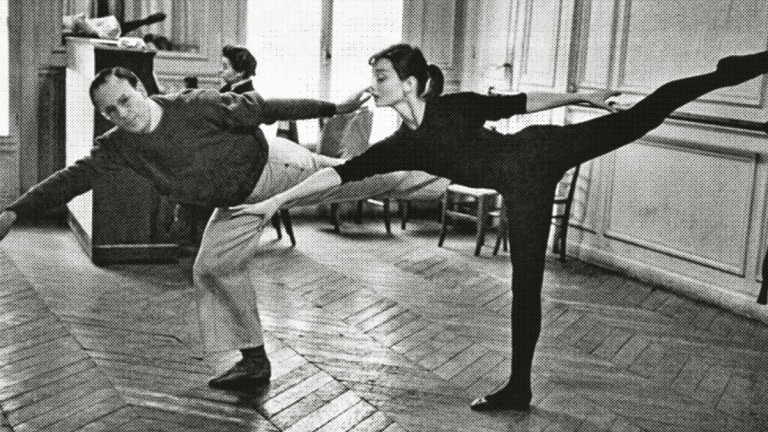 Audrey Hepburn's Favorite 'Workout' Is Reason Enough for You to Try It
But here are all the reasons why you should take up ballet as an adult.
Audrey Hepburn began learning classical ballet when she was only 5 years old. Sadly, Ballet Rambert, a London-based dance school that Hepburn attended on a scholarship, determined that her height and malnourished constitution from the hardships her family faced during WWII would make it impossible for her to attain the status of prima ballerina. But Hepburn used her dance background to audition for her American musical debut, Funny Face, where she showcased her talent with Fred Astaire.
Today, real ballet school for adults is making our ballerina dreams come true. And it isn't just benefitting our bodies; it can also do wonders for your mind and spirit. Apart from channeling your inner Audrey, here are all the reasons why you should consider taking ballet to keep you on your toes.
01. It's definitely a workout.
Ballet is an art, but it's a very physically demanding one. So it was no surprise when barre classes started to jeté across the country. Barre-style workouts are low-impact exercises that help you achieve a ballerina's muscle strength, endurance, flexibility, and balance.
"While it may seen like a recent phenomenon, barre strength and flexibility training have been in vogue since the times of Louis XVI," reports TIME. But there's a lot more to ballet than the barre. Class always starts with plies, or slow squats, giving your body a proper warmup. The dance combinations demand high bursts of energy and technique involves rising onto the balls of your feet or toes, turning out your legs, and sustaining high leg extensions. This beats the ellipticals for me any day.
02. Prove yourself wrong.
Maybe you took ballet lessons when you were four or trained in classical ballet but it has been years since you've danced regularly. If you've never tried ballet at all, perhaps there's a voice in your head saying, "I'm too old to learn now." Here's your chance to quiet the doubt. There are benefits to being the worst at something—it frees you from competing against everyone else so you can focus on challenging —and bettering—yourself.
03. You won't have room for any of that mental baggage.
"The fact that ballet was so difficult meant switching my brain off," adult ballet student Rebecca Reid writes for Metro. "It was hard enough to keep the steps in my head, stay on the beat and retain a half-decent posture. Doing those things left absolutely no space in my head for anything else." Even Hepburn once said, "I was asked to act when I couldn't act. I was asked to sing 'Funny Face' when I couldn't sing, and dance with Fred Astaire when I couldn't dance—and do all kinds of things I wasn't prepared for. Then I tried like mad to cope with it." Whether you're stressed out about your roommates, your career, or your recent lost boy heartache, all of that goes out the window the minute you step into the studio in your leotard and ballet slippers.
04. Adult ballet is for everyone.
At my local adult ballet studio, you won't just find lithe young women with perfect postures and pretty feet. You'll also find senior citizens healing from injuries or working on their flexibility, beginners in their 20s and 30s, and even special needs adults benefitting from the non-verbal exercise while practicing social skills in a gentle group setting. It might be her humility talking, but Hepburn's career did force her well out of her comfort zone. If your workout routine (or lack thereof) is stressing you out, then you're likely not going to reap its benefits. Change your mentality toward fitness by treating it less like work and more like play or, in this case, art.
05. It's never too late.
I love following adult ballerinas on Instagram because their attitudes (ha, get it?) are so inspiring. Melissa, a 28-year-old adult ballerina, shares her journey on her Instagram feed @thepointeproject where she describes herself as "proof that it's never too late to chase your dreams." She started learning at 25 which, in ballet years, is ancient. Yet even while juggling wedding and marriage prep, her job as an entrepreneur and business owner, and lots of missed practice (sometimes months in between), she now dances en pointe 3 years later. Last week, she even performed a ballet with her new husband for their first dance as a married couple.
Billy in Billy Elliot says dancing ballet "Sorta feels good. Sorta stiff and that, but once I get going... then I like, forget everything. And... sorta disappear. Sorta disappear. Like I feel a change in my whole body. And I've got this fire in my body. I'm just there. Flyin' like a bird. Like electricity. Yeah, like electricity."  You may not be Billy Elliot, but deep down, we've all got his heart. Do what you love even when everyone tells you it's impossible.