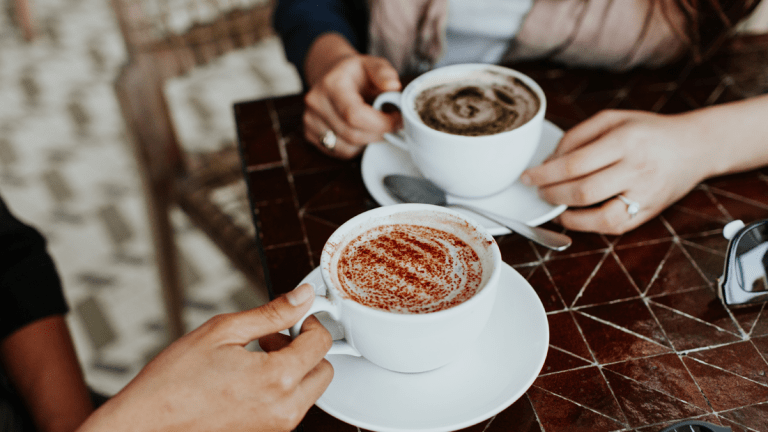 Where to Get Coffee You Don't Have to Feel Guilty About on National Coffee Day
International Coffee Day is October 1, but in the U.S., the festivities start September 29. Here's why we love it a latte.
International Coffee Day might seem like a silly excuse to get a free cup of joe, but it's actually far from being a fake holiday. International Coffee Day was decided upon by the International Coffee Organization to spotlight the millions of people whose livelihoods depend on the world's most widely traded agricultural product. You see, Coffee farmers are among the worst-treated in the world; the International Labor Organization estimates that the industry exploits at least 25 million child slaves and forced laborers who work long hours in dangerous environments while receiving little to no pay. 
To change this and to honor those who grow and harvest the coffee we love, look for the Fair Trade Certified™ label on your favorite roasts. This certification ensures that farmers are paid a minimum price per pound even when prices go below market rate. If you don't see this label, those beans aren't fair trade certified.
Here is a list of ethical coffee brands that will be participating in International Coffee Day, so you can make a real difference—and get your coffee free (or almost free)!
Pay what you please for a cup of joe at all of this New York City–based coffee chain's locations on Sept. 29.
On September 29, Allegro Coffee will donate $1 for every drip coffee sold at Whole Foods Market stores to Whole Planet Foundation (up to $40,000), which funds poverty alleviation projects in places around the world where Whole Foods Market sources products. Get $1 off a 16-ounce Allegro Pumpkin Spice Latte. To get the discount, download the Whole Foods Market App and scan your personalized bar code at the register.
Guests are invited to join one of its free reoccurring classes or events taught by expert baristas. Learn about coffee brewing techniques and the nuances of different varietals and coffee types through coffee cupping classes.
At the end of its September 29 class at Brooklyn's Berry Street Café, attendees will get a free Perfectly Ground Voyager Pack to test out their new skills at home. If you can't make it, perk up: Subscribe to the newsletter to get the latest on free classes and tours near you.
From September 29 to October 1, get 25 percent off coffee & capsules with promo code "COFFEEWEEK."
On October 1, Equator Coffees & Teas will feature two very special single origin coffees produced by women's cooperatives at all its cafes. These featured coffees from Honduras COMUCAP and Sumatra Queen Ketiara will be available by the cup and 12 oz. retail bags. Equator will donate to the International Women in Coffee Association (IWCA) $0.75 for each cup and $2 for each bag of these coffees sold at Equator cafes or purchased online.
All orders (including subscriptions!) will get a flat rate shipping of $5.95 until October 1.
On September 29, get $3 off all 12 ounce bags of whole bean coffee at retail locations and online. As part of Intelligentsia's participation in the Night of 1,000 Pours charity fundraiser, customers will be given the option to donate that $3 dollars rather than keeping it. Intelligentsia will match every donation and send all proceeds to hurricane relief in Texas and Florida.
In honor of International Coffee Day and the beginning of Cooperative Month (October), Pachamama will be giving away free 12-oz. single-origin pour overs at its East Sacramento Coffeebar. You can also get 15 percent off all purchases and subscriptions on www.pacha.coop using promo code "ICD2017" and at their Midtown Roastery shop (offer valid only on October 1).
Get 25 percent off all coffee beans plus one free drip coffee or tea with a your purchase. You can also get 25 percent off all regular, non-subscription bean purchases on www.peets.com using promo code "COFFEEDAY17" on September 29.
Get 20 percent off any coffee drinks (any type, any size) all day in all Portland Roasting Coffee retail locations on September 29.
Come to any of Stumptown's cafes and get a free house coffee until 2 p.m. on September 29.
Put your nose to the coffee grind and check the websites and social media accounts of your favorite fair trade coffee shops and roasters to see how they're celebrating this weekend. If you find a brewtiful deal, by all beans, please share in the comments below!