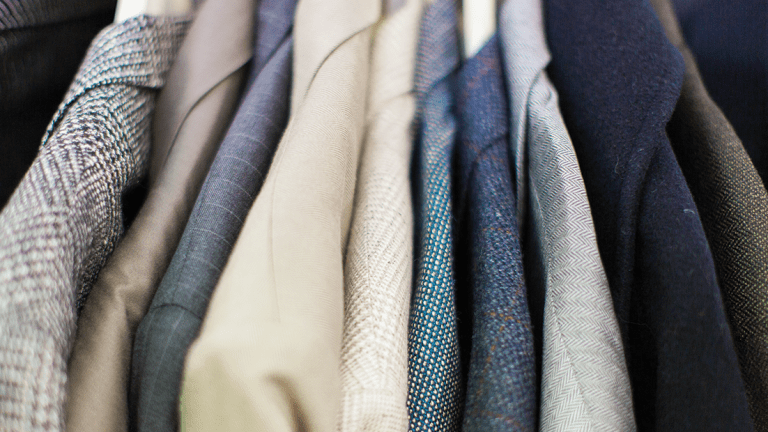 3 Hacks for Finding Modern Basics at the Thrift Store
Save money and look timeless.
While thrift store shopping has made a comeback in recent years, thanks to hipsters and Macklemore, it's still often believed that shopping secondhand results in a dated look. But that doesn't have to be true—you can still benefit from the financial (and ethical) perks of thrifting while looking modern. Intrigued? Read our tips below to learn how.
01. Avoid Anything That Was Super Trendy in the Past
The No. 1 key to finding modern basics at a thrift store is to completely avoid any item that is obviously from a past decade. Before hitting the thrift store, do a quick Google search of trends from the seventies, eighties, nineties, and early 2000s. Trends usually arise out of cultural phenomenon. At the time, the trends seem super cool and hip, but in retrospect we can see that they are unflattering or lacking objective beauty. Like with big hair from the eighties, we're left wondering, "What were they thinking?!"
This doesn't mean avoiding all items from these decades! You're only avoiding items that were trendy in the past and therefore mark your look as thrifted. Avoid the following:
1970s: Yellow, orange, and brown colors; ruffles around neck and sleeves; oversize collars; pleated skirts and dresses; floor-length A-line skirts; empire-waist maxi dresses; paisley and overly busy floral prints
1980s: Bright primary colors and secondary colors such as purple, blue, red, magenta, yellow, and green; puffy sleeves; sequins and rhinestones; abstract prints; double-breasted buttons; oversize fits; synthetic fabrics
1990s: Natural warm colors such as brown, pink, faded red, maroon, navy, and olive; muted floral and plaid prints; oversize button-downs; chunky knits; form-fitting T-shirts and sweaters; short tops; boxy blazers
Early 2000s: Bright pastel and primary colors such as bubble gum pink, aqua, orange, red, and light blue; form-fitting message and logo T-shirts; skirts and capris with beading at the bottom; rhinestone embellishments; babydoll T-shirts and dresses; form-fitting blazers; mini skirts; handkerchief skirts; halter tops; cargo pants
02. Choose Neutral Colors and Classic Prints
To score some modern basics at the thrift store, forgo all bright colors and stick to neutrals. Neutral colors are always modern because they're classic, even if the item is from another decade. Versatile colors will seamlessly blend into your wardrobe and match anything else you own. Don't be afraid of prints! Just look for prints in neutral colors.
Neutral Colors: white, black, cream, navy, olive, blue, red
Classic Prints: stripes, tartan, gingham, houndstooth
03. Look for Classic Items
As you're avoiding trendy clothes from the past, look for items that always withstand the test of time and are stylish in every decade. Think about all of the classic style icons who are still heralded for their flattering ensembles—for instance, Audrey Hepburn's head-to-toe black long-sleeve shirt, slacks, and ballet flats are still as stylish as ever. Let's also not forget about Grace Kelly's casually cuffed button-downs and Jackie Kennedy's pencil dresses.
Timeless Silhouettes: pencil dresses and skirts; button-downs; tailored blazers; trench coats; denim jackets; A-line skirts
There are plenty of these items hiding in between the endless thrift store racks—you just have to put in a little extra effort looking for them. You'll be wearing modern items from the past in no time!