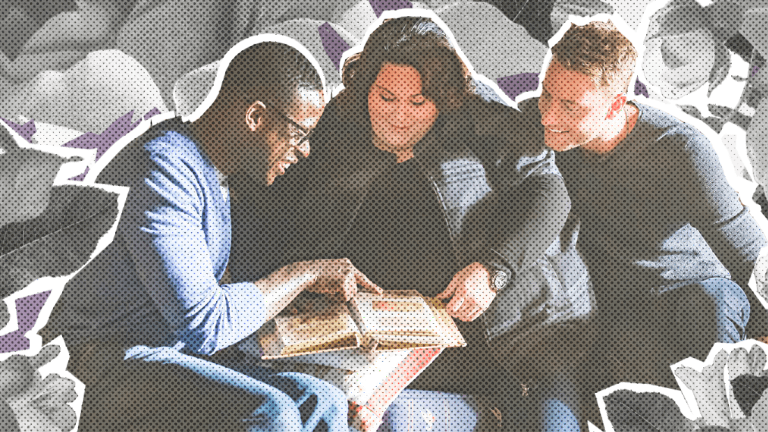 'This Is Us' Showed That It's OK For Feminism to Have a Soft Side
The season two premiere showed what everyday resilience looks like for a lot of women
(Warning: Spoilers abound here, folks!)
If there was any doubt over whether This Is Us would be able to continue to deliver after its powerful first season, last night's season premiere put those questions to rest. The show delivered on its signature heart-tugging, family-driven story lines. But the season two opener brought something more. In today's environment of feminist marches, rallies, and strikes, This Is Us reminded us of the equally important strides women make in everyday life. These quiet, subtle moves of empowerment are the kind that aren't even trying to make a statement; it's just women being women—standing up for themselves, their relationships, their self-worth.
As Randall remarked to his daughters in the beginning of the episode, "women can do anything." But these heroines didn't prevail with indignation or combativeness, traits that have come to define much of feminism today. Instead, Kate, Beth, and Rebecca navigated conflicts with humility, working to solve problems and repair relationships through confidence and determination, tempered by a healthy dose of kindness.
Kate, sister to Randall and Kevin and daughter of Rebecca and Jack, conquered crippling self-doubt. Beth, Randall's wife, responded to her husband's stubborn insistence on his own dreams for their future with grace. And Rebecca, the show's cornerstone, prioritized her struggling marriage to Jack. The women of This Is Us showcased a resilience that women of all life stages embody daily, and it was nice to see it celebrated. 
Early in the episode, an outfit change remobilized Kate's quest for self-confidence after season one explored the history of her obesity and the evolution of her body image. She carefully chose her wardrobe to bolster her confidence at an audition, but her spirits plummeted when her eyes met tiny waists and thigh gaps waiting in line to perform before her. She fled and later overheard her twin brother and fiancé bickering about how to approach Kate after such a setback.
"I'm a 37-year-old woman, I shouldn't need to be pushed or coddled by anyone," she told Kevin and Toby. "I'm going to the audition."
She caught the last audition slot and sang for less than 10 seconds before the judge cut her off: "I don't care what dress size you wear. You're not good enough, honey." Not only did Kate find the strength to laugh off a comment that could have stung, but she also unearthed a nugget of truth.
"It wasn't about my weight or age," Kate said. "It was about my lack of ability, which is fantastic because I can do this. I know I can do this."
This Is Us fans know that this realization comes as a triumph to Kate, who, last season, despaired over diets and dreams as she tackled her weight, her worth, and her professional aspirations.
For Kate's brother Randall, the episode brought manic turmoil over a plan to adopt. Randall wanted to adopt a baby at the end of season one, and his wife Beth couldn't hide her concern by the time the two sat down at an adoption agency to begin the process in the season two premiere.
"I am trying to be supportive, but this is becoming a weird pattern," she said to Randall as she analyzed his desire to mimic his late father's decision to adopt him. All the while Randall offers Beth a single-minded explanation and urges her to accept his plan without reservation because it's not changing.
It's only after Beth walks away from a potential argument ("I'm not throwin' down with you in an adoption parking lot") and takes a moment to think in her favorite park that she can look her husband in the eye and discuss how an adoption could affect their family. She doesn't dismiss his hopes nor does she snatch up Randall's eventual offer to abandon his idea. Instead, Beth states her boundaries lovingly, and finds a way to support her husband while protecting herself and her family at the same time.
In these circumstances, Beth and Kate both confront common issues women deal with regularly—matters of self-doubt and instances of men wanting to call all the shots. But Rebecca's season two opener spins out of the most dramatic storyline of last season—Jack's alcoholism and mysterious death. The last moments of the new episode capture her pleading before Jack, begging him to come home after the two decided to spend some time apart in hopes they would heal after a blowout fight in which Jack degraded her work as a singer.
"I shouldn't have let you leave," she said to him. "And not because of all the beautiful things you said, but because that's not who we are. That's not us."
Rebecca's argument for Jack to return hinges on her self-sacrifice: she's willing to put their fight on hold and retire the hurt he caused her for the sake of keeping their family together. Even after Jack reveals that he has lied for years about his being sober, she pulls him toward the car with a stern promise. "You are my husband and I am your wife, and if you have a problem, we'll fix it together."
Randall's encouragement early in the episode—"women can do anything"—resounds heavily in this later scene. A wife, hurt by her husband's distrust, selfishness, and lies takes him in with the promise that they'll repair their marriage as a team. She does not seek revenge or chastise him for his wrongdoings. She courageously lifts her chin and prepares for the worthy challenge of defending her marriage.
As characters, Kate, Beth, and Rebecca celebrate women's heroic resiliency, not just in the big moments before the world's stage, but also in the little moments within the small communities where we play a central role. Women conquer fears, pursue wisdom, and make sacrifices every single day. What This Is Us proved is that feminism comes in many forms and that the resilience women show in the everyday pursuit of their dreams (whether that be a growing family or singing career) can be humble and kind while still being revolutionary.