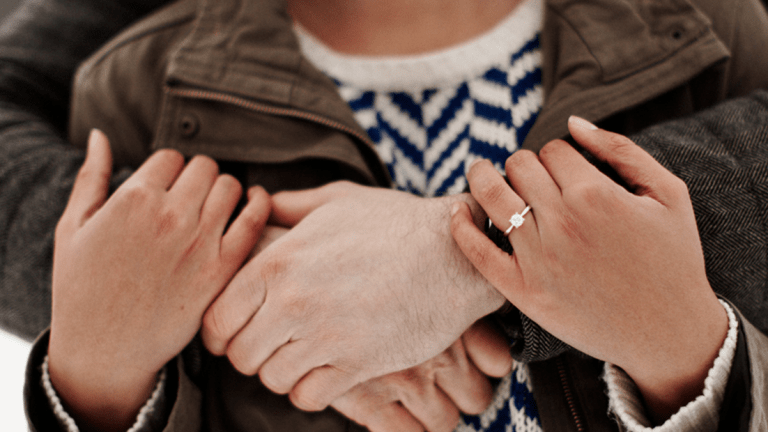 5 Things Real Women Wish They Knew Before Getting Engaged
If they could go back, they would do things differently.
A short 48 hours from the heart-racing moment Joe proposed to me in the pouring rain (yes, it felt like that scene from The Notebook), my now husband and I felt like fish out of water. According to our dear family and friends, we should have already scheduled tours at local venues, phoned our church about dates, and chosen floral decorations, cake flavors, and the entire bridal party. Gulp.
In retrospect, that intense push to rush into planning—at least with those kinds of things—wasn't all that helpful. But there were some things that I wish I had thought about before a ring appeared on my finger.
What I wish I knew then, that I know now, is that if you prioritize the right things before the proposal, your engagement will be a time of joy—and a lot less stressful. I asked some married women about what they, too, wished they knew before they were engaged, and their answers were telling. Here's what they said:
01. Don't rush the process.
Anticipating a proposal is a natural thing once you get to a certain point in your relationship, and I can relate to the nerves and jumpiness that goes with it. I've definitely been in that boat, even confusing simple shoe-tying with proposal-kneeling (yep). But as Katelyn, now married seven years, wisely urges, "Don't rush the process. It's an exciting time but it's more fun and relaxing if you wait for the right moment!" So slow down, and savor the pace and stage your relationship is in—and have faith that if you're right for each other, things will fall into place.
02. Talk about the big issues before putting a ring on it. 
Before getting engaged, Jessie, now married for four years, suggests tackling some of the important topics—even if they're tough—like how many children you want and how to handle finances. "Not being on the same page on the big issues can be very difficult for both parties in a marriage."  
Kim, who celebrates her second wedding anniversary soon, agrees, "Make sure you know where you stand on the future. The number of kids, for example, can always be addressed and can change with time, but wanting them or not is a huge decision where there isn't exactly a compromise." So, don't shy away from hard questions, as they only get harder. Do you want to bring your children up in a certain faith? If so, which one? How flexible are you both on childcare or working arrangements? When do you want them? "These are big decisions that should be talked about before you commit to spending your life with someone."
03. There will be growing pains (sorry).
With all these changes coming at you, change is inevitable—and sometimes it can hurt. "I was so eager to begin the next stage in my life that I didn't think about all of the personal growth I'd have to do," shares Kim. "When you're planning a huge day … plus figuring out how to live together, where to spend holidays, your budget, and everything else that comes along with sharing your life with someone, it requires a lot of patience, introspection, and collaboration." Ultimately, the whole stressful experience, she shares, lights up our own personal flaws and makes us face them. Change isn't exactly an easy thing to plan for—just know that you're probably going to have to "woman-up," face your flaws and challenge yourself to be better. Call it getting ready for marriage.
04. Communication skills are powerful.
You're not married yet, but it's good to finesse how to communicate with your future spouse on all kinds of topics—from the nice-to-know questions to the crucial. "Strong communication spreads to everything in a marriage," shares Jessie. And it's a skill that will always be developing.
Mandy, married seven years, offers this suggestion: "Be open and honest in all of your conversations. If something is bothering you, speak up, but do it respectfully keeping your significant other's feelings in mind." She explains that being quick to listen and slow to speak is a good communication rule of thumb. "A few harsh words or decisions can stick around for far too long."
05. Have shared dreams, but be prepared for your plans to change. 
Even if you're a super organized, type-A woman, married life will catch you by surprise. "Everything will not go according to plan," explains Kim. "But having agreed upon the foundation of your future is key to starting down the right path in your engagement and marriage. It's important that each of you make your wants, needs, and expectations clear." So get ready for an adventure that goes beyond the honeymoon, and realize that ultimately, your plans are fragile, but you will be ready for anything if you are in it together.