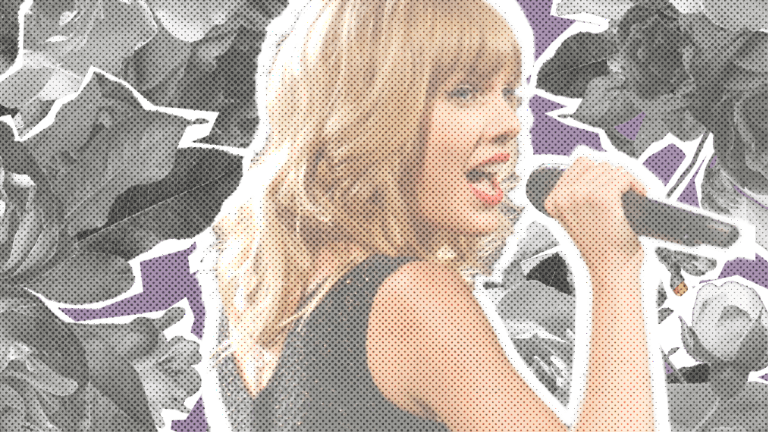 Taylor Swift Chose Revenge Instead of Humility, and We're All Losing Because of It
When she followed a huge sexual assault victory with a petty brand revamp, Taylor lost what makes her great.
It took me a while to find, and then honor, my inner "Swiftie." Despite living in Dallas when she was gaining traction, I never had much of an affinity for country music, nor pining lyrics about high school crushes and Tim McGraw nostalgia. No, I thought. I am not this brand of girl! (I guess I thought my indie records were much cooler.)
But Taylor grew. And over the years, she grew on me—then won me over completely. But as her two new singles have dropped, she's lost me and the fandom of countless other women who are watching this all unfold and desperately wondering: But why? 
In Look What You Made Me Do, Taylor announces, in a lyric she has now trademarked, that the "Old Taylor"—the classy, relatable Taylor—is dead. The music video, while visually stunning (directed by the brilliant Joseph Kahn), shows that Taylor has clearly made a choice about the direction of her work. Instead of creating music that inspires her fans, she's branding pettiness, and it's not a good look—for any of us. Let me explain.
When Love Story hit the top-40 charts in 2008, it was the pop era of Lady Gaga and shock-and-awe. Young and earnest, Swift seemed to be the antithesis of theatrical tinsel. She made us feel like our inner girlish dreams were OK as we screamed along with her, "Romeo, take me!" While other young celebs were ready to tell the world that they had grown up and were sexy now (foam finger, optional), Swift was poised, approachable, and articulate—seemingly above it all. She created an option for young women. We could be Taylors in a word of Mileys. 
By the time her album Red came along in 2012, my appreciation for her (and her classy red lipstick) had deepened. Her storytelling had a lyrical depth and a type of vulnerability rare in the modern pop world. In general, Swift kept it pretty real—I felt like I saw some of myself in her. Then, when her record-breaking album 1989 came out in 2014, she was Taylor 2.0—a more sophisticated, grown-up version of herself, without the country twang. Her songs still carried the emotionally-driven essence of her past, but to a different beat. She used the album to respond to her critics with a sense of playfulness and irony (Shake it Off and Blank Space), and her moody emotions of (Out of the Woods or This Love) were affirming antidotes to the trials of almost every twenty-something. Bad Blood, which was allegedly inspired by a petty and overblown fight with Katy Perry, was the outlier, not the rule. Even then, the general message was relatable enough to transcend the eye-rolling squabble. She still felt like the type of woman you wanted around.
Then three years passed—and what a three years it was. What started off with a fresh voice and praise for her particular brand of girl power devolved into increasing criticism of her life and public image. Taylor had two highly analyzed—and criticized—relationships, one with Calvin Harris and one with Tom Hiddleston. Her "squad" life reached epic proportions, with many thinking she flaunted her A-list posse in every manner possible. The pinnacle of the public's outcry, however, came in a form of another feud with Kanye West (soon after they seemingly made up). After months of Swift denying she had consented to Kanye's misogynistic lyrics about her—and then leveraging ensuing opportunity for self-promotion—Kim Kardashian West posted video proof that she indeed had given the go-ahead for at least part of the lyrics on a call. The world unleashed its venom and retaliated with intense criticism, and notably, snake emojis.
After months of hiding from the public eye—with media even suggesting she was carried in a suitcase to avoid being seen—Taylor's back, but she's also self-reportedly "dead." Fans, like me, are wondering who exactly the New Taylor is speaking to.
Her new music is an unmistakable retaliation, a vengeful and low move that I, for one, am not jumping at the chance to support. Having deleted all the material on her social media accounts (yes, even the ones depicting how to make your own DIY snow globe, or her chai sugar cookies recipe), Swift posted gritty snake images instead. If this new era is about defending herself from Kanye and her critics, why did it feel like her venom was directed at us—her fans? 
Whether she's being serious or poking fun at the whole ordeal, the fact that her music decides to glorify her drama instead of transcending it, is my real beef. As the NYPosts points out, Swift's fans are notably young, impressionable women and this new single seems to say, "if you're wronged, you should dwell on it for a very long time. You should come back far later — rising up from the dead if you have to! — shouting about how you've been double-crossed." 
As I watched the video, I winced. What if her millions of fans were to adopt Swift's newfound appreciation for dramatic stomping, snarling, and keeping lists of enemies with the same fervor that we once identified with Old Taylor's comic cat videos and swoon-worthy dresses? What if we did it all to the tune of "none of this is my fault or responsibility?" 
After winning an inspiring sex-assault trial just a few weeks ago, it's clear that Swift does know her power and ability when it comes to inspiring people. In her statement after winning her case, Swift said, "I acknowledge the privilege that I benefit from in life, in society and in my ability to shoulder the enormous cost of defending myself in a trial like this," she commented after the trial, winning just $1 in a countersuit to make her powerful statement. "My hope is to help those whose voices should also be heard," she adds, later explaining how she'll be donating to charities that help sexual assault victims.
Influence is a powerful thing. We often talk about her fans as if they're all young girls. Many of them are, but many of her fans are the women who were girls when Swift started out. Even as adults, we're not above identifying with strong messages and powerful voices. Swift has shown remarkable genius on how to create a brand, and her public voice in the wake of that victory couldn't have been more primed to outclass the stale, tabloid narratives of the past couple years. Instead we got Look What You Made Me Do. 
After modeling an inspiring heroine in real life, she embodied both the victim and the vindictive enemy in what she says is the "New Taylor." Even her second single ...Ready For It, is still missing the vulnerability and relatability that she built her fame upon. 
Andrew Gruttadaro from The Ringer hits the nail on the head: "The main issue with this budding era of Taylor Swift isn't that she's trying new things … it's that in doing so she seems to be losing the things that made her uniquely magnetic," he states in his criticism. "For an artist who, in the past, has been so good at communicating a persona and rising above the overcrowded, same-sounding mass of pop artists, that's a serious problem."
Sure, the songs are still catchy; but the messaging is uninspiring, and the lyrics are comparatively generic and flat—especially compared to her past work. It's nothing like the Taylor we saw dominate a record-breaking world tour for 1989, or the Taylor who threw a heartfelt birthday bash for her childhood best friend, or the Taylor who presented a composed and brave face despite a humiliating and degrading court case. New Taylor clearly has something else to say. I hope her message of glorious revenge and tactless bravado, however, falls on deaf ears. 
I've been with "Old Taylor" for nearly a decade now, and I'm crushed to say that I'm right back where I started with her. As I listen to her spew about karma, inspired by tabloid gossip set to catchy beats, looking smug in a tub filled with $10M worth of diamonds, a snake pouring her tea—I can't help but think to myself, I'm not that brand of girl.