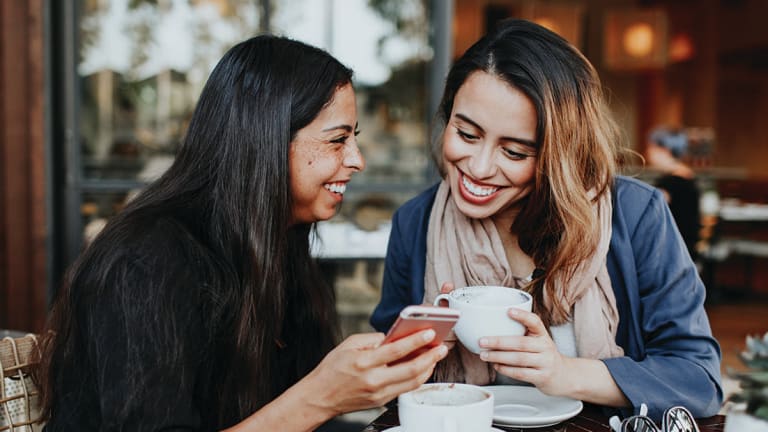 This One Thing Helped Two Tech Founders Succeed in Life, Health, and Business
Maybe this invaluable resource is missing from your goals, too.
While most of us have heard that we need to get a mentor, it can often feel like a second-tier priority compared to simply doing great work or making sure you have time to see your S.O. But Planet of the Apps, a new streaming series on Apple TV, is reminding us to re-prioritize our mentorship goals.
The show pairs several budding entrepreneurs with more established start-up founders to help grow their businesses. One of those companies is the meditation and mindfulness app Stop, Breathe & Think, co-founded by Julie Campistron and Jamie Price. Campistron and Price had a great idea and a passion for finding calm, but they didn't achieve a five-star app rating alone. We spoke with them about the very important people—such as actress and wellness expert Jessica Alba—who have played huge roles in their lives and contributed to their success. Whether you're a budding entrepreneur eager to share your bright idea with the world or you're looking to stick to a new health routine, a mentor — a trusted friend, colleague, or expert— can make all the difference in helping you crush your goals.
Verily: How important was finding a mentor and building a relationship to you in growing your company?
Julie Campistron: We've had a lot of mentors along the way. In going through the process of fundraising, as first-time fundraisers, being able to leverage our network of people who had been entrepreneurs and had been through the process was really critical.
Verily: In your experience, what makes a good mentor?
Jamie Price: They all have the capacity to think really big and creatively, and they also have very hands-on, practical experience. They know how to get things done in the real world, and it's the ability to bring those two together that I think allows someone to accomplish great things, from a business perspective.
JC: They need to be generous with their time. As a mentor, you're basically giving a lot, and people who do well at that are generous and truly get reward from helping—and at the same time, they have respect for whom they're mentoring. It has to be a collaboration, not just a sharing of wisdom from their ivory tower.
Verily: Can you tell us about your time on Planet of the Apps and how the mentorship you received has affected your career?
JC: We were very fortunate to be paired with Jessica Alba. She fit in very well with the demographic that our app is trying to connect with, so that really made a ton of sense. That experience was really transformative because she was a big part of the inspiration for accelerating our kids app [Stop, Breathe & Think for Kids], which we had planned for, but we definitely did not have on our radar so early. It was very immediate for her to see the opportunity, maybe because she has daughters in that age range. I think it helped us have clarity that that was the right strategic move for us. Mentors really push you over that edge that you might be wary of.
JP: When we went into the final pitch, Jessica was there and she just said, "You guys got this. This is your area of expertise. You have been doing this for the last twenty years, so you have nothing to worry about." On a personal level, that mentorship of recognizing your own personal experience, validating it, and helping you find confidence in it was really important for us.
Verily: What kind of advice would you give to someone in your position twenty years ago, at the beginning of her career with a great idea?
JC: It's really going to be a process that is collaborative. You can't really do much in a career on your own. With a company, it's even more so. Being able to build those relationships and your pool of mentors that you trust is really important.
Verily: As co-founders, it seems like you've cultivated a solid mentorship with each other.
JP: One hundred percent. Julie has been a great mentor to me. My background is nonprofit. I knew very little about the tech world. I think she has been very generous with her time and patience as I traverse the learning curve and turning this into a business.
JC: We're very fortunate to be complementary. With the experience that I brought from tech, I also got to learn from Jamie about mindfulness, and that whole thing was very new to me. It's been really great on a personal level to apply it more to my life. I can't even imagine doing this without a co-founder. It's really critical. You just go through ups and downs, and you don't go through them at the same time. There's always someone that's in the right mindset and can bring the other one up when you hit bumps in the road. Hopefully our app can be that emotional wellness support, too, as we all need that every day.