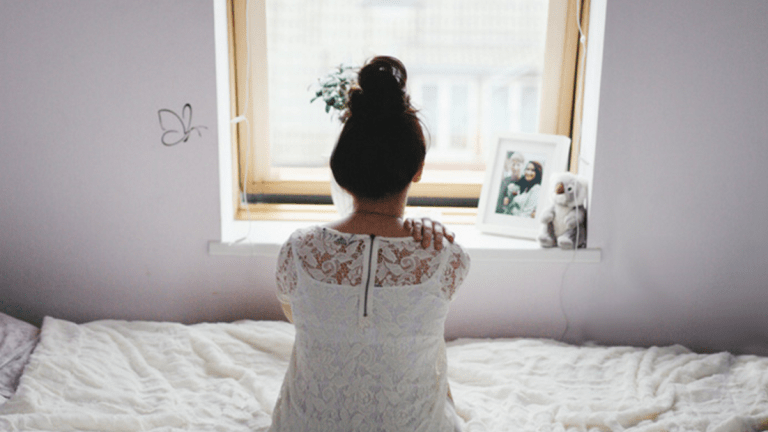 6 Things You Need to Know About Yourself Before You Fall in Love
A little introspection can go a long way when it comes to finding love.
Can I admit something to you guys? While I am unquestionably and staunchly in the "pro dating apps" camp, I've been feeling a little down on them lately. This fall I'm taking a beat and trying an IRL approach to meeting guys, which is how I came to be on a FaceTime call with Becky from Three Day Rule, a matchmaking company.
I had never put my romantic life in someone else's hands before, let alone spoken to a professional about it. Over the course of thirty minutes, we spoke about my preferences, my deal breakers, my past, and my goals for the future. It sounds so simple, I know, but I had never really taken the time to outline those things in relation to love.
Have you?
Whether you're single and searching like me or considering going all in with a new guy, I highly recommend taking some time (with a pen and paper, perhaps) to answer these questions for yourself. The answers will create a filter through which you can view your relationships and romantic paramours to gain perspective and clarity on the things you want and the things you need.
01. What are your hobbies, and how do you like to spend your free time?
This question is kind of a layup, but I think it serves as a good starting point because it is (or should be) easy. Making a list of the things you like to do is the first step for envisioning a future with someone else. Do you want your guy to join you on long bike rides around the city? Will your Pilates practice be part of your "me time"? Is it important for your partner to enjoy trying new restaurants and taking spontaneous weekend trips upstate? Make a list of your favorite activities, or maybe outline your idea of the perfect Saturday to get you started. This exercise will help you identify your expectation for free time, which, when mismatched or undiscussed, can be a surprisingly big point of tension in serious relationships and marriage.
02. What's your dating history?
I'll be honest with you, when the matchmaker asked me this, I faltered. My relationship history is a point of anxiety for me, and it could be for you, too. But keeping your past bottled up and locked away won't help you going into your next relationship. It's important to acknowledge and live with your story. However dastardly they might have been, your former flames played a role in how you became the woman you are today.
Practice summarizing your romantic past in a brief but honest way. Get comfortable discussing it, even if it makes you feel vulnerable or uncovers old wounds. (You have to let them breathe if you want them to heal!) Whether discussing your dating history makes you feel insecure, sad, angry or cringe-y, the more you talk about it, the less hold it will have on your present and future.
03. What qualities are you looking for in a man?
Seems like another no-brainer, right? But once you get past the basic characteristics most of us are hoping to find (kind, intelligent, emotionally available), you'll discover that coming up with specific qualities that are actually important to you can be very revealing. Do you need a guy who's funny or just someone who can make you laugh? What about someone who's generous with their time but not their money? Is stability more important to you than spontaneity?
These qualities aren't as important as your deal breakers (we'll get to those later), but making a list of these "nice-to-haves," as one matchmaker called them, will get your brain buzzing so that when you encounter them, you'll take notice.
04. Are you spiritual? Is religion important to you? How about politics?
Unless you've been socializing under a rock, you've no doubt encountered some kind of political conversation on a date recently. Unless it's important to one or both of you, religion often doesn't come up as frequently, but it will play a role in your relationship at some point, so why not get your bearings now? Affirm your beliefs and your passion points so that when they inevitably come up in conversations down the line, you're clear and sure-footed on where you stand and what kind of common ground you desire in a relationship.
05. Do you have any deal breakers?
When Becky first asked me this, my thought was, "No, not really!" because I'm 31 and maybe nothing should be off the table at this point. However, you can't let the feeling of scarcity creep in as you get older (or after a bad breakup). If anything, you should be more sure of what you don't want than you have ever been in your life. It might sound counterintuitive to shrink your pool of possible dates, but it will dramatically decrease the amount of energy you spend on relationships that won't work. And really, who has time to waste at any age?
06. What are your long-term goals? Marriage? Kids? Moving?
Personally, I don't think you have to have a concrete, unwavering stance on marriage and children until it presents itself to you. But before you get into another relationship, it's important to be honest with yourself about where you stand, so you can be honest with your future boyfriend. Maybe you have always pictured yourself working full-time and have big plans for your career in the future? Perhaps you've known since you were a little girl that you've wanted to have kids and dreamed of a big family (but if not, that's OK!). And maybe you thought you'd only live in New York for two or three years, but seven years later you're not sure you'll ever leave . . .
Life happens, and it can change our goals from the inside out. But aligning with your partner on the long-term future is a huge part of making a relationship work. So be open to what your mind and your heart are telling you, and when you feel confident in your desires and your goals, keep them top of mind. This kind of self-knowledge will aid you in finding love and marriage.