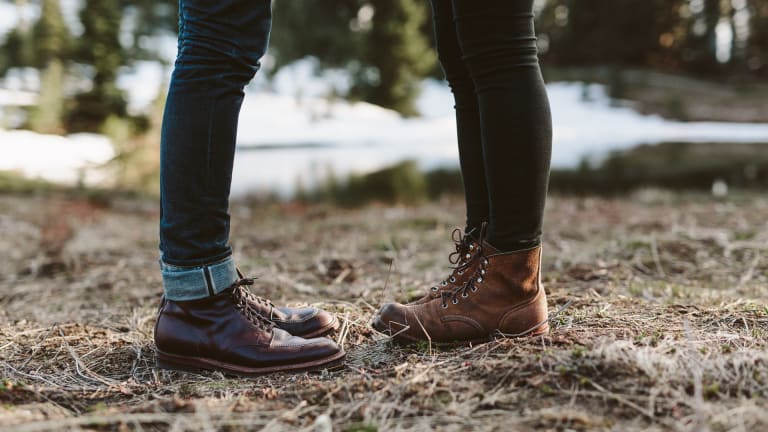 5 Reasons to Ditch Mr. Not-So-Right Before PSL Season
Don't wait it out.
Some people say that when the weather gets chilly, it's better to hunker down with the man you have rather than be alone—they call this "cuffing season". But they have it all wrong. The truth is, fall is the perfect time to end your relationship and venture off on your own if the guy you're with isn't the right one for you. That's right, I believe it's dumping season—here are five reasons why.
01. Autumn is symbolic of change and a fresh start.
Breakups are never fun (just ask Taylor Swift!). Autumn, however, is full of beauty and inspiration that can pick you up out of the doldrums should you choose to pull the plug on a situation without much promise. There's plenty of symbolism to inspire transformation and change in your life. If this relationship is not going anywhere, call it now and then escape for a weekend with your friends to the woods to watch the colors change and the leaves fall. Sounds pretty good right?
02. Pumpkin spice doesn't taste as wonderful when a guy is making your life miserable.
Everyone knows the highlight of fall is pumpkin spice everything. The trouble is, when you are unhappy in your relationship it totally kills that pumpkin spice mojo. I mean, truly, who wants to curl up with a warm drink and a lukewarm date? If your guy is making you miserable, call it now so you can enjoy your Pumpkin Spice lattes, apple picking, and all the other fall activities with your friends instead of him. 
03. Holiday season is coming.
This might actually be the No. 1 reason to end your failing relationship now, instead of trying to last the whole bitter winter. Holiday season is right around the corner, which means holiday parties and family shindigs galore. Some might say that it's better to have someone by your side at these occasions, but anyone who has ever brought a guy you are miserable with around to meet the family (me!) can tell you it is WAY better to go solo. There is a lot of pressure to be lovey-dovey, not to mention the conversations about where the relationship is going. How are you going to skirt around all the way through New Year's?
04. By New Year's you will be ready to meet someone new.
Obviously, you can't time everything perfectly. But if you could, breaking up in the fall gives you time to grieve, heal, and move on, just in time to meet all the newly resolved men out there around New Year's. Everyone's moving on timing will be different of course, but January 1 is known to be the time people sign up for dating apps, join gyms, volunteer, and learn how to cook. These are all perfect opportunities to meet men and to open your heart to someone new. It's healthy to be patient with yourself, but if your goal is to be ready to move on by New Year's, you might surprise yourself. 

05. It's always healthier to end a relationship that isn't working.
So pumpkin spice and looming mistletoe aside, "cuffing" for the winter is just terrible advice. Being with someone, especially someone who isn't the right man for you, is not better than being single. Singleness doesn't have to mean being alone, it can be full of love and friendship—maybe even more than you had when you were too busy angsting over your relationship to spend time with your friends and family. Set yourself free and set your guy free, too. You both deserve to be happy, but you have to give it a chance. 
Photo Credit: Jess Hunter Photography