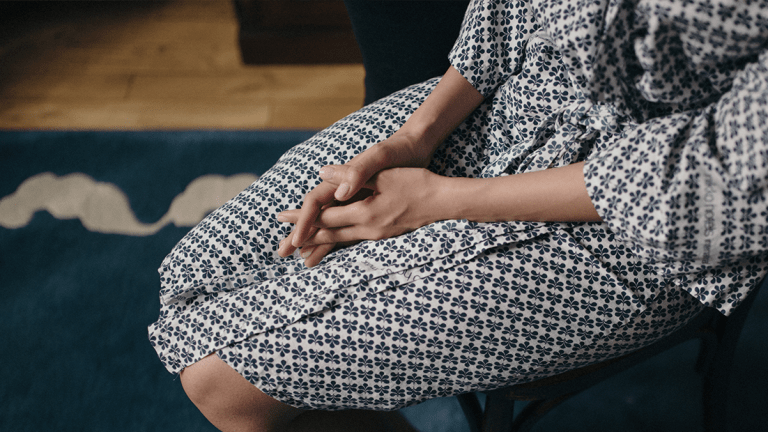 This Common Feminine Health Condition Puts Women at Higher Risk for Anxiety and Depression
Some symptoms can even determine the type of psychological distress a woman is most likely to manifest.
One in three women have irregular periods during their childbearing years. If you're one of them, a growing body of research confirms that it's important for you to understand what is going on behind the scenes—not just for the sake of your feminine health, but for the sake of your mental health too.
In June, the Journal of Clinical Endocrinology & Metabolism published a follow-up review of a study that began back in 1966 when researchers gathered data from 5,608 women at four periods of their life—age 1, 4, 31 and 46—to screen for the prevalence of mental illness in women with Polycystic Ovarian Syndrome (PCOS) or PCOS-related symptoms. The latest 15-year follow up study which focused on the women at fertile (age 31) and premenopausal (age 46) stages found that anxiety and depression are more prevalent in fertile and premenopausal women who have PCOS or PCOS symptoms—from two to eight times higher than women in the general population. In the process, the researchers also learned that neither patients nor general practitioners recognized mental illness as a key characteristic of PCOS.
PCOS is a hormone imbalance that causes irregular periods, infertility, obesity, and hirsutisum (abnormal hair growth) in up to 17 million women in the U.S. each year. It's typically characterized by increased testosterone, cysts in the ovaries, and is the most common cause of infertility. 
A smaller Columbia University study of 126 women published in the Journal of Behavioral Health Services & Research found that abnormal periods in women with PCOS is the strongest predictor of mental health issues. "For more than half of those disorders, the women with PCOS had distress levels statistically similar to those of the female psychiatric patients," Columbia University reports. They also found that body hair and menstrual problems most strongly predicted anxiety, while obesity was most strongly associated with psychological hostility (e.g., anger, cynicism, and mistrust).
Both studies hypothesized that common PCOS symptoms like infertility, weight gain and hair growth could be responsible for triggering psychiatric problems. But, "We were surprised to find that menstrual abnormalities in women with PCOS was the strongest predictor for mental health issues, particularly when there are so many other symptoms—like beard growth and infertility—that can make a woman feel unfeminine," says senior author Nancy Reame. "The study findings suggest that we can't treat PCOS effectively unless we pay close attention to any signs of mental distress."
While there are many natural ways to manage PCOS symptoms, there is no one test that can diagnose it and there is no cure. But research like this validates the importance of early diagnosis, informed consultation and awareness of PCOS, and the need for better screenings of these symptoms in clinical practice. It's also another reason for us to empower ourselves to learn more about our own fertility so that we can better advocate for our physical and mental health.