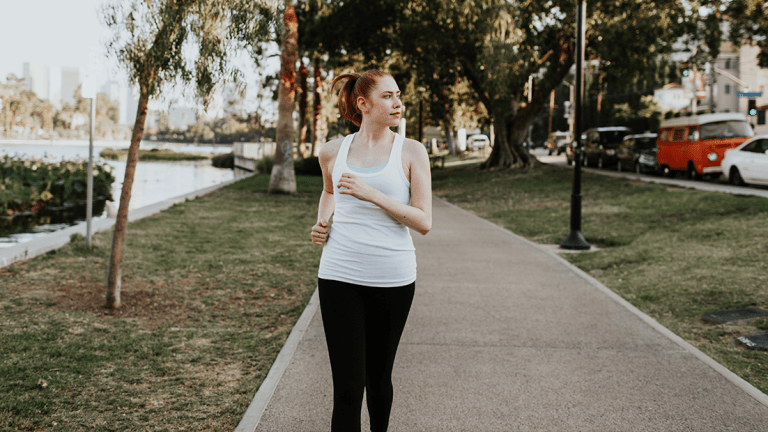 These 5 Hassle-Free Workouts Will Get You Outside and Exercising in 20 Minutes or Less
It's time for some old-fashioned physical activity that won't take up much time.
It's the first day of fall—the perfect time to start a fresh workout routine! Unlike freezing January, which, despite bringing in the New Year, feels like an artificial time to start exercising, the fall makes us actually want to go outside and play.
Research backs us up here. Not only are you more likely burn more calories due to the uneven terrain and being forced to exert more effort, but according to recent studies on outdoor exercise you actually boost your mental wellbeing beyond the endorphins you'd earn at your average gym, feel more enjoyment and satisfaction, and you're more likely to exercise again. Making it easier to make exercise a habit? Sign us up.
To get your blood flowing, I've found some fun outdoor workouts on YouTube to give you one less excuse to get outside.
Wanna start out easy? Get outside, breathe in the fresh autumn air, and take in scenic views with a simple unambitious walk—which already works out your entire body. If you're feeling up to it, you can toss in some walking tricks to make it a "real workout." With over seven hundred free home workout fitness videos and twenty-five years, Youtube's Lucy Wyndham-Read has some of the best videos on low-impact walking workouts, demonstrating how simple movements while walking can be done in intervals, with the occasional one-minute jog. Research proves walking is an excellent starting point if you're just starting (or getting back to) an active lifestyle.
You might think, "Oh, just the stairs?" Ah, how naive you are! If you haven't leveraged your building or local park's staircase(s) yet, well, you are in for a treat of jello-y legs and possibly some tender quads. Fitness YouTuber Aja Dang has a simple but effective workout routine that just requires a flight of stairs and a lot of willpower. She doesn't just run up the stairs—she double steps, crossover steps, adds leg lifts, and hops for an effective cardio and core workout in one.
Use your favorite park bench to sit and admire the turning leaves and as a high intensity interval training tool. HIIT workout expert Christine Salus shares a circuit on how you can get your heart racing by heading pairing jogging with some bench-inspired action. If you can't make it to a bench, squeeze in your outdoor workout at your nearest playground.
Think we were done with the park bench? Heck, no! PopSugar Fitness Host Anna Renderer effectively uses it for strength training by adding only one ingredient: your own body weight. She moves from a single-legged sit-to-stand, to tricep dips, to ab-burning seated Russian twists, to classic push-ups, and finally, to alternating step-ups. She does the entire 5-minute workout so you can easily follow along on your smartphone. May the bench be with you.
What better way to get outdoors and bring back "back to school" memories than with some old-school jump roping? If you're up for a challenge, invest in a CrossRope—possibly the most versatile and portable piece of exercise equipment for strength and agility training. Aside from its YouTube channel of mesmerizing jump rope workouts, CrossRope has quite the underground following. Joining one of their online communities might be a way to hold yourself accountable to your fitness goals, if you find yourself enjoying this form of exercise. (Spoiler alert: Once I got over the "dying" factor, I was totally roped in!).
If you're like me, and you let yourself skip exercise for the past few months because it's just "too hot" or you despise the dank smell of gyms in the summer (anyone else?), I challenge you to channel your inner schoolgirl, take out your new planner, and schedule in some outdoor homework. Now is the time to maximize the benefits of this weather and gorgeous autumn nature while it's still perfect!