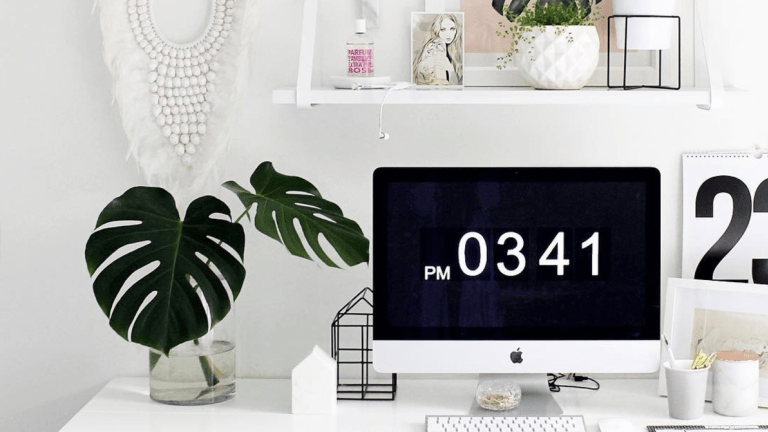 6 #DeskGoals That Will Make You Get Organized ASAP
Oh, and there are proven productivity benefits behind these swoon-worthy office hacks.
It may be back-to-school season for students everywhere, but that doesn't mean we can't get our fix of brand-spanking-new office supplies, too. So we scoured Instagram for the most organized (and beautiful) desks to help you refresh yours. After all, we spend most of our waking hours sitting at our desks—it should be inspiring!
01. Upgrade your lighting situation.
Science proves natural daylight is associated with higher alertness, mood, and cognitive performance. If your work area doesn't get natural sunlight during the day, invest in a full-spectrum bulb positioned for bright, ambient (indirect) lighting—like in gold sconces above and behind your desk.
02. Control the clutter in unconventional ways.
The Princeton Neuroscience Institute found that visual clutter has a negative impact on focus. But let's face it: Unless you're Marie Kondo, your desk will always have odds and ends cluttering up your workspace. Herd miscellaneous papers into a square ceramic vase, and place your pens and scissors in a pretty teacup. Your desk isn't the place to sacrifice form over function.
03. Listen to the sound of productivity.
Noise pollution is linked to a decrease in cognitive performance and adverse health effects through the body's continued stress response. To drown out distracting background noise or random sound bursts, set a couple small speakers on your desk and tune into Noisli or Defonic for soothing white noise.
04. All's well that smells well.
Comforting scents in the office can rekindle conditioned memories that put you in a good mood or positive state of mind. Display a scented candle, essential oils, or a favorite perfume in a glass tray so that you remember to reach for it whenever you need the sweet whiff of optimism.
05. Keep it curated and clean.
Improve the health quality of your workspace (and thus your mood and focus) by wiping away water rings, coffee splashes, crumbs, stray hairs, the crevices in your keyboard—all the little things that tend to go unnoticed but make a big difference. To maintain an easy-to-clean desk, only keep out your most favorite and most used items. Opt for a single corkboard to keep your treasured mementos—photos, reminders, postcards—in one place.
06. Take it or leaf it.
A 1989 study by NASA identified plants that can improve indoor air quality, thus having positive effects on cognitive performance. So bring in some flowers and greenery. We promise these indoor plant types are hardy enough to survive the brownest, most negligent thumbs.