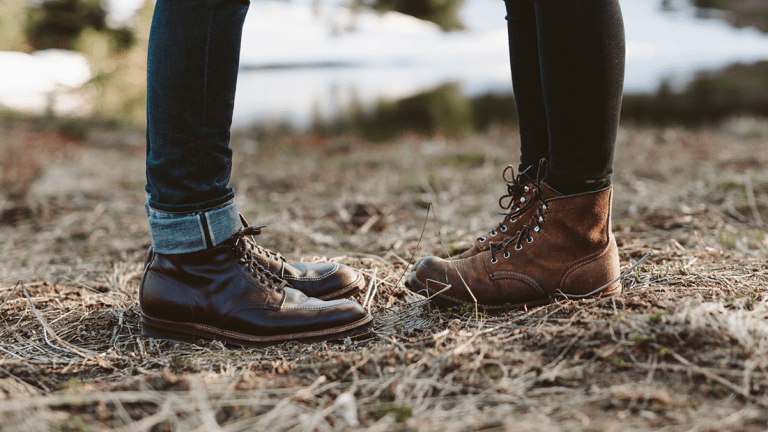 Our Unlikely 'How We Met' Story Proves You Have to Take Risks to Find Love
We're not crazy, but how we met is.
Whenever someone asks us how we met, my husband and I give each other a knowing look. Our answer changes depending on whom we're talking with. For family, friends, and acquaintances, we say, "Through a friend." If it's a stranger we'll probably never see again, we tell the truth: "Through Craigslist."
Here's the thing: No one ever believes us. They always think it's a joke. 
It has been nearly ten years since my now husband, Francisco, responded to my three-line Craigslist post. We are finally nonchalant enough to take Monica's advice and share our epic saga on the internet, where it will live forever. Whether you're the type to giggle, gasp, snicker, or scoff at romance tales like this, we hope, at the very least, you can learn something from our unlikely love story.
How It Came to Craigslist
When I met Francisco, I was brand-new to New York City, teaching full-time, in grad school, and dating a cute medical intern I'd met while volunteering at a hospital on weekends. I had a lot of balls in the air, but my love life was actually going swimmingly—until one day when I accidentally left my phone at work.
It was 11 p.m. when I realized I had left my phone (and my only alarm clock) in my desk. I set out immediately to retrieve it. Much to my dismay, my list of missed calls and texts from Dr. (not) McDreamy were as long as the Mississippi:
"Where are you? :'(" 
"How come you're not texting me back?"
"I've called you so many times. What's going on!" 
Seems nice enough, right? That is, until I got to the voicemails. "I've been busy at the hospital all day. I don't understand why you can't respond to me once. I mean, I'm a doctor, and you're just a teacher."
Steam poured out of my ears. I raged to myself. I logged onto Craigslist then and there and posted the following along with a picture of me and my dog:
I'm Christian.
I'm a teacher.
I like to build computers.
For most people, even back when Francisco and I first met, Craigslist was not at all viewed as a common or sane way to meet someone if you were looking for a long-term, marriage-minded relationship. It's where you'd go to post a Missed Connection, snag a hookup, look for an apartment, or sell used stuff. Still, I resorted to Craigslist for three reasons: (1) We didn't have any cool and convenient dating apps like Bumble or Coffee Meets Bagel at our fingertips; (2) the founder, Craig Newmark, had just been the commencement speaker at my college graduation, and I thought his mission to help us help each other was compelling; and (3) I met my college roommate through Craigslist and we became close friends. I presumed, perhaps naively, that I could just as easily meet a great guy on there, too.
When I went into work the next morning, I opened my inbox to find more than eight hundred messages. Knowing I couldn't read them all, I did a quick search for "Christian." Only two guys popped up, and luckily Francisco was one of them. Call it providence, destiny, or just plain bizarre, heartache also led Francisco to check the ads that same night. Years later, he told me that he was searching the ads for the same thing when he found me. I guess it pays to know what's important for you to share with a significant other.
It's a Small World After All
I used to think the theory of "six degrees of separation"—that everyone is only six introductions away from every person on the planet—was ridiculous. How could I possibly have a connection with my future husband through some guy who lived halfway across the world? Well, surprise, surprise: it was possible. After exchanging our third or so email, I found him funny, clever, and normal enough to Facebook-stalk. To my surprise, we had one friend in common: his roommate when he was studying abroad in the Philippines. The odds!
I wasn't the only one creeping on social media. When I visited our mutual friend's Facebook profile, I read an entire conversation thread of him asking about me: "How do you know each other? What is she like? What do you think of her?" Amateur as his move was, I'm glad he was that clueless, because it reassured me that a) he wasn't a total stranger; and b) he was interested enough to look me up, too!
Soon after, we agreed to meet for sushi. We instantly bonded over my lab work in ethnobotany and fruit flies (his father is an agriculture and drosophila scientist), our unusually enthusiastic love of all things Disney, and our goal of trying the best restaurants in the city.
Sorry, This Isn't Your Fairy-Tale Ending
Our story may sound like a fairy tale, but believe me, it wasn't. It didn't take us long to figure out that we didn't communicate our feelings very well (or at all), and we were both proud and extremely invested in our careers. We were also more interested in exploring the city than settling down. After three months of dinners out, meeting each other's friends, and ice skating in Central Park, we still hadn't kissed. Sure, we flirted. We held hands. But looking back on it, we were just two kids trying to figure out our lives while getting to know each other. The "figuring out our lives" part took over, and our potential relationship fizzled. When it came down to it, we were 21 and we weren't really ready for anything serious.
While our budding Craigslist romance didn't play out à la You've Got Mail, we were still strangers who would've never met if we both hadn't taken that leap of faith (or foolish risk, depending on how you look at it) to meet someone new in a totally untraditional (and unpopular) way. That counted for something.
So, aside from a brief stint of dating, we remained friends. We spent most of our time together in the company of friends. It was great because we were more relaxed and could see how we interacted with other people. As the years went by, we spent more one-on-one time together, like our weekly grocery shopping tradition, volunteering at the hospital (not McDreamy's), and Sunday brunches. But there was no all-or-nothing pressure to become an exclusive item. We were friends for three years before he declared (really out of the blue) that I was the woman he wanted to marry. Three months of actual dating later, and we were engaged. I guess our Craigslist connection just needed a little time to mature.
Our parents still don't know the full story of how we met, but they came from a very different time with very different resources. We're sure they would freak out if they ever found out the whole truth (although now they might! ¯\_(ツ)_/¯). How we met is a little crazy, even by today's standards (in fact, for safety reasons, I would not recommend that anyone do as I did—stick to the much more reliable dating apps). But if there is one thing I have learned from our Craigslist meet cute, and our subsequent five years of marriage, it's that you have to be a little crazy and take risks when it comes to love. Posting that ad on Craigslist wasn't the last wild leap I've taken in this love story. Falling in love with Francisco, choosing to keep loving him despite fights and annoyances, and opening my heart to him every day knowing that he isn't perfect (but then, neither am I)—that all feels crazy, too. But I have no regrets.
The "friend" who introduced us may have been a guy named Craig. Yours might be a dating app, a MeetUp, a matchmaker, a volunteer opportunity, or a bus that puts you and a cute guy on the same route every morning. You'll never know until you take a leap of faith and try.