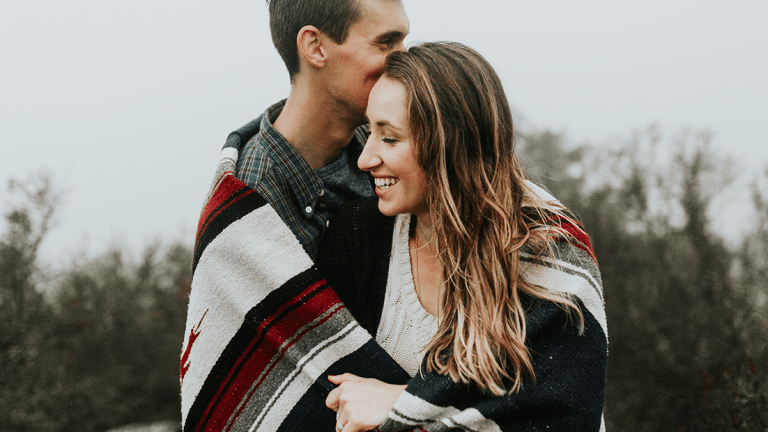 Easy and Fun Ways to Meet Guys This Fall (Even Though 'Cuffing Season' Isn't a Thing)
Now is the perfect time to meet men.
Cuffing season is bogus.
Yes, I said it! Every year around this time, you start to hear people talking about "cuffing season." For the uninitiated, it's that time of year when the air starts to cool and, allegedly, singles everywhere go into a frenzy looking to get coupled up before it's too cold to go out and meet someone. They settle for Mr. Right Here, Right Now in order to not spend the winter months Netflix-ing alone. Personally, I think this concept is just modern dating propaganda designed to put additional social pressure on those of us who are unattached. I don't know about you, but I don't need that kind of stress in my life!
My attitude toward dating this time of year is less about pressure and more about refreshment—think of it like back-to-school season for adults. Give yourself a clean slate, a new start, and an excuse to think outside the apps. I'm not saying you need to abandon dating apps entirely (my relationship with them is complicated, after all), but there are some alternatives out there you may not have tried yet.
Ahead I've mapped out four creative ideas that, if you really put them to work, are guaranteed to lead to a romance-filled fall!
Enlist your girlfriends in the 'Business Card Challenge.'
OK, so this is a little game of sorts that I'm playing right now with three of my single gal pals here in New York. Every week, each of us must give out one business card to a cute guy. Whomever doesn't do it that week (or is last to chime in on the group text) has to bring a bottle of wine or dessert next time we get together for dinner.
The goal here is to practice approaching someone, introducing yourself and making a bold move—but also it's just a great reminder to look around when we're out in the world! We spend so much time in lines, on our commutes or at the grocery store just looking at our phones, when we could be locking eyes with the hot neighbor who just moved in across the street. Just get your card ready, walk over and say, "Hey. I swear I never do this, but I think you're really cute. You should text me." And then sashay away like the boss that you are.
Host a +1 party with your single friends.
This idea has been popularized in too many sitcoms and rom-coms to count. But there's a reason—it works!
The trick to this idea is not letting the "singleness" of the party play too big of a role. Come up with another reason to throw a party—a sports game, a new bar opening in your neighborhood, an "Indian summer" backyard barbecue . . . you get the idea. Simply suggest that everyone come to your party with a single guy friend, and let the mixing (and hopefully matching) commence. Another key so that this party doesn't get awkward fast is to make sure the environment invites mingling and relaxation—set it up with plenty of food and drinks, perhaps activities, games or even costumes! (Hey, Halloween is coming up!)
Send out an email to friends and family.
Now I know this idea might sound a little drastic—even desperate—but hear me out because I swear it is not. Think about the last time you were looking for a job or a place to live. Before you went on a message board or Craigslist, what did you do? You reached out to family and friends to let them know you were looking. Think of dating the same way!
I'm not suggesting you blast your entire contact list maligning your singledom and pleading for a date. What I am suggesting is to come up with a tight (but diverse!) list of people you know who know a lot of other people, and whom you trust. Think of former coworkers, cousins, friends from college, and contacts you work with now. Let them know that you love and admire them (it always helps to start with a compliment) and that you're interested and open to meeting new people. Include your phone number and a photo or your Instagram handle so your friends can show you off.
Meet with a matchmaker.
Earlier this summer, the New York Times published a story about a Harvard Business School study which suggested people who spend money to save time (rather than spending time to save money) are generally happier. Those who outsource tasks they dislike, like cleaning, accounting, or ordering in dinner rather than cooking, reported "greater overall life satisfaction."
So if dating and dating apps make you feel stressed, frustrated and exhausted—why not try outsourcing the work to an expert? Companies like Three Day Rule or It's Just Lunch will do all the legwork for you, setting you up with dates that are carefully selected for potential compatibility. Also keep in mind that if you aren't quite ready to financially invest in a matchmaker, Three Day Rule allows you to create a free profile, which adds you to the pool of potential matches for their paying clients!
If you're willing to put at least one of these tips to the test, you'll quickly find there's no reason to "cuff" when the weather gets cold. We may like our lattes seasonal, but I for one don't want a love that'll be swept away with the leaves.