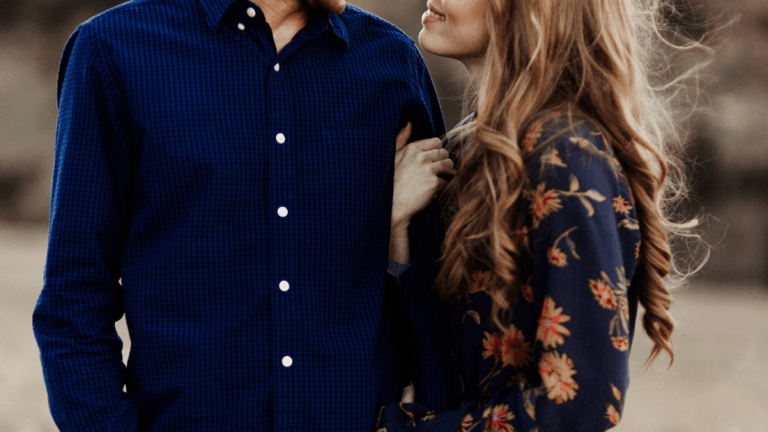 This Is the Difference Between Showing Interest and Chasing a Guy
Sometimes the line gets blurry.
"Don't call boys." This was my father's advice for me as I navigated dating throughout my teen years. 
It was advice that I once thought to be "old-school" but now understand to be timeless wisdom. What my dad knew, and I would soon find out, is that I wanted to be the one pursued in a relationship. If I had to pry a date out of a guy or ask him out myself, any confidence I derived from being "strong" and "independent" would inevitably fade into doubt and distrust of the guy's true feelings for me. What's more, most men will only date a woman if he is a.) interested and b.) ready, regardless of who pursues who. So in the end, pursuing a guy really doesn't increase your odds of romantic success, only your chances of being met with disappointment.  
Don't get me wrong, initiating or "making the first move" is an empowering and very natural thing for women in the realm of meeting and mating. According to research women are typically the choreographers of most first meetings. In fact, when studying and scoring women's nonverbal behaviors, such as eye contact and smiling, researchers were able to predict a man's approach to her with 90 percent accuracy.
But the problem many women are faced with today is how to rectify the necessity of initiating the first move with the desire to be pursued. 
The difference can sometimes feel like splitting hairs, but when it comes to the laws of attraction, even the smallest of gestures can send just the right or wrong message. So, to help clear up the confusion as best I can, here are three ways you can tell if you are just letting him know you're interested or if you're the one who is doing the pursuing.   
When you text him first.
It's one thing to casually give a guy your number and then leave the ball in his court. It's an entirely different thing to text or call a guy after a first meeting, fishing for a date. It's a fine line, but in the mind of a man, it tends to make a difference. Giving a guy your number is a form of flirtation and a clear way to tip a guy off that you are interested. Calling or texting a guy first on the other hand, especially if you don't have any other pretext, is taking matters into your own hands. Ask a guy and he will probably tell you that, if he is attracted to you, you will be warmly received in either scenario. But that is not really the point. The point is that you want to be the one being pursued and, while there are exceptions to every rule, it's smart to set the precedent from the get go.  
When you feel like you are filling in all the gaps. 
I know a lot of women who are so afraid of making a man feel like she is trying to catch him, that she never throws the poor guy a line. Guys needs clues. They need you to send them signals that you are interested by rewarding their introductions with a warm smile, asking questions that help keep to conversation going, making eye contact from across the room, and suggesting other days you are available when the date he proposes won't work.  
That said, if you feel like you are filling in all the gaps, you may be doing more work than you have to. Things like finding him in a crowded room after he excuses himself from the conversation, reaching out to him when he fails to follow up on a date as promised, or always being the first to initiate planning the follow up date take the ball out of his court. As I have been reminded time and time again by men, if a guy is really into you and ready to make a move, he will. 
When you have to strategically plant yourself in certain places in order to see him. 
Certainly there is nothing wrong with strategically running into a guy you like, when you have the easy and natural opportunities to. But there comes a time when allowing for the possibility becomes a painful, persistent pursuit. I think with a little tough-love of self, every woman can identify where the line between helpful initiation and pursuit is. Ask yourself the following question: Have you given him ample opportunities to make a move and he just hasn't? If this is the case, it's time to back off and not try so hard. This doesn't mean you should avoid him, but it does mean you should reassess your reasons for attending certain social affairs and let him go. 
The most important thing to remember about all this is that these rules of thumb are purely for you and your sense of peace as you are meeting men. So throw the guy a line and waiting for him to bite—and if he doesn't, you can rest assured knowing you weren't chasing someone who isn't interested.