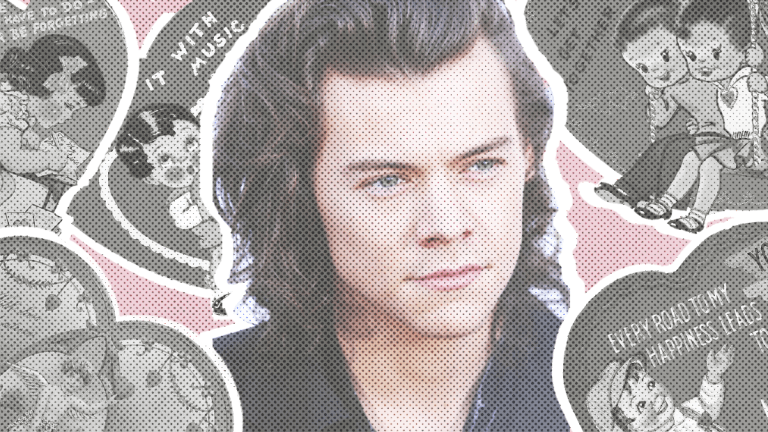 3 Reasons Harry Styles Is the Best Boyfriend I'll Never Have
Sometimes a little distraction from the real world is a good thing.
Obsessions with famous young men—especially those of the musical persuasion—are nothing new. Arguably, they're less intense today than they were in the days of, say, Mick Jagger and The Beatles. But if there is a modern-day music man worthy of the specific brand of mania only a gaggle of swooning girls can create—it's Harry Styles. 
Harry is an anomaly. 
He's a rocker with a soft side. A heartthrob with a sense of humor. A superstar and a mama's boy. 
But mostly, Harry's a great distraction from the mundanity that is dating as a Millennial. On days when visions of a far-off marriage keep you Up All Night. When your desk at work is a purgatory of sorts, your mind spinning through a slide reel of Midnight Memories with former flames. When yet another romantic prospect fizzles out and you think—Story of My Life! Yep, these are the moments when it's no wonder twentysomethings like me have Harry Styles on the brain more than we'd like to admit.
So, why is Harry everything I wish my future boyfriend would be? (Well, if you honestly have to ask that question, maybe you should bail out of this article now.) My fan-girl obsession aside, whether you love Harry or not, he has some top notch qualities that actually are swoon-worthy make him dream boyfriend material. 
01. His Sense of Humor Is Next Level
What girl in the history of ever said: "I really hope to never laugh with my S.O."? Sadly, finding a guy who's willing to laugh at himself and engage in some fun-loving tomfoolery aren't nearly as prolific as One Direction t-shirts in Times Square. (Who needs I ❤️ NY when you can have I ❤️ HS?) Luckily, that shirt keeps me warm at night since Harry Styles is nowhere to be found. But seriously, Harry laughs and smiles more than any "cool" rockstar ever—ever. 
02. He Defies Conformity—and Is Comfortable with His Masculinity 
To say nothing of his hot-pink pantsuit and his brocade bell-bottoms, Harry is not afraid to be himself—stereotypes be damned! In multiple interviews, hosts have tried to roast him for his well-documented love of rom-coms, specifically The Notebook. Well, Harry's not having it. He owns it. He told BBC's Radio 1 that he has joyfully watched the entire Nicholas Sparks catalog of films. While most guys have P-I-P going strong with every game on a Sunday night, imagine curling up on the couch for a relaxing viewing of The Titanic with Harry. Um, yes please!
03. His Emotions Overfloweth 
From DAY ONE, Harry has never been afraid to be emotionally vulnerable. His mum (that's British for "mom," which is what Harry is—British. Did I mention that?) has been a source of pride for him on several occasions. When Harry did "Carpool Karaoke" with James Cordon, he talked about playing his album for the first time for his mum, Anne. She cried a lot, he said with a warm smile. Well, he got it from his mama because Harry has teared up in public numerous times. My personal favorite came when he sang a duet with Stevie Nicks. Together, they performed her otherworldly ballad "Landslide," and right as the lyrics concluded, Harry missed a beat because his emotions got the better of him. Swoon!!! 
I'm not one to endorse living in a fantasy land, but if a boyband crush can give you some real-life inspo for what you really want in a mate, then why not have a little fun with it? Who's your celeb crush?