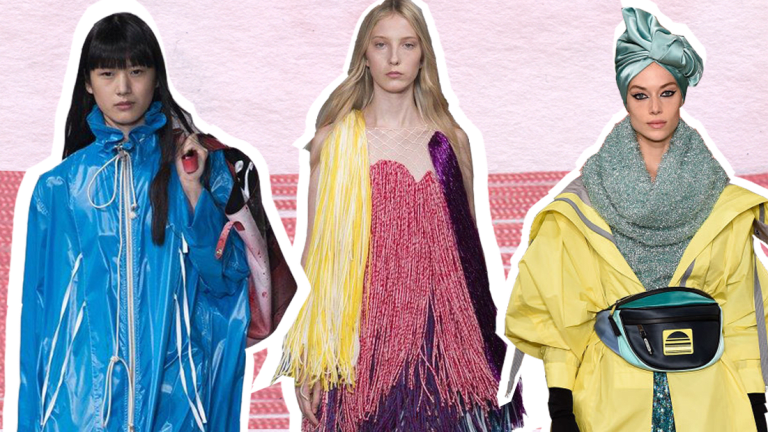 We Asked Regular Guys to Explain High-Fashion Runway Looks
Naturally, hilarity ensued.
Interpreting the inspiration behind a fashion designer's collection is like walking through a modern art gallery—and sometimes about as understandable as a Dalí painting. With fashion month for Spring/Summer 2018 coming to a close, we are left with many collections to reflect on. In an attempt to understand some of this year's most standout runway looks, we asked a few men—who, like many of us, have not been following along closely—to play the part of fashion commentators.
Needless to say, their responses have us doubled over laughing.
Some Looks Were Relatable . . .
Marc Jacobs, s/s 2018
Peter: "Spirit Airlines: 'We charge for every bag.' Her: 'Np. Np. I'll just wear everything I packed rn.'"
Eudon Choi, s/s 2018
Denny: "This is an example of when you tie your bathrobe on too tight and can't get it off all the way, so you just get dressed for work anyway and deal with it."
Some Looks Were Purely Aspirational . . .
Calvin Klein, s/s 2018
Johnny: "This dress is the perfect nexus between high socialite gala attire and the 'idgaf' mystique. Even its thick texture emits a sense of power that Glad garbage bags can't compete with."
Ralph Lauren, f/w 2017
Daniel: "This is a great style for those who want to look the part of a biker and a princess without the practicality of either."
Some Looks Were Totally Occasion-Appropriate . . .
Delpozo, s/s 2018
Fidelis: "[This is] something Katniss from The Hunger Games would wear prior to or after the games. The broom-like shoes match the head apparel quite well."
Delpozo, s/s 2018
Walker: "This ensemble is actually a combination of a wedding dress, a polo shirt, and a wicker chair. Most suitable for any woman who wants to stand out of the crowd with conservative and traditional taste. Great for garden parties."
Some Looks Were Practical . . .
Vaquera, s/s 2018
Joe: "Elegant as a swan, formal as a swan, and comfortable as a swan. It's a lovely 'just got out of bed' look without ever having to feel like you've gotten out of bed. Five-star rating."
Fenty x Puma, s/s 2018
Nick: "Who knew jumping out of a plane at 20,000 feet could be so fashionable? [And] the brilliant orange shoes are OSHA-compliant for nighttime roadwork."
Some Looks Were Metaphorical . . .
Calvin Klein, s/s 2018
Joe: "This piece is reminiscent of some of the most important times in a young woman's life. It harks back to her first prom dress, her time as a cheerleader, and her fond memories of Mardi Gras."
And Some Looks They Just Didn't Get . . .
Calvin Klein, s/s 2018
Daniel: "This look is a single, shapeless sheet of blue. It's like wearing a garbage bag, but chic!"
Calvin Klein, s/s 2018
Dennis: "I'm pretty sure that's just a tarp."