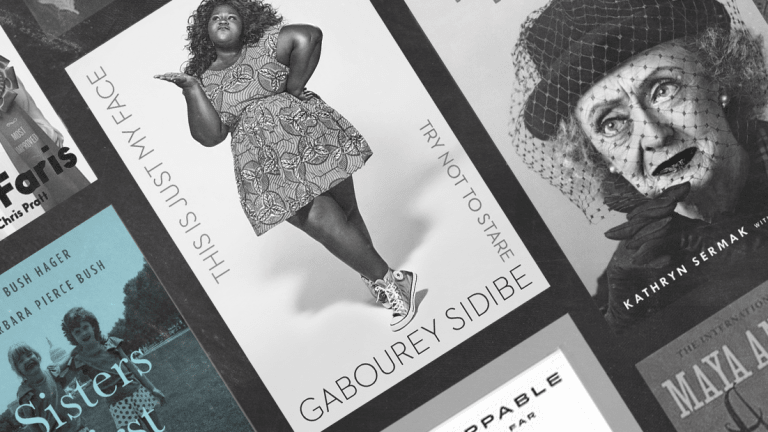 5 Intriguing New Memoirs by Women That Have People Buzzing
It's time to get cozy with a good book.
At home, at work, even on the tennis court—women are redefining what it means to be a modern female in every arena. Which is why we're looking forward to hearing how some game-changing women are doing it—in their own words.
This fall you'll find no shortage of memoirs by women. From famous athletes to the daughters of presidents, their stories might seem unattainable, but each promises insight into the very human experiences we all share. 
Here's a preview of five new releases that are highly anticipated in the literary community. Consider them for whatever cozy, fall reading day you have planned, and let us know what you think!
Release date: May 1
Sidibe is not only an Oscar-nominated actress and a television star, but she is also a gifted writer, drawing from a unique American experience that includes a polygamous father, a talented singer/songwriter mother, and an expedited rise to fame. Whether it's fashion, her weight, race, or crafting an online persona, her memoir is noted as a quick and humorous read.
Release date: September 12
Can we all agree that Sharapova is a fierce athlete? At just 17, she bested two-time defending champion Serena Williams to win Wimbledon. Since then, she's held her own, winning four Grand Slam tournaments and becoming one of the highest-grossing female athletes ever. With a doping scandal rocking her world in 2016, her book details career high points as well as a personal account of her suspension. It promises to be much more than just tennis!
Release date: September 12
Can you imagine changing how you spell your name at the request of your new employer? For Bette Davis' late-in-life assistant, this was a reality. In her new memoir, Sermack talks about life by the side of one of Old Hollywood's paramount women. Sermack promises to unpack the scandal, the sentiment, and the secrets to the backdrop of a road trip she and Davis took through France.
Release date: October 24
Fans of Faris' podcast, Anna Faris Is Unqualified, will likely not be disappointed by her first book release. If you're familiar with Faris, you know her humor is sometimes fully loaded, and surely her book will carry that trademark candor. Slated to be full of entertaining stories of love and living in show business, the actress's memoir will have the same sense of humor present in all her quirky and over-the-top characters. And while her recent split from Chris Pratt, her husband of eight years, felt sudden, the book will still explore the happier times of their marriage and will even include a forward from Pratt.
Release date: October 24
Hager and Bush were once first daughters who grew up in the public eye, but the twins have successfully made their own distinct names outside of politics, with Hager working as a correspondent for Today and Bush serving as the CEO and co-founder of Global Health Corps. The memoir is slated to focus on their experiences in the White House, diving deep into personal stories of their father and grandfather, both former presidents, and a look into those infamous college years.