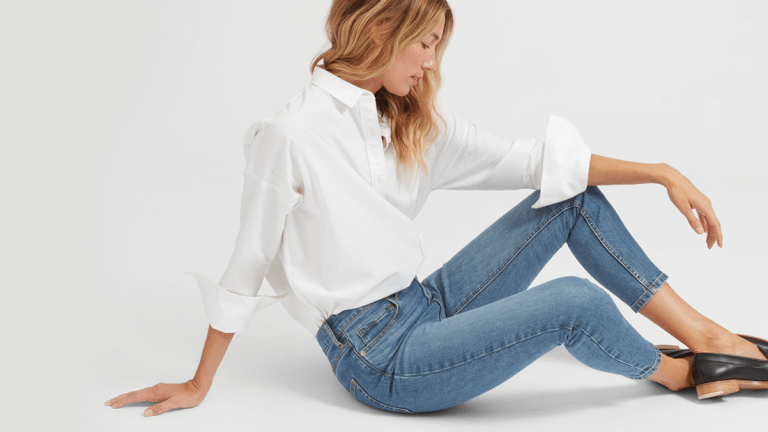 Ethical Brand Everlane Just Released Its First-Ever Denim Collection
Finally, some cute ethically produced jeans!
Did you know that in order to make one pair of jeans, 1,500 gallons of water are wasted? With a number like that, it's easy to believe the garment industry stands as the second most polluting industry in the world.
But one brand in particular is making major advancements for a cleaner earth. Everlane is one of the most transparent ethical brands out there, providing the cost, fabric, and waste breakdown for every product it produces, not to mention a detailed look inside all of its factories.
We've followed (and shopped) Everlane for years, but we're especially excited about the launch of its first denim collection. With a revolutionary approach to minimize all waste, the company uses a closed water system that recycles 98 percent of its water—only 0.4 liters of water is lost due to evaporation, according to its website.
Using renewable energy resources such as solar power, Everlane says it has reduced energy usage by 5.3 million kilowatts of power per year—and reduced CO2 emissions by nearly 80 percent. Because all denim creates a toxic sludge that can seep into the environment, Everlane has developed a method that extracts the sludge for practical use. It is sent to a nearby factory to be mixed with concrete to make homes.
Oh, and we know you're wondering. Yes, the jeans are super cute and affordable.
At only $68, Everlane's jeans are made with flattering mid- and high-rise waists in a skinny fit and a boyfriend style (which come in ankle and regular lengths). With classic washes such as white, black, deep blue, and light vintage, we're so ready to make these jeans wardrobe staples for many years to come.