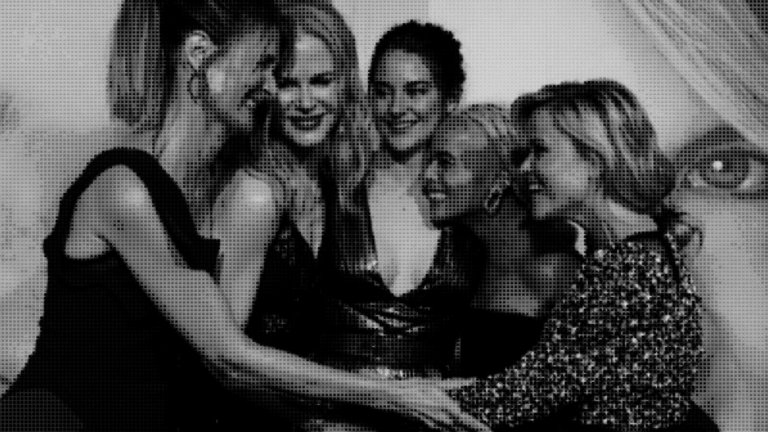 The Emmys Was All About Women—Here's What You Missed If You Weren't Watching
'It's been an incredible year for women in television.' —Reese Witherspoon
It was a night of firsts at the 69th Primetime Emmy Awards in Los Angeles on Sunday, where Nicole Kidman's call to action: "More great roles for women, please!" was heard loud and clear.
Not only were the nominees the most diverse group in the award show's history, with shows such as Atlanta and Master of None getting recognized, it was also a night in which women truly stole the show. Female-driven television such as Hulu's The Handmaid's Tale, HBO's Big Little Lies, and HBO's Veep dominated the award categories and the conversation. Even more, the women who work behind the scenes to make these shows successful received history-making honors, taking home trophies for outstanding director and writer.
We've compiled a few notable moments from television's biggest night, in case you weren't along for the ride.
Lena Waithe Made History
About half-way through the night, Aziz Ansari and Lena Waithe took home the Emmy for Outstanding Comedy Writing for Netflix's Master of None. While accepting the award, Waithe took center stage and made history as the first black woman to win in this category. The award recognized her work as co-writer for the 'Thanksgiving' episode, but she also plays recurring character Denise in the series. 
Dolly, Jane, and Lily—Oh My!
You know you're in store for a big moment when Dolly Parton, Lily Tomlinson, and Jane Fonda are sharing a microphone. The women were having a 9 to 5 reunion of sorts and reflecting on their combined decades in the showbiz. While doing so, they took the opportunity to veer political, saying that they did not allow themselves to be controlled by sexism and bigotry when they were young in the '80s and that they aren't allowing for it now, in 2017. The three icons then praised men of integrity as they presented the award for Best Supporting Actor in a Limited Series. 
Margaret Atwood Was Everywhere 
The Handmaid's Tale won big this year, with every award recipient from the series shouting out the book's prolific author, Margaret Atwood, who made an appearance onstage as the show took home the night's top honor for Best Drama.
Elizabeth Moss sat front and center all night and took home the trophy for Best Lead Actress in a Drama Series, her second Emmy win alongside seven other nominations. She addressed Atwood in her acceptance speech, thanking her for, "what you did in 1985 and what you continue to do for all of us."
Other wins for the series included Bruce Miller, who won his first Emmy as Outstanding Writer for a Drama Series, and a shocked and emotional Ann Dowd who won Best Supporting Actress in a Drama Series. Following on the heels of Ann Dowd, Reed Morano took home the award for Outstanding Directing for a Drama Series, and much like previous winners, thanked her "idol," Atwood. 
Nicole Kidman Brought Awareness to Domestic Violence 
Picking up the award for Best Actress in a limited series or movie for her role in Big Little Lies, first-time Emmy winner Nicole Kidman used the moment to underscored the need to shine a light on the stigma and secrecy of domestic abuse, a core theme of the series. She expressed a desire for her children to understand that the sacrifices their family makes for her career aren't for nothing. "When you're acting you get a chance to bring a bigger message," she said. She spoke about how domestic violence is far more common than we know and that it is filled with shame and secrecy. "By acknowledging me with this award it shines a light on it even more," she said, "so thank you."
Julia Louis-Dreyfus Still Winning for Veep
In other records broken last night, Louis-Dreyfus took home the Emmy for Best Comedy Actress. Her win made her the person who had won the most Emmys in the same role for the same series. She thanked the other women in her category, calling them, "powerful," "superb," and "funny." Of Veep, which will soon enter its final season, she said, "This is and continues to be the role of a lifetime, and it's an utter joy." Veep also won for Outstanding Comedy Series.
Big Little Lies Won Big—Women Won Bigger
Early in the show, Laura Dern accepted the award for Best Supporting Actress in a Limited Series for her role. In her speech, Dern remarked she felt proud to be a part of a show that reflects "fierce women and mothers finding their voice," thanking Kidman and Reese Witherspoon's mothers for raising smart women, as well as the academy for recognizing female talent. After slowly amassing an impressive string of Emmys all night, BLL won the big one—Best Limited Series. The show's co-creators, Nicole Kidman and Reese Witherspoon, shared center stage, thanking first and foremost Liane Moriarty for creating what Witherspoon called "memorable" characters. As they continued to thank the cast and their supports, Witherspoon took the opportunity to ask Hollywood for more. "Bring women to the front of their own stories," she implored, "make them the heroes of their own stories." Meanwhile, building on a theme of women being there for each other and being supportive instead of competitive, Kidman recalled to the audience that this show was born from her friendship with Witherspoon. They were both frustrated by the lack of good roles for women, she said, so they did something about it. It was a win for women, indeed. 
The Handmaid's Tale Closed the Show
Having been nominated 13 times this year, it was no surprise when Hulu's The Handmaid's Tale took home the night's top honor of Best Drama. The acceptance speech included a quick shoutout to Gilmore Girls, owing to Alexis Bledel's character in THT. The final message of the night was a strong one from showrunner Bruce Miller: "Go home, get to work. We have a lot to fight for." Luckily, recognition for women at the 2017 Emmys was not one of them. 
Written by Jessica-Lynne DuBois-Maahs and Megan Madden
Photo credit: HBO