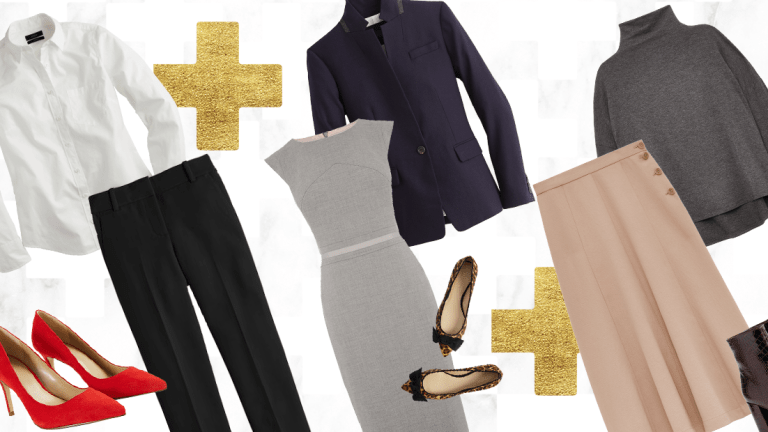 Effortless Office Outfits That Are Already in Your Closet
Shop your own wardrobe for timeless work ensembles.
Thankfully, the sweltering summer heat is becoming but a mere memory—and for working women, not a moment too soon. (Good riddance to sweating in office wear!) The fall is the perfect time to refresh your office look, but there's no need to hit the mall for a brand-new wardrobe. You have plenty of new outfits already in your closet; they're just waiting to be worn. Check out our favorite office outfit combos below to get the inspiration going.
Blazer + Pencil Dress + Quirky Flats
We usually only think of wearing a blazer with slacks, but its tailored silhouette looks even more chic when paired with an equally tailored pencil dress. The structured masculinity of the blazer contrasts with the feminine fit of the dress, creating a look that is both professional and flattering. To add a personal flair to it, throw on a pair of quirky printed ballet flats.
Turtleneck Sweater + Midi Skirt + Booties
Turtlenecks have an unfair reputation for being unflattering and dorky, but we must beg to differ. When styled well, the turtleneck elongates the neck and arms, creating flattering lines. So bring your turtleneck out into daylight by tucking it into your favorite midi skirt to define your waist. Add some weight and structure to your soft outfit by adding a pair of heeled ankle booties.
Button-Down + Slacks + Colorful Heels
An oldie but a goodie! Inspired by the French, this white button-down and black slacks combo is both effortless and professional. The best part about this getup is how comfortable it is. Easy to dress up or down with accessories and rolled sleeves, we suggest wearing a pair of brightly colored pumps to add a ladylike flair to the ensemble.