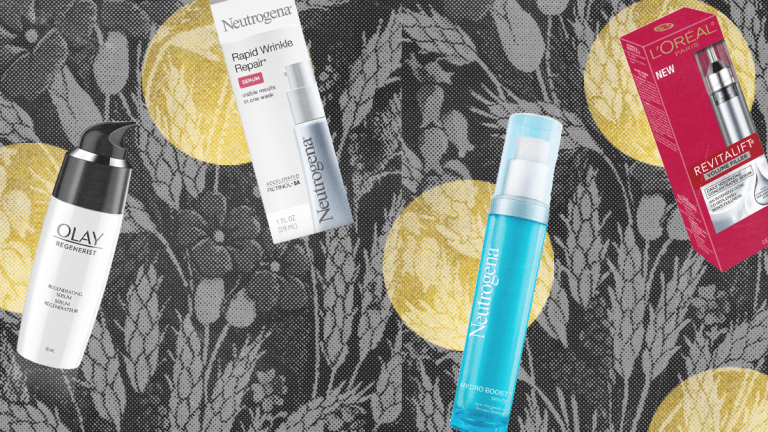 Dermatologists Share Their Top Drugstore Serums for Restoring Skin
Affordable and effective!
There are some memories of summer we simply don't mind taking with us into fall: sun-kissed hair, an extra freckle or two, a newfound love of the no-makeup makeup trend.
Sun-damaged skin?
Now, that is not one of summer's better gifts. To help get your skin back into tip-top shape after months of sweat, sun, and more sweat, we chatted with derms to get their picks for the best drugstore serums to treat dark spots, dehydration, and more.
For Hydration
"I think the entire Neutrogena Hydro Boost line has been one of the greatest recent advances in over-the-counter skin care products. It is completely oil-free, so [it's] excellent for all skin types, including acne-prone skin. Composed of naturally occurring hyaluronic acid, it is known to hold over 1,000 times its weight in water, providing excellent hydration for the skin. The Hydro Boost Hydrating Serum is lightweight and can be used alone or under another moisturizer for maximum efficacy. I like using these products at night and then a moisturizer with SPF in the morning." —Dr. Shari Marchbein, Board-Certified Dermatologist, Clinical Assistant Professor of Dermatology, NYU School of Medicine
"When your skin is parched from too much time in the sun, look for a hydrating serum that can draw moisture into your skin like L'Oréal Paris Revitalift Volume Filler Daily Concentrated Serum. Hyaluronic acid is considered the best solution to help the skin to retain moisture—it's a naturally occurring molecule in the skin that attracts water to attach to it, allowing the skin to look more plumped and hydrated. This helps improve the protective barrier of the skin and keeps the skin hydrated." —Dr. S. Manjula Jegasothy, CEO and Founder of Miami Skin Institute
For Fine Lines
"Olay Regenerist Regenerating Serum is the best inexpensive product because it's got clinically proven peptides to help with sun-damaged skin. It helps to hydrate the surface of the skin, and the peptides are anti-aging and have been shown to stimulate a little collagen production." —Dr. Francesca Fusco, Wexler Dermatology 
For Improved Texture
"Super affordable (around $25) and effective is Neutrogena's Rapid Wrinkle Repair Serum. Studies have shown retinol to be one of the best collagen and elastin-boosting ingredients around, and this formula is oil-free (so won't cause acne) and gentle enough to use nightly. Over time, retinol will minimize wrinkles and decrease dark spots, improving skin tone."—Dr. Rachel Nazarian, FAAD, Mount Sinai Dept. of Dermatology, Schweiger Dermatology Group