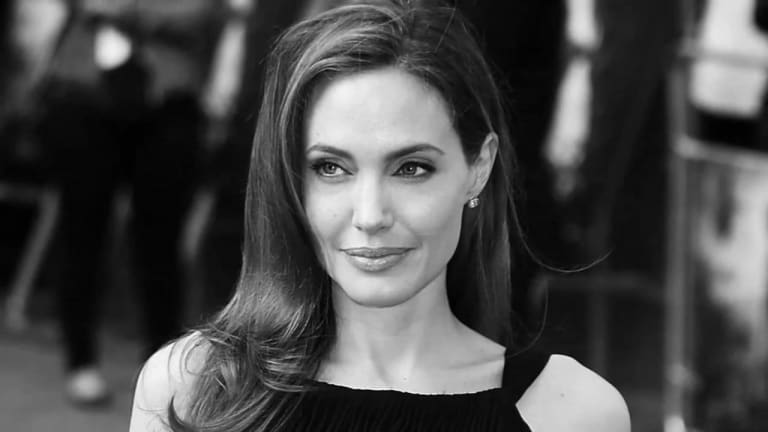 Angelina Jolie is All of Us Who've Had to Readjust to Single Life After Heartbreak
The actress and humanitarian revealed how hard it really is in a recent interview.
She has a new movie—First They Killed My Father—that needs promotion. 
That, Angelina Jolie said in an interview with the Sunday Telegraph, is the only reason we're hearing from her right now as she continues to reel from her split with Brad Pitt exactly one ago. After twelve years together, and two as husband and wife, Brad and Angelina divorced amidst devastating rumors of recreational drug use and child abuse by Brad. 
Now Angelina finds herself a single mother of six children and, as always, a public icon whose private life intrigues the masses. But really, as her latest interview shows, she's just a woman trying to recover from heartbreak and redefine who she is post-couple—a situation almost all of us can relate to.
"I am a little shy this time because I am not as strong inside as I have been in the past," she admitted to the Telegraph. "It's not something I wanted. There's nothing nice about it. It's just hard. Sometimes maybe it appears I am pulling it all together, but really I am just trying to get through my days," she said.
I am just trying to get through my days—a mantra of the heartbroken if ever there was one, but it's also a reminder that we do get through. There is a way back. It is possible to feel happy and secure in yourself again. How? Joshua Klapow, Ph.D., clinical psychologist, and host of The Web podcast, says these are some of the ways we can find our way back to ourselves.
Be Ok With the Loneliness 
A major breakup, or divorce in Jolie's case, is a tectonic change in life. Where once your every thought involved another person, you are now alone. It's a simple truth that has a profound impact in the day-to-day.
"A major split is something that we weather, we ride out, we learn to manage day by day or even hour by hour until we notice it has passed," Klapow says. "But as hard as it may be or feel—ultimately our happiness does not come from the security of others. It comes from being 'good' with ourselves."
He advises anyone going through this transition to not stifle it. Sometimes there is a sense of freedom, he says, or a sense of rejuvenation. Sometimes despair and guilt. Sometimes anger and frustration. The emotional roller coaster must run it's course. "Part of the way we cope effectively is to not try and pretend it's not happening," says Klapow. 
Don't Rush Into a New Relationship
Life doesn't just hit reset. The silver lining to the despair of heartbreak is that you have the opportunity to consciously forge a new path for yourself. Klapow strongly suggests that people experiencing a major breakup, especially a divorce, seek counseling for at least a short period of time. "Don't try to examine your life on your own," he says, "none of us can adequately."
"Emotional heartbreak and abrupt change can be painful, but it is that pain that can help you become more insightful about what you want and don't want out of life, where you are strongest and where you are weak," says Klapow. As Jolie told the Telegraph, "I think now I need to rediscover a little bit of the old me...I think we lose our way a bit."
Klapow is resolute in that you can only move forward if you understand how you got to the place you are. "Rebound relationships are simply a defense mechanisms," he says, "Sadly so many people repeat the same relationship mistakes because they don't have the courage to look within and ask the question, 'How did it get to this point?'"
Being single, he says, gives you a unique chance to know yourself in a deeper way. Prayer, meditation, reading, journaling—all these things can help along with counseling.
Learn From Your Last Relationship
"Good, bad, short, long—relationships are rich with life lessons that become uniquely ours," says Klapow. "If examined, the pain that we experience when one relationship is over allows us to see that we can survive and that we can be ok if the next relationship fails. This allows us to be more authentic in the new relationship. It also allows us to be vulnerable without having blindspots. We enter the new relationship as more of an expert."
The biggest challenge in moving forward is trust. Klapow says that the ability to trust someone else is largely driven by how much we trust ourselves. "If we believe that we can give of ourselves, be vulnerable, and trust in another person because ultimately we will be ok whether or not they uphold that trust, then we have more confidence." 
The sorrow and insecurity that many feel after heartbreak can be the fuel of self-exploration. Rather than letting these emotions tear you down, use them, advises Klapow. "Explore them, study them, and remind yourself that you are capable of facing emotionally challenging times in an honest and authentic manner."
Photo credit: Vimeo