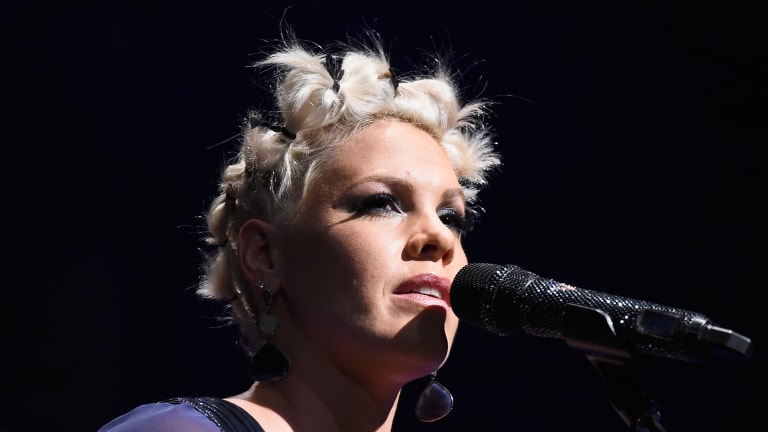 P!nk's Brilliant Mashup and Other Surprisingly Good Moments from the VMAs
I was—very—surprised.
Sunday night's MTV Video Music Awards was a different event than past years. It was the first one since Donald Trump took office, so the predictable political and social outcries took place. Host Katy Perry quipped that she went to Mars and came back to find that earth was on fire. Kendrick Lamar opened with a striking performance which included actual people on on fire; a clergyman and descendent of Robert E. Lee, who happens to also be named Robert Lee, spoke out against racism; and the mother of Heather Heyer announced a foundation in her daughter's name—some of these elements feeling more forcefully scripted than others. But the overarching theme of music bringing everyone together in spite of division was felt.
It also happened to be a night of many positive body-image messages. Less scripted and more organically sprouting from various artists' performances, the message that women need to take a break from confining image standards, misjudgements from others, and the negative self-talk that festers in such an environment, was a recurring theme in many performances.
01. Taylor Swift's "Look What You Made Me Do" Music Video Stole The Show
It's hard not to start with one of the most anticipated events of the night. Taylor Swift, who has rocked headlines lately for both her huge court win and her recently announced new album Reputation, stunned us all with the music video premiere of "Look What You Made Me Do" early in the show. After her single unimpressed many outlets on Friday when it was released, it still reached massive audiences due in great part to her musical hiatus and the song's implicit connection to the drama with Kanye West and Kim Kardashian, who have been publicly feuding with Swift over whether she consented to Kanye's crude lyrics about her in his 2016 song "Famous.
I was one of the many who thought the resentful sound of the tune didn't bring out the best of Taylor. But when I saw the music video on Sunday, it became clear in the video's final moments that the singer is not just lashing out at the celebrity couple—she is also acknowledging that hardships bring perspective and can change you for the worse. The video ended with modern Swift standing in a line of Taylor Swifts from prior ages and life stages, each one judging the other with quick criticisms. In those moments "Look What You Made Me Do" sounded less like a song of "death to the Kardashian-West clan" and more like an acknowledgment of how a challenging course of events led to her own death in a way, causing her to grow in self-criticism, breaking herself apart into many pieces that felt disparate.
02. Alessia Cara Was Alessia Cara.
The most refreshing face and voice at music awards these days, in my opinion, is Alessia Cara, who consistently is dressed as you'd imagine she'd be if UPS just knocked at the door. In a room full of people trying to make a mark and send a message, she's making a bold one just by being unconcerned about spending hours in hair and makeup.
Cara echoed this message once again in her onstage performance of "No Scars To Your Beautiful." As if singing to the entertainers in the room, she started robed in a glamorous gown with a wig, and, as the song continues, strips her outer layers to get back to her natural self, frizzy hair and all. Just the fact that Cara was given the opportunity to have a captive audience and offer a different perspective on how women have to portray themselves to get attention or success, is nothing short of amazing.
03. Miley Sang A Different Tune on the 5th anniversary of Foam Finger Madness
Five years after Miley Cyrus shocked the world with her nude latex outfit, foam finger, and twerking performance at the VMAs, this year, Cyrus performed a song in which more clothes were added as the song went on! Singing her recently released "Younger Now," Cyrus sang, "No one stays the same / You know what goes up must come down / Change is a thing you can count on / I feel so much younger now."
We noticed Cyrus changed her tune with the release of "Malibu" and her performance at the last American Music Awards; singing on Sunday in poodle skirts alongside senior citizens and toddlers, she appears to be continuing in the family-friendly direction (or at least a less drug influenced and sexed up one).
04. P!nk Turns Duet "Just Give Me a Reason" Into Self-Worth Anthem
I have to say, among the most powerful and inspiring parts of the VMA evening belonged to P!nk's pre-Vanguard Award performance. Among the medley of songs, P!nk mashed up "Just Give Me A Reason" with "Pretty Pretty Please" to be a love song to oneself. "Just give me a reason / just a little bit's enough / Just a second / We're not broken, just bent / and we can learn to love again," she sang, interspersed between brief clips on TV screens beside her from past hit songs that were styled as if to sound like negative self-talk echoing in her head—before answering those very voices with a rousing refrain of "pretty pretty please / don't you ever ever feel / that you're nothing / less than perfect," the quintessential positive-self-image ballad from the singer's repertoire. When she returned to the lyrics of "Just Give Me A Reason," it was clear why this version wasn't a duet with the lead singer of Fun. this time. It was a song she was singing to herself, "to learn to love again."
Confirming this theme beyond a shadow of a doubt, P!nk's acceptance speech included a personal message to her daughter that she doesn't need to look a certain way in order to be beautiful. Definitely a vanguard moment.
05. Kesha, Logic, and Jared Leto Speak on Suicide
Given the tragic deaths of singers Chris Cornell and Chester Bennington this past year, MTV turned the evening into something of an anti-suicide campaign. It surprisingly seemed less like a forced cause to follow and more like the actually humane and responsible thing for a mainstream music network to do. Jared Leto spoke some words on Bennington and Cornell at one point in the evening, before introducing a 2010 Linkin Park performance, urging those struggling with thoughts of suicide to reach out for help. And Kesha hit home the theme of self-worth later when she spoke empathically about getting through dark days, knowing you're not alone, and reaching out for help.
The singer Logic followed with a performance of a song entitled "1-800-273-8255," the National Suicide Prevention Hotline number, encouraging people to never give up. "I've been on the low .../ I feel like I'm out of my mind / It feel like my life ain't mine / Who can relate?" Logic sang, encouraging those struggling that it's not a solitary road they're on, and Alessia Cara joined him singing, "what's the day without a little night?" And when a multitude of suicide-attempt survivors joined onstage as well, wearing shirts reading the same 800-number, it was hard to be unmoved. Too often we hear the news of tragic loss of lives to suicide; too rarely do we see those who made it through that dark night to live another day. Suffice it to say, it topped off the night's powerful messaging on where to truly find one's worth—not in how others may see us, but in our true dignity.
The VMAs is never without its "did we really need to see that?" moments, but the 2017 edition brought about a few shining examples of goodness in the world, and that's something we could use a little more of.  
Photo via Billboard