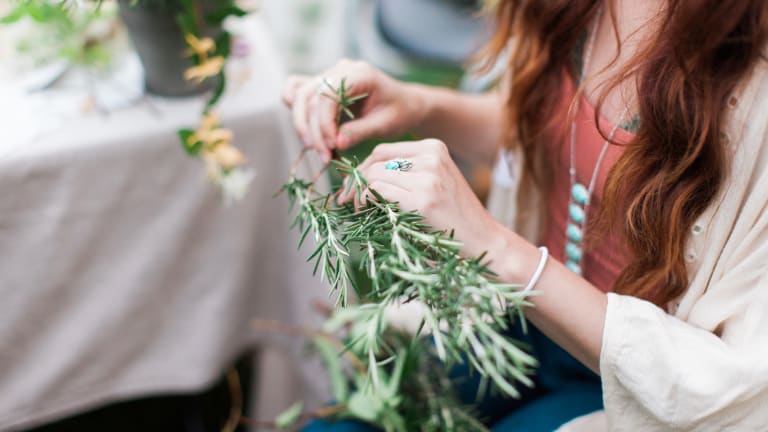 10 Old-School Hobbies That Are Cool Again
Trading screen time for these old-school pastimes never looked so good.
In 1988, President Ronald Reagan declared August 21 to be National Senior Citizen Day—the same month Franklin Roosevelt signed the Social Security Act in 1935. Reagan proclaimed, "For all they have achieved throughout life and for all they continue to accomplish, we owe older citizens our thanks and a heartfelt salute."
The best way to celebrate National Senior Citizen Day is to spend time with the elderly people in your life. The best way to connect with pretty much anyone? Make them feel important. With so many old-school hobbies becoming trendy again, why not take the opportunity to ask for some lessons from people who have been doing it for years? Our elders have so much to teach us, so why not ask your grandma or elderly church friend to teach you the right way to start one of these seriously popular pastimes.
Gardening
Maybe it's the slow food, farm-to-table movement. Maybe it's being one with nature. Whatever the reason, we're glad gardening is gaining more popularity. Not only is it one of the most organic stress outlets, it motivates you to eat more veggies, and increases physical activity while soaking up your daily dose of vitamin D. If you don't have the outdoor space, don't fret; indoor gardening is a stress reliever too.
Flower Arranging
The art of flower arranging is having a moment; you'll find peonies, posies, and extravagant bouquets all over social media. This year's floral trends mesh classic style with modern edge. Flowers are Insta-worthy and easy to come by, so grab an assortment and turn this project into a party!
Market Shopping
We may be able to microwave our frozen dinners in two minutes flat, but we've slowly lost our grandparents' routine of shopping locally grown and locally made ingredients. Thankfully, farmer's markets are bringing local back. Bringing some artisan goodies back to grandma and grandpa will make them proud.
Modern Calligraphy
There are the fancy flourishes of Edwardian Script and then there's casual and airy Modern Calligraphy. Today's script may be different from what Nana was used to writing in her letters growing up, but that doesn't mean modern calligraphy styles are any less beautiful or impressive. Buy a starter kit or take a class with Erica Tighe of Be a Heart design co.
Watercoloring
The fine art of watercoloring is not dead. Professional and amateur artists are bringing it back to life with fresh patterns, prints, and perspectives. The intense focus the precision and detail this art form requires has been proven to greatly reduce anxiety according to recent experiments. For inspiration, check out Jenna Rainey of Mon Voir Co. She makes breathtaking watercolors, posts simple tutorials and tips on her Instagram @monvoirco, and has created watercolor kits of her favorite tools that always sell out fast.
Macramé
The seventies wouldn't be complete without macramé plant holders and wall hangings. The modern versions are giving vintage patterns an upgrade in the form of elaborate wall art and functional home goods. Macramé extraordinaire and mom Elsie Goodwin of Reform Fibers makes custom-dyed rope, lucite bars, and brass. She posts loads of easy-to-follow tutorials on her Instagram @reformfibers, and you can find how-to kits and patterns in her Etsy shop.
Embroidery
If you aren't ready for large-form projects or you want to try something other than knitting and crocheting, consider taking up embroidery. Bring this old-fashioned hobby into the present by embroidering modern objects or quotes that you find inspiring.
Ceramics
Ah, pottery. A recent study shows the tactile act can be a physical way to self-sooth. Plus, having your own unique set of self-made ceramics is pretty cool. Lindsay Emery's Instagram @suiteonestudio will convince you it's worth checking out a class or kiln near you.
Baking
Millennials have discovered the endless possibilities that baking provides. Take it from our obsession with The Great British Baking Show and National Donut Day. From intricate pie lattices and adorable cookie designs to over-the-top cake decorations and perfectly baked sourdough bread, you'll find inspiration all over Pinterest and Instagram. Your freshly baked cupcakes may not be Pinterest-worthy, but it's the process that matters most.
Shooting Film
The advent of digital SLRs and smartphone cameras has some people running from the films. Nowadays, you'll be hard-pressed to find camera film and darkrooms at your local superstore. But mom & pop shops (in-store and online) are committed to preserving the old way of picture taking with 35mm film, Polaroids, and photo developing services. You can find refurbished vintage film cameras in specialty stores, antique shops, or online marketplaces like eBay and Etsy. 
Photo Credit: Horace & Mae