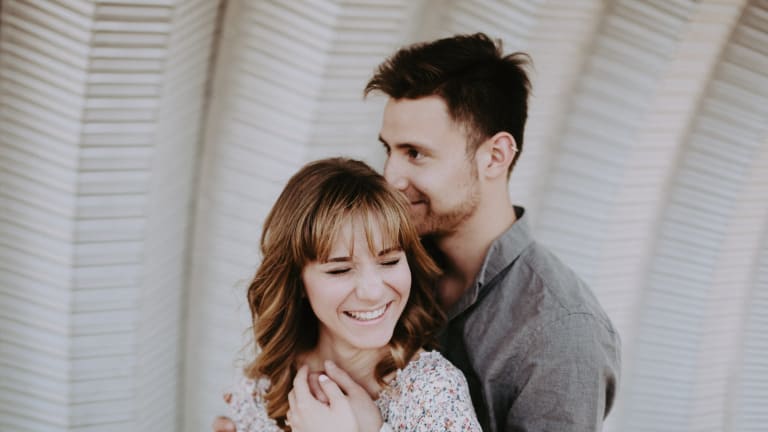 Master This Skill if You're Waiting for Him to Make the First Move
Are you giving guys the right signals?
Despite popular advice telling women to take charge and ask a guy out, there are a lot of women who don't feel empowered by making the first move. I know I don't. Most women I know want to feel desired and pursued, not just from the very beginning of the relationship, but throughout their entire love story. The trouble is, women who feel this way too often get caught in the trap of waiting for a guy to make the first move, which is both disempowering and really not the way the old-school courtship process even works.
It turns out, research shows that, in reality, women are the ones who make the first move. . . but not the way you might think. According to research revealed in The Man's Guide to Women by Dr. John Gottman et al., "Whether or not men are interested in a woman is not strongly related to her objective attractiveness but instead to the nonverbal signals she sends out. In fact, when scoring women's nonverbal behaviors, researchers were able to predict a man's approach to her with 90 percent accuracy."
Women, as Dr. John Gottman and his wife Dr. Julie Schwartz Gottman explain, are the choreographers of most first meetings. So, what are these all-powerful nonverbal cues that give women the power to summon the man she wants? I'll list them in order of potency.
01. Make eye contact.
Eye contact is the most powerful of all the signals. It is the universal sign to any man that you have noticed him and are possibly (there are a few accompanying signals that will be looked to for further evidence) open to an introduction. Healthy (read: non-predatory) men will interpret the cold shoulder or avoidance as a sign you are not interested and therefore will not approach. Like it or not, this is a fact.
02. Smile.
A close second, highly powerful, signal that a guy should make a move is a smile. A smile tells a wary man you like him and, more importantly, you aren't going to humiliate him by shutting him down if he risks approaching you. It's not that you need to go around smiling all the time, but when you make eye contact, flash him a smile too, and he should get the message. The message is nicely delivered with very little effort on your part—there doesn't even have to be a break in the friendly banter you were engaging in. Which brings me to our third signal.
03. Look away and then glance back again.
This isn't a staring contest. In fact, according to research, looking away and then briefly glancing back a few times is another signal that lets a guy know you want him to approach. (Ashley Fox explains the process really well here.) You don't have to overthink it or be weird about it. When you see a cute guy and wish he would come say hi, make eye contact with him, smile, look back at the person you were talking to, and then glance back at him. Repeat one or two times. If you are worried it will be creepy, don't. When we interviewed guys on how they know a woman likes them, Charles said, "Things like [when] eye contact is made and then avoided and then made again."
04. Turn in your seat.
Really, this should all happen rather naturally, but sometimes when a guy makes you nervous, it can be easy to clam up. If this sounds like you, pay special attention to your posture. How are you seated or standing? If your hips, feet, and shoulders are 100 percent aligned with your girlfriend at the bar, and the cute guy who caught your eye is to the left, right, or behind you, you are sending him the wrong signals. According to research, women who face their chairs out toward the man they are interested in or open their stance when standing have the most success signaling men to approach. Don't just take it from me. We also talked to real guys who say they notice this, among other things.
05. I hate to say this but. . . twirl your hair.
I list this signal with some reluctance, and you can probably guess why. I would never advise a grown woman to twirl her hair to get a guy's attention. It seems equivalent to the oh-so-ridiculous "bend and snap" from Legally Blonde. That being said, women do like to touch their hair. It gives us a rush of oxytocin and, according to research, we do it when we want men to approach us. Furthermore, according to research, men pick up on this and respond accordingly. So, yeah, obviously don't start twirling your hair in an inauthentic come hither fashion. But if you do find yourself rearranging a curl or sweeping your hair from one shoulder to the other, roll with it.
Photo Credit: Local Embers Photography