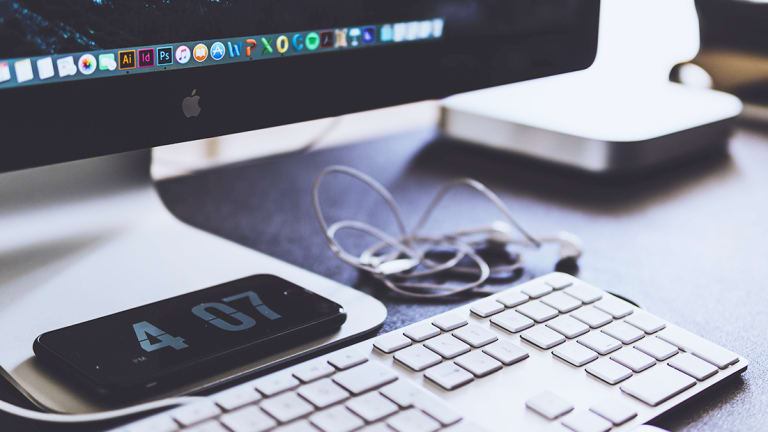 9 Podcasts to Add Inspiration to Your Busy Day
Give your day a boost in as little as ten minutes.
They say you learn something new every day, but let's be honest: sometimes that "something" is a bit of celebrity gossip or where an old friend from high school went on vacation. If we're going to be spending time on a screen or with buds in our ears, we're probably better off taking in something of value, something that will encourage us to be our best selves.
If you're new to podcasts, they're free to subscribe to and you can download episodes to to play even without a stellar Internet connection (hello, public transit). They're great for unwinding and recharging, but are also a prime way to make good use of time spent completing more mundane tasks. Before you know it, you'll be on your way to more erudite travel, more inspiring workouts, and more productive laundry-folding sessions. Here are some of our favorites that are sure to add inspiration to your day.
Start Your Day: 10-Minute or Less Podcasts
Kind World
Pay It Forward for the twenty-first century. With episodes averaging seven minutes, Kind World is an uplifting way to work a little more joy and generosity into your day. The show tells stories of one person's kindness affecting another's. By virtue of the podcast, of course, a small act can go even further—maybe through you.
Up First
Feeling clueless about current events? Want to get a dose of morning news without getting swept away by click-bait? Try Up First, a ten-minute daily take on a range of news stories with analysis. New episodes are up by 6 a.m. EST every day, so you don't have to miss much of anything that's happening these days.
The Writer's Almanac
Calling former English majors (and anyone who loves a good story). Do you thrive with a daily dose of prose, poetry or literary history, but can't commit to a novel or anthology right now? Tune into daily (five-minute!) stints of literary goodness at The Writer's Almanac. Your vocabulary will improve certainly, even if imperceptibly.
Commute with Purpose: 30-Minute Podcasts
99% Invisible
One of the most popular podcasts on iTunes, 99% Invisible explores "all the thought that goes into the things we don't think about—the unnoticed architecture and design that shape our world." Each episode runs twenty to thirty minutes. Creativity is everywhere, and being more in tune with the hidden elements can make us more critical thinkers as well as more grateful people.
Work in Progress
You've heard of Slack's communication app that helps businesses—especially those with remote workers—run smoothly. They've also created a podcast to explore personal stories about "the meaning and identity we find in work" in twenty-five-minute pieces. Work in Progress airs on Sirius XM on weekends, and episodes are available for download each Monday.
Entrepreneur On Fire
Even if you're not looking to start your own business, there's a lot to learn from those who have. The daily twenty-minute, award-winning interviews by Entrepreneur On Fire explore the highs and lows of business owner's experiences, distilling them into short bits that almost anyone can take to heart. Failure is a necessary step on the road to success. We can all use a reminder of that!
Science meets storytelling in this weekly show. Hidden Brain "reveals the unconscious patterns that drive human behavior, the biases that shape our choices, and the triggers that direct the course of our relationships." Topics range from racism to robots, birth order to dinner party stories, with the common denominator being the way our minds work, without our realizing it. The better we understand ourselves and those around us, the better we can navigate our world for the good.
Recharge and Unwind: 60-Minute Podcasts
Invisibilia
Ever feel like there's more to your day than meets the eye? Having just completed its third season, Invisibilia explores "the invisible forces that shape human behavior—things like ideas, beliefs, assumptions, and emotions." Neuroscience meets lived human experience as hosts question the realities we live in and propose different ways to see things. These episodes run an hour each, but with award-winning journalists Alix Spiegel and Hanna Rosin (This American Life, The Atlantic) hosting, you won't know where the time's gone.
The Art of Charm
Social science meets cognitive psychology meets relationship advice meets behavioral economics. Do we have your attention yet? For ten years, The Art of Charm has been exploring ways to become "a higher performer, a better networker, a deeper connector, and most importantly, a better thinker." Drawing on the knowledge of experts from a broad range of fields, this program offers a short episode on Mondays, two hour-long pieces during the week, and a half-hour piece on Fridays. Something for everyone!
Tell us in the comments: What's on your "Unplayed" list?
Photo Credit: Sabri Tuszcu